Blue Jays players say new home turf slows ball down
Rays able to cut off Reyes' RBI double in gap before it reaches wall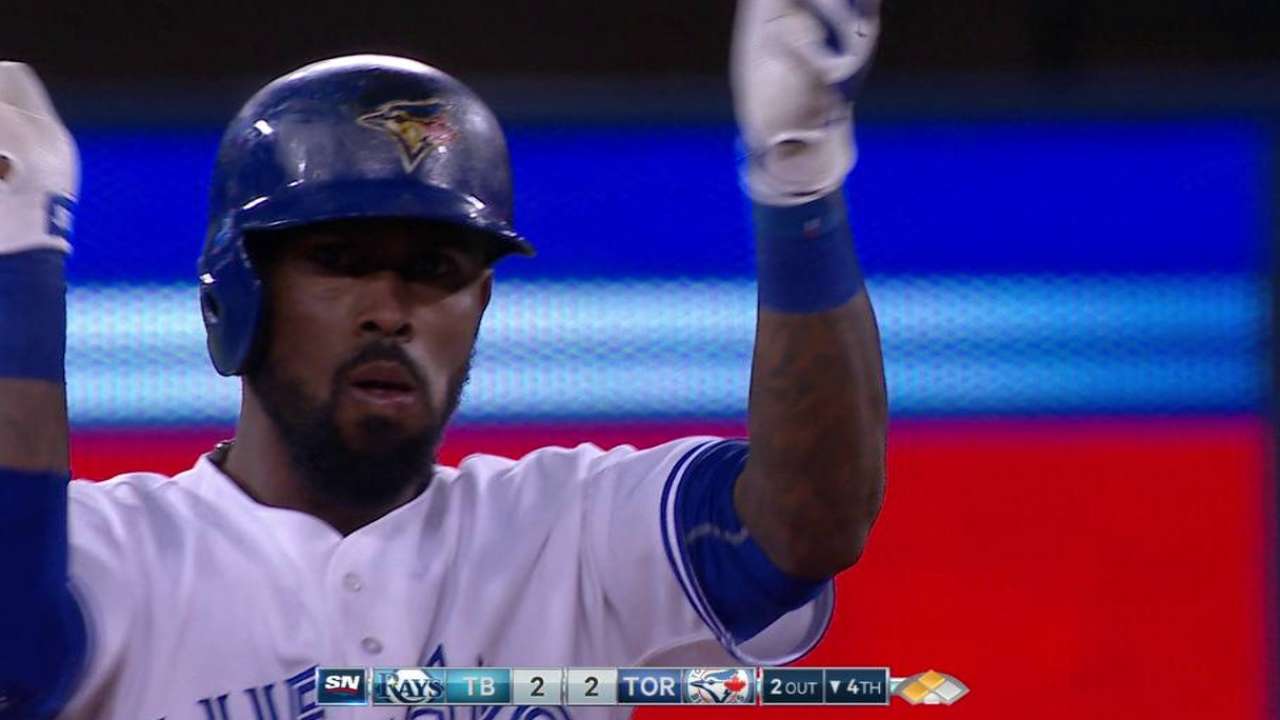 TORONTO -- After just two games, the Blue Jays aren't prepared to definitively weigh in on how the new playing surface at Rogers Centre will affect them in the batter's box, on the field or on the basepaths. But the new surface did factor into their 3-2 loss to the Rays at Rogers Centre on Tuesday night.
Jose Reyes' game-tying double in the fourth inning died in the right-center-field gap, allowing Rays outfielders to cut off the ball before it reached the wall. That ultimately held up the go-ahead run at third base as the two sides entered the fifth tied at 2.
"It'll definitely take away some hits," Toronto manager John Gibbons said. "It'll take away from extra-base hits, too, with outfielders cutting the ball off, I would think. I'm sure over time, it'll lay down, and it'll be a little quicker."
Gibbons was among several Blue Jays who remarked Tuesday that the new turf at the Rogers Centre was noticeably slower and more likely to be a drag on grounders and hard shots to the outfield.
"I've played here in the past, and it was quicker then than it is now," first baseman Justin Smoak said. "I think a ball hit up the middle that would've ended up getting through is getting caught by shortstops for outs, and maybe in the past they wouldn't have been."
That was the case on a Dalton Pompey shot up the middle in the eighth inning of the Blue Jays' home opener Monday. The rookie outfielder said he thought he had himself a hit, but the new turf "just sucked it up" and he ended up grounding out.
Pompey did say, however, that he liked the feel of the new green carpet beneath his feet in center field.
"Definitely softer, and longer, too, I think. Less bouncy," he said.
The club -- which is exploring the possibility of having natural grass and a dirt infield installed by the 2018 season -- replaced the old turf in the offseason, laying down a new, softer surface that will ideally create less wear and tear on the players.
Still, some Blue Jays say two games isn't enough time to adequately judge its effect.
"It's too soon to say," Reyes said. "I hope it's going to be better for us on our bodies, but we'll know better after two weeks. For now, it's ... hard to say."
Jamie Ross is an associate reporter for MLB.com. This story was not subject to the approval of Major League Baseball or its clubs.