Cecil thinks he may be tipping his pitches
TORONTO -- Something is amiss with Brett Cecil. The Blue Jays' closer had another rough outing on Sunday, when he was saddled with the loss after allowing four runs in the ninth inning in Toronto's 13-9 loss to Baltimore at Rogers Centre. Cecil walked two and allowed a pair of hits over two-thirds of an inning, increasing his ERA to 14.29 over his last six outings.
The left-hander said he was concerned he might be tipping his pitches.
"It came up a while ago during the first month of the season, it was just a little thing and I thought I had fixed it," Cecil said. "I don't know if hitters are getting it or not, [but our coaches] just said they could be."
It was the third appearance in a row in which Cecil allowed multiple runs, having given up a pair in both of his previous two outings. He's now the owner of a 5.96 ERA.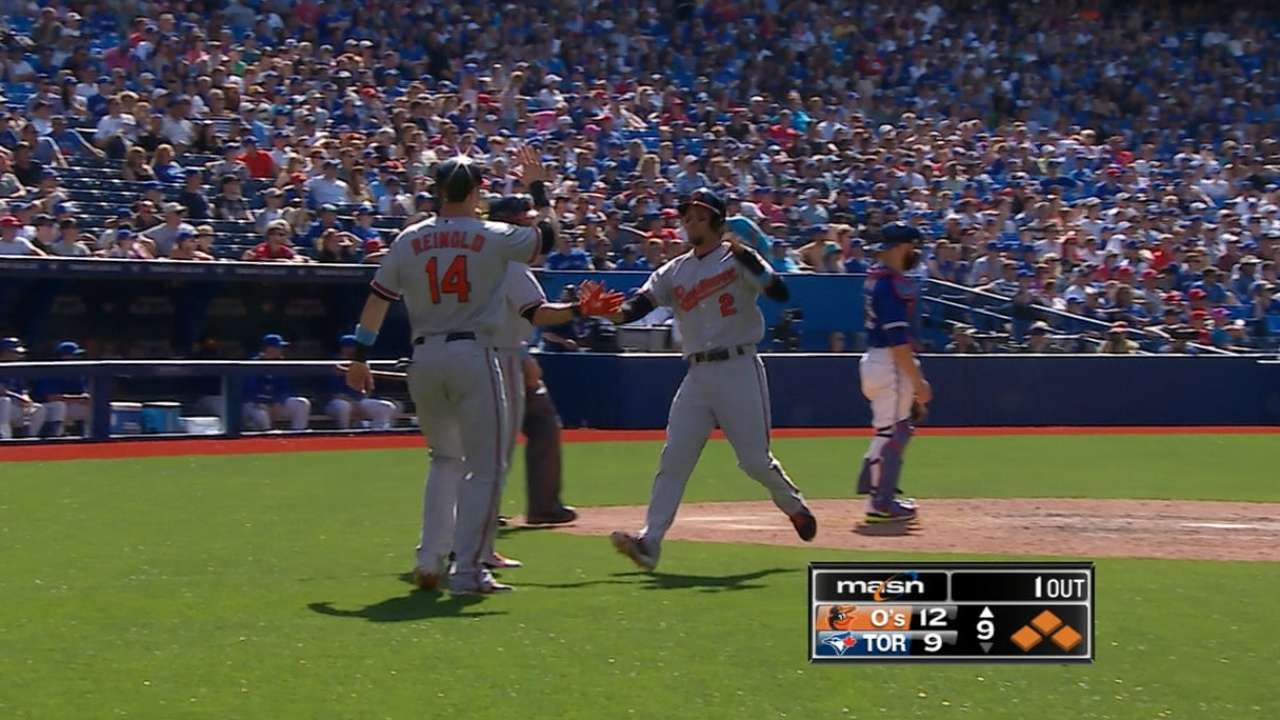 "He hasn't been real sharp," Blue Jays manager John Gibbons said. "He hasn't been able to locate his fastball."
Cecil came on for the ninth inning on Sunday with the game deadlocked at 9. After retiring the first batter he faced, he walked Chris Davis and Nolan Reimold before J.J. Hardy came to the plate and singled home the eventual winning run. Ryan Flaherty followed with a two-run triple off Cecil, putting the game out of reach.
"I'm just battling, right now," Cecil said. "I don't have a real good answer for [what happened on Sunday]. I'm just battling."
Blue Jays shortstop Jose Reyes took some heat off Cecil for Hardy's hit. The chopper appeared to have double-play ball written all over it, but Reyes held back from making a play, as the ball bounced into the outfield. He attributed the missed opportunity to confusion in the middle infield.
"That should be a double play there, so Cecil would be out of the inning," Reyes said. "No excuse."
Jamie Ross is an associate reporter for MLB.com. This story was not subject to the approval of Major League Baseball or its clubs.