Potent Toronto lineup comes from other clubs' castoffs
Encarnacion, Bautista, Colabello, Donaldson found opportunity with Blue Jays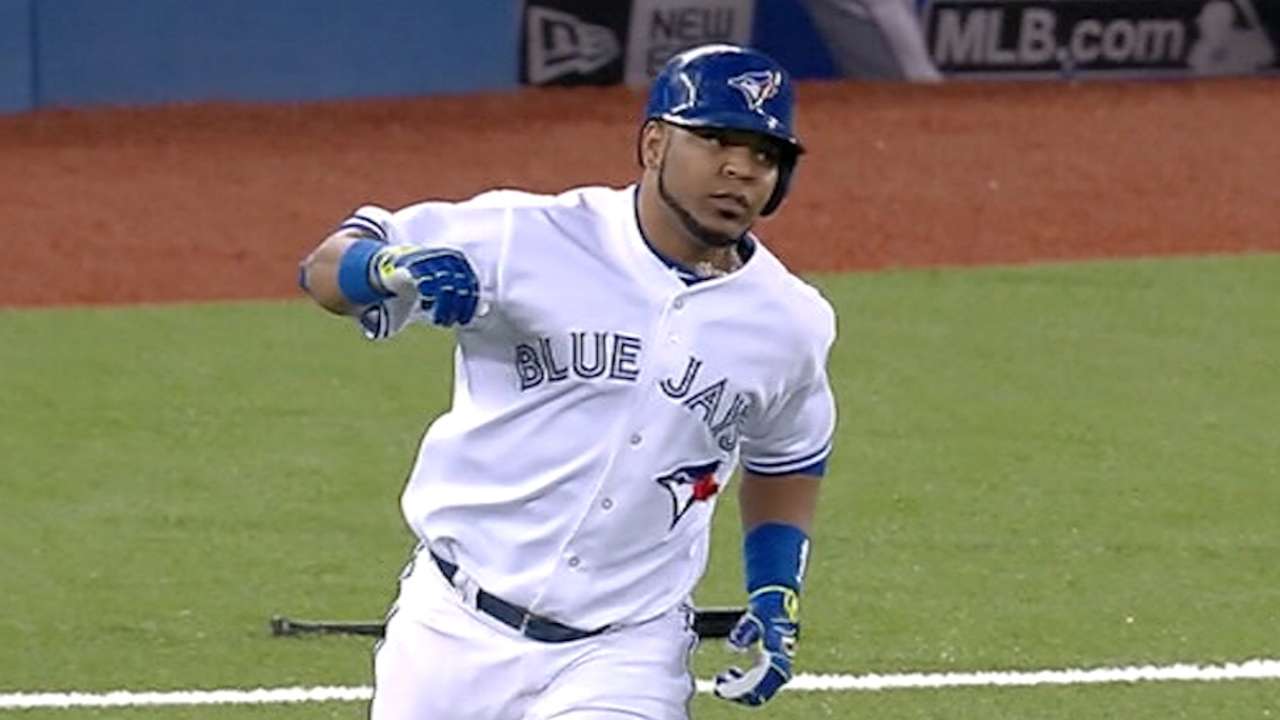 DUNEDIN, Fla. -- The Blue Jays arguably have the best lineup in baseball, but the amazing thing about the high-powered talent is how many prominent players were castoffs from other organizations.
Jose Bautista, Edwin Encarnacion and Chris Colabello all fell out of favor with their previous teams. Even Josh Donaldson, though he was established by the time Toronto traded for him last winter, was a late bloomer whose profile meshes nicely with this group. The success each player has experienced since those tougher times is a cautionary tale for teams that sometimes are too quick to pull the plug.
Each player is a unique case, and there hasn't been a magical formula for the turnaround they experienced with the Blue Jays. But sometimes a change of scenery and a little bit of luck can help transform an organization into one of the best in baseball.
• Spring Training: Tickets | Schedule | More info
"I think the biggest thing is giving guys some opportunities when they've shown in the past that they've had some ability, and maybe it hasn't quite manifested itself yet," said Blue Jays assistant general manager Tony LaCava, who previously worked under former GMs J.P. Ricciardi and Alex Anthopoulos. "Obviously, there's some good fortune in there too; when they had opportunities, they were able to show what they could do.
"Other teams are doing it as well. We're no different than anybody else, but those guys really have been exceptional. Teams are always trying to catch lightning in a bottle and take players who haven't maybe reached their potential when they were drafted. We've been fortunate enough to have guys who really really clicked for us."
Bautista started to turn his career around in 2009 when manager Cito Gaston and hitting coach Dwayne Murphy overhauled his mechanics at the plate and encouraged him to use a high leg kick to generate power. Encarnacion's turnaround was at least in part because of the influence Robinson Cano's father had in implementing a two-handed finish to his swing.
Colabello did most of his work on the side with private hitting coach Bobby Tewksbary. Donaldson enjoyed his success under the watchful eye of hitting coach Darren Bush, who at the time worked in Triple-A. There's a wide variety of reasons that each player became a success story, but more than anything else, the common theme is they made some changes and received an extended opportunity to work out those adjustments at the big league level.
Bautista once set a Major League record by becoming the first player to go through five organizations in one season. When the Blue Jays acquired Encarnacion from the Reds in 2009 for Scott Rolen, he was included in the deal to offset some of the salary, with the Blue Jays' real targets being prospects Zach Stewart and Josh Roenicke.
Colabello was added on a waiver claim prior to 2015 as an insurance policy. He wasn't expected to figure into the club's big league plans, with Encarnacion and Justin Smoak locked in at first base, but after being named the International League Player of the Month last April, Colabello earned a shot and never looked back.
"I was so happy when Toronto claimed me, and even when I got designated before Spring Training, I understood where they were coming from when they did that. And there was a part of me that hoped I cleared waivers, because I thought Toronto would be a really good fit," Colabello said. "We've proven that there's room for all of us here, and I think we can all bring something to the table.
"My job every day is to go out and be my best version of myself and help the team however I can. I definitely thought there was an opportunity here, and I was excited about it. The year before, I had a big series against the Blue Jays in Minnesota, and I don't think that hurt, either."
Toronto isn't perfect, and the club has let a few gems get away over the years. The Blue Jays dealt Yan Gomes to the Indians as part of a deal for right-hander Esmil Rogers, and all he did was go on to win the Wilson Defensive Player of the Year Award at catcher while posting an .826 OPS in 2013.
The Blue Jays also willingly dealt right-hander Noah Syndergaard as part of the package for R.A. Dickey, and while Toronto obviously got value in return, Syndergaard has an opportunity to become one of the best pitchers of his generation with the Mets. Every team has these success and failure stories, but at least lately, there have been a lot more positives than negatives for the Blue Jays.
Bautista and Encarnacion have combined to hit 440 homers and accumulated 1,184 RBIs during their time in Toronto, while Colabello is coming off a season in which he hit .321 with an .886 OPS. Donaldson is the reigning American League MVP. Each of their former teams has to be feeling some regret, and the Blue Jays can certainly relate to that.
"We've tried many other guys that haven't worked out so well, but it's such a humbling game, trying to pick who is going to be good," LaCava said. "They're all different, but I think sometimes you just need a clean slate. You have some different eyes looking at you who are going to give you a different opportunity than you did in the past. Timing is everything, and if you make the most of it, you can really take off."
Gregor Chisholm is a reporter for MLB.com. This story was not subject to the approval of Major League Baseball or its clubs.