Could Tellez take Toronto's first-base reins in '17?
Encarnacion's exit puts prospect on clear path to big leagues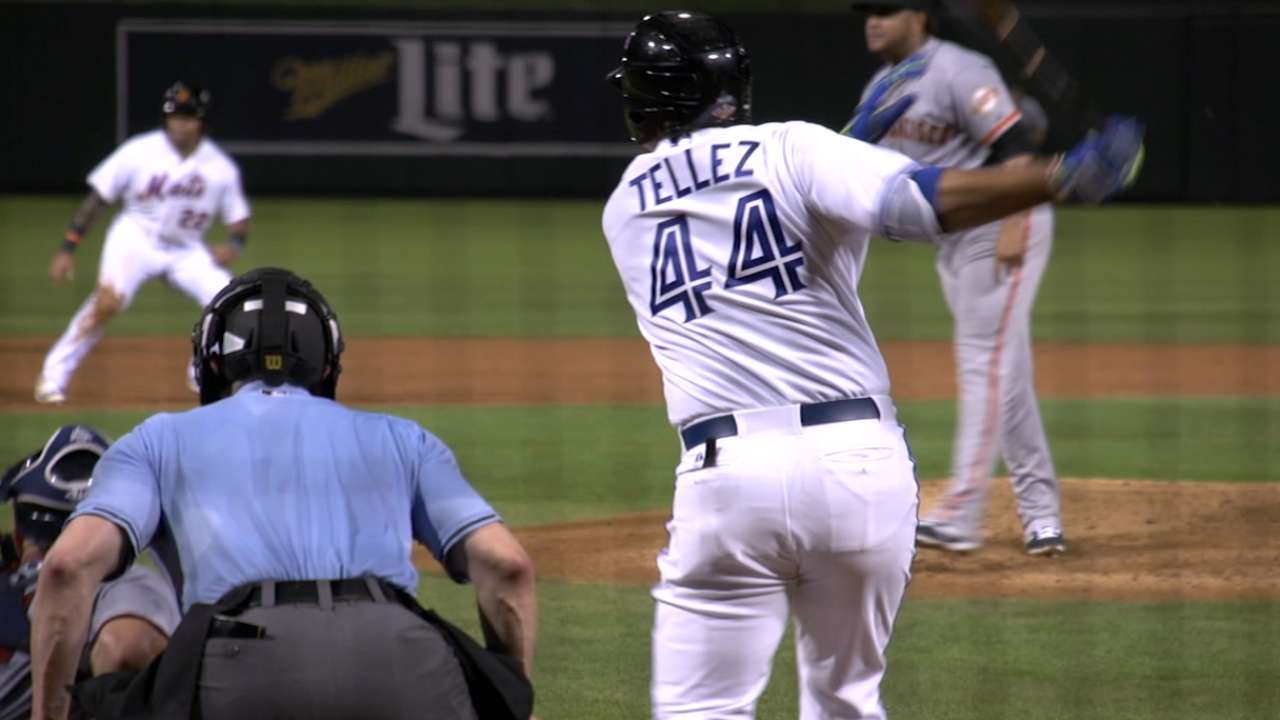 TORONTO -- The departure of Edwin Encarnacion has upset a lot of Blue Jays fans, but there's at least one man who could become a big beneficiary from all of the fallout.
Promising first baseman Rowdy Tellez now has a relatively clear path to the big leagues following the loss of Encarnacion, who signed a three-year deal with the Indians this offseason. Tellez, Toronto's ninth-best prospect, according to MLBPipeline.com, wasn't expected to make his debut until 2018, but there's an outside chance that plan will change based on necessity.
The Blue Jays will open the year with a first-base platoon of Justin Smoak and Steve Pearce. Both players will be given a lot of leeway early in the year, but if Smoak struggles like he has in the past, it could open the door for Tellez. He's aware of the opportunity, but from his standpoint, nothing has changed.
"It changes absolutely nothing," Tellez said at Toronto's mini-camp for prospects on Thursday afternoon. "I'm going to go in every day during Spring Training, every day during the year and just do what I do. Go through my routine. Stay humble. Stay all about playing the game with my teammates and if the Blue Jays give me the blessing to come up here and help the team win, that's what I'm going to do. Whatever the Blue Jays want is what I'll be doing."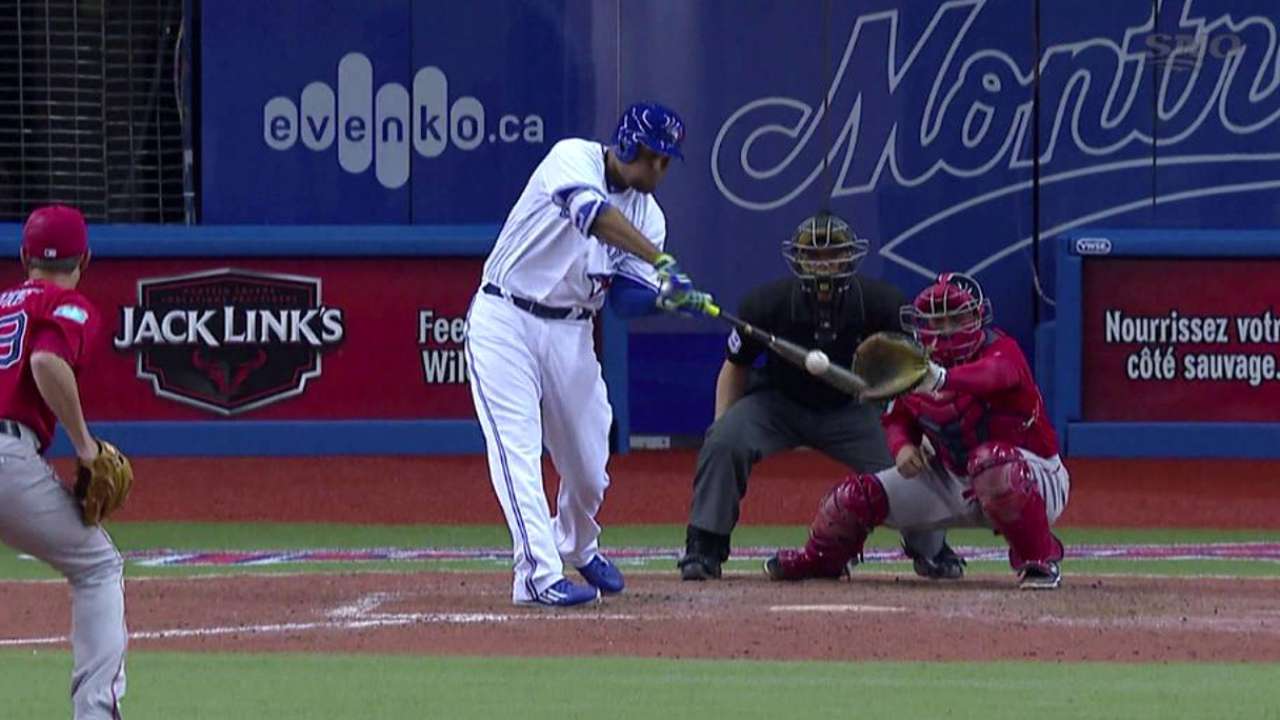 Tellez is coming off an impressive year at Double-A New Hampshire, where he hit .297/.387/.530 over 124 games. He'll likely begin the year at Triple-A Buffalo, and the plan is for him to take it slow and let him develop at his own pace. But in a lot of ways, Tellez could force the organization to re-think its strategy with either a strong camp or -- even more importantly -- a hot start to the season.
One thing working in Tellez's favor is his uptick in power last season. His home run total went from 14 in '15 to 23 the following year, and that progression will need to continue if he's going to succeed at the next level. Power is a requirement at first base, and while hitting the gaps will always be useful, it's expected that the club wants a little more than that.
"I've always had the same swing since I signed," said Tellez, who will be taking part in Toronto's big league camp when it opens in mid-February. "I think it was just becoming a better hitter overall and understanding the game. Outsmarting the pitcher and knowing what they're going to throw in certain situations. It wasn't mechanical, or anything with my swing, it was knowing mentally what was coming and being one step ahead of the pitcher."
Tellez also saw improvement on the defensive side of the field. When Tellez was taken in the 30th round of the '13 Draft, his fielding was considered a major liability, but he has been trying to change that reputation. A drop in body fat should help his mobility around the bag and his work with the glove has arguably improved more than any other aspect of his game.
Tellez might never be a Gold Glove-caliber defender like Smoak, but he has a lot more upside with the bat. Defense has become a point of pride for the 21-year-old, especially because he knows it was one area of his game that was criticized from Day 1.
"From Day 1, since I signed, everybody has knocked my defense," Tellez said. "I've always been the type of person to prove everybody wrong. So I went in and I worked day in and day out, countless hours, hard with my manager, Bobby Meacham, with our coordinators, Danny Solano, [Mike] Mordecai and all of our defensive people to make myself better.
"I'm grateful, I have Robbie Alomar and Carlos Delgado. A Gold Glove second baseman to help me with my feet and understanding how to use my glove. Carlos Delgado on how to play first base. These guys were very successful in the big leagues and I'm grateful to have them around to help me play defense. Not to mention, those guys were pretty good offensively, too."
Gregor Chisholm has covered the Blue Jays for MLB.com since 2011. Follow him on Twitter @gregorMLB and Facebook, and listen to his podcast. This story was not subject to the approval of Major League Baseball or its clubs.