Winter Tour visits hospital, Oilers game in Edmonton
Sanchez, Estrada, Pillar, Travis also host autograph session, meet fans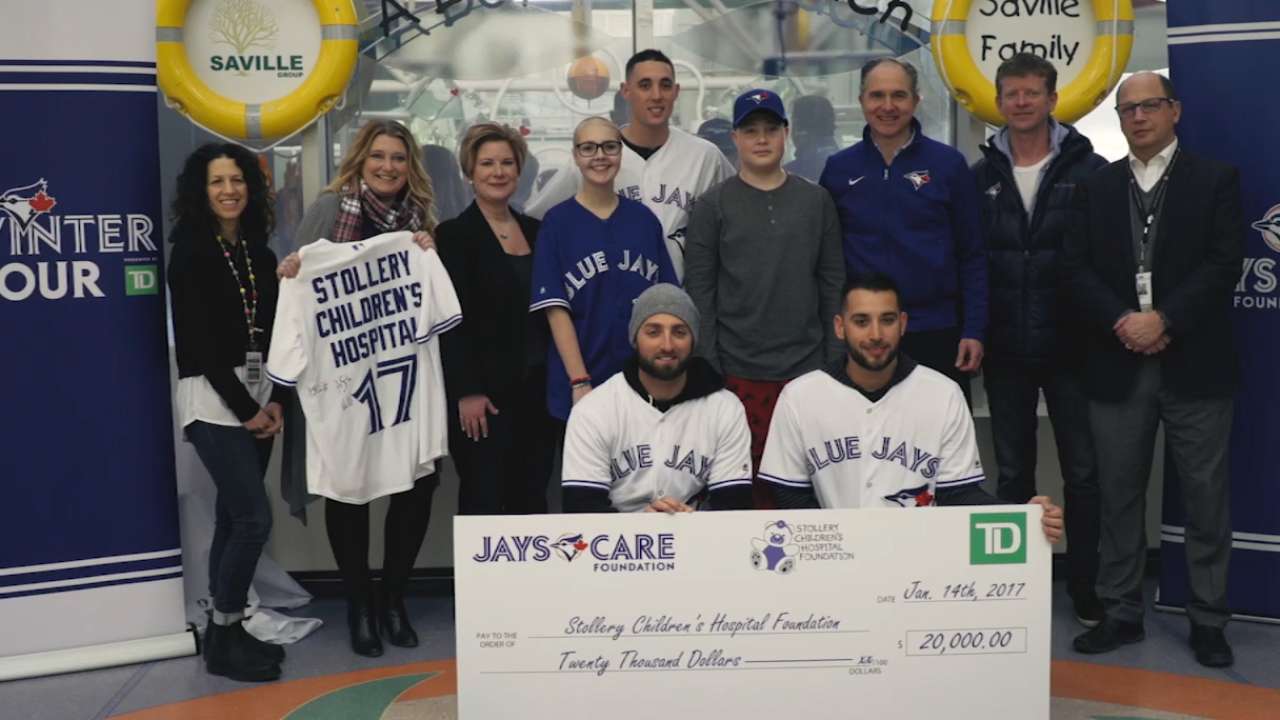 EDMONTON -- The Blue Jays travelled to Edmonton, Alberta, for Days 3 and 4 of their Winter Tour presented by TD Canada.
Walking through the Edmonton airport followed by a camera crew and an entourage of 15 or so people would typically make someone stand out, but Aaron Sanchez, Marco Estrada, Kevin Pillar and Devon Travis blended in nicely, grasping Tim Hortons in their hands.
"It's my first time in Edmonton, so I'm really looking forward to all the fun that's going to happen over the next few days," said Sanchez.
The fun began with a media availability session, where the players were asked about their thoughts on Western Canada, the offseason, and their expectations and goals for the upcoming season.
• Blue Jays' Winter Tour begins in Regina
Later, the players were greeted with "Let's go Blue Jays" chants as they arrived at the ticketed autograph session inside Rogers Place. For the fans that attended from all over Western Canada, seeing the Blue Jays in person was a special event.
"Living in Edmonton, I don't get the opportunity to see the players live very often," said long-time fan Marc Beintema. "Having them come here was awesome. The experience was fantastic, and the players were absolutely incredible. I'm already building a box for my newly signed Pillar glove."
Signing autographs is always a pleasure for the players, too, and this event was no exception.
These amazing fans from Edmonton provided @KPILLAR4 with his own Gold Glove! #WT2017 pic.twitter.com/NiHwAhi7QB

— Blue Jays (@BlueJays) January 14, 2017
"We can make a fan's day with something so little," said Sanchez, while signing a T-shirt for a young fan. "That's what we are here to do."
The following morning, the players headed back to Rogers Place to watch the Oilers hold their morning skate before going on a tour of the newly-built facility.
"The arena was incredible," said Estrada after seeing it for the first time. "But I have to admit, the highlight was definitely meeting Wayne Gretzky."
Sanchez agreed, adding that meeting Gretzky ranks at the top of the players he has ever met. "[Gretzky] is such a humble individual," he said. "When you're around greatness like that, it's mouth closed and ears open. Anything you can learn from an athlete like that and take with you is a huge experience for us."
The tour concluded with a jersey swap with Oilers' Connor McDavid, Ryan Nugent-Hopkins, Jordan Eberle, and Milan Lucic.
That afternoon, the players headed to Stollery Children's Hospital, where Jays Care and TD made matching $10,000 donations to the hospital and the Blue Jays connected with children and their families.
We had a great time making new friends at @StolleryKids in Edmonton! #WT2017 pic.twitter.com/VJJsQz2DP0

— Blue Jays (@BlueJays) January 14, 2017
"Heading to places like these and meeting these children is very important to me," said Sanchez. "It's always something I make sure I sign up for."
The players spent the afternoon coloring pictures, signing autographs, and smiling in photos with kids. One young fan in particular was keen to take Snapchats with Sanchez, and when they took another, Sanchez agreed, but only under the condition that he would get to write the caption.
What did he choose?
"Hanging with my new bestie."
Estrada also felt particularly inspired by the strong children and families in attendance.
"Those few minutes that you get to see a smile on their face, it lights up the entire room," Estrada said.
#Oilers win! #Oilers win! #Oilers win! #WT2017 pic.twitter.com/Qk0myOGYsP

— Blue Jays (@BlueJays) January 15, 2017
The night concluded where the day began, as the Blue Jays headed back to Rogers Place to see the Battle of Alberta, as the Calgary Flames were in town to take on the Oilers. The game could not have been better, as it was a tightly contested back-and-forth contest featuring both 3-on-3 overtime and shootouts. By the time Oilers' goalie Cam Talbot made the last save of the game, the Blue Jays players were on their feet and cheering.
"Everywhere I've been in Canada, the fans have been incredible," said Pillar. "I can't wait for next year!"
The Blue Jays Winter Tour is set to resume January 20-22 in Toronto, where Steve Pearce, Ryan Goins, Joe Biagini, J.A. Happ, Melvin Upton Jr., Marcus Stroman, Ezequiel Carrera and alumni Lloyd Moseby, Devon White and Scott Downs will all make appearances.
April Whitzman is the digital marketing manager for the Toronto Blue Jays.