Biagini's role with Blue Jays still up in air
Last year's Rule 5 pick could be starter or reliever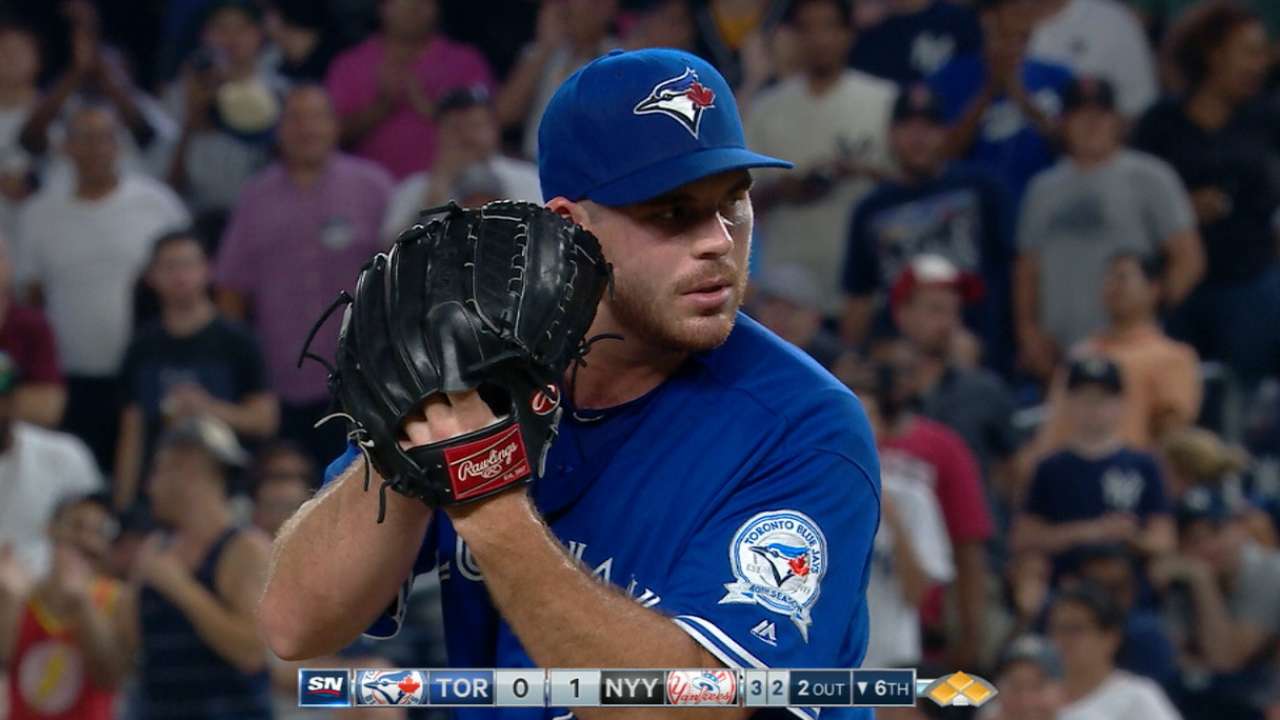 DUNEDIN, Fla. -- The Blue Jays officially opened their Spring Training on Tuesday morning with a 25-man roster that is mostly set with a couple of big exceptions. One of them centers around Joe Biagini.
Biagini, 26, enters camp coming off a banner rookie season that saw him make the team as a Rule 5 Draft pick and then become an integral part of the bullpen. Now the big question is whether the Blue Jays should keep Biagini in that relief role or instead let him continue his career as a starter.
• Spring Training: Info | Tickets | Schedule | Gear
The affable and quirky Biagini said the Blue Jays have told him to prepare for both roles. The expectation is that he will get stretched out early in camp and at some point in mid-March the club will make a call on his role for the upcoming season.
"A start-liever," Biagini joked when asked for his preference. "My stance, if I'm given the opportunity to start, at some point in the future, I'm not going to say no. I'm going to be excited about that, but I'm also going to be excited about being in the bullpen because I don't really care what happens as long as everybody is doing what's best for the team."
Toronto currently has a starting staff of Aaron Sanchez, Marco Estrada, J.A. Happ, Marcus Stroman and Francisco Liriano. That's not going to change unless there's an injury, but the problem is the Blue Jays have very little depth in the rotation beyond those five guys. Biagini could become a valuable insurance policy for the rotation, similar to Drew Hutchison last season, but he also might be needed out of the bullpen.
The Blue Jays' bullpen is better on paper now than it was a few weeks ago before the club signed veteran relievers J.P. Howell and Joe Smith late in the offseason. Those two are expected to combine with right-hander Jason Grilli as the primary set-up men in front of closer Roberto Osuna. The out-of-options Mike Bolsinger is an early favorite to win the long reliever's job, which leaves two spots up for grabs.
Biagini, Gavin Floyd, Rule 5 pick Glenn Sparkman, out-of-options Bo Schultz, Aaron Loup, Danny Barnes and Ryan Tepera are among those under consideration for the two spots. Biagini arguably is the best of the bunch, but the issue Toronto must consider is whether there is enough depth in the 'pen to justify sending Biagini to Triple-A Buffalo where he can develop as a starter.
• Stroman prevails in arbitration case
"I'm OK with doing whatever they want me to do," Biagini said when asked about possibly going to Buffalo. "I don't know if that's going to be an extremely likely option but I think it can be, just depending on all of the hypotheticals. There's just no way of knowing what exactly is going to happen, but they said there were a couple of unique scenarios where that could happen for a period. I want to help this team win, but in doing that it could require going [to Buffalo] and if that's the case I'm not going to make a big issue about it."
Biagini hasn't started since 2015 when he went 10-7 with a 2.42 ERA for San Francisco's Double-A affiliate. He tossed a career high 130 1/3 innings that season, and if he changes roles this year his workload would have to be monitored. But that's easy enough to do, particularly in the Minor Leagues.
One thing the Blue Jays likely won't do is transition Biagini to the rotation midway through the season. If he begins the year as a reliever that likely will be his role for 2017, and while there are clear benefits to starting him, there are also clear benefits to having a guy who posted a 3.06 ERA over 67 2/3 innings available out of the bullpen as well. Either way, this won't be an easy decision.
"I think there are a lot of good guys in this camp," Biagini said when asked about the bullpen. "I'm not thinking that I'm going to be any sort of savior, but I would like to think [the bullpen] could be better with me there because that's how you want to think about yourself as an athlete."
Gregor Chisholm has covered the Blue Jays for MLB.com since 2011. Follow him on Twitter @gregorMLB and Facebook, and listen to his podcast. This story was not subject to the approval of Major League Baseball or its clubs.