Gibbons confident in contract situation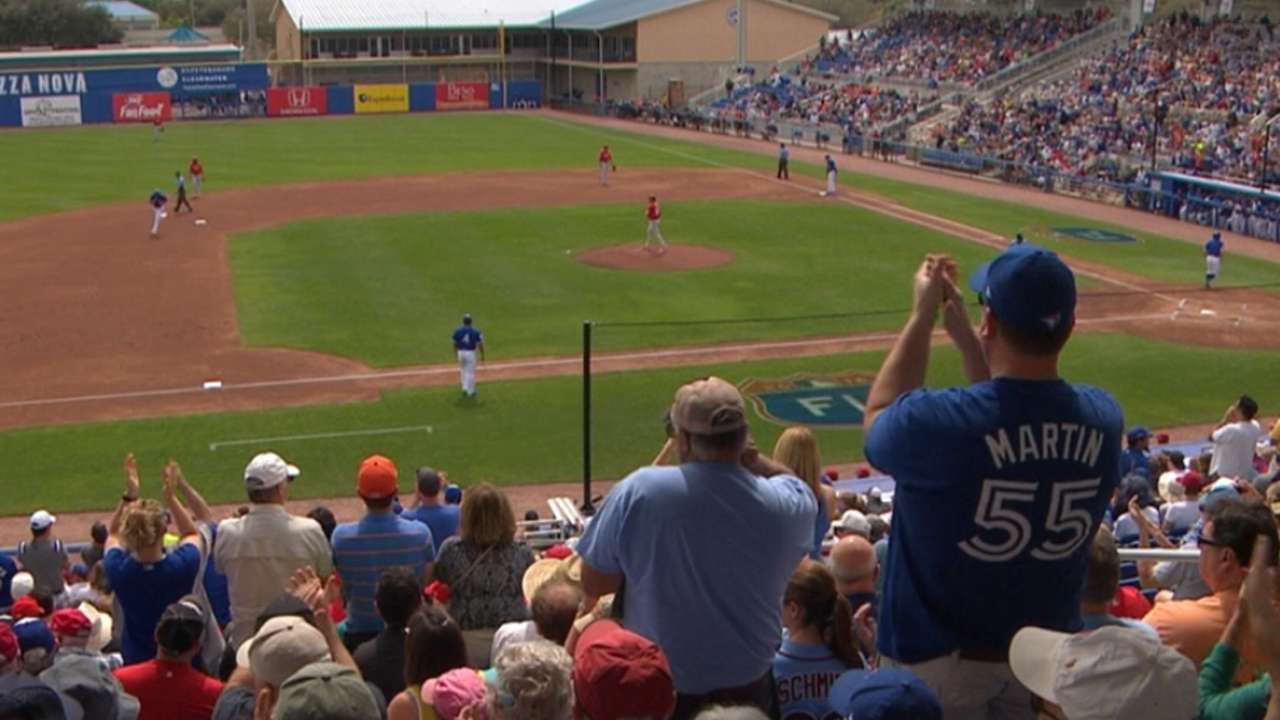 DUNEDIN, Fla. -- John Gibbons' contract is set to expire at the end of the season, but the veteran manager remains confident he will be able to work something out with the Blue Jays well before then.
Gibbons is expected to discuss a possible contract extension with general manager Ross Atkins in the near future. Atkins and president Mark Shapiro are both on record saying that signing Gibbons remains a priority, and it seems like only a matter of time before a new deal is agreed upon.
It was with Gibbons' blessing that the Blue Jays put those extension talks on the backburner this offseason. There were too many other things that needed to get done, and both sides knew all along there would be plenty of time to handle Gibbons' contract situation once holes on the roster were filled.
"It hasn't been a driving force for me, because I think we'll get something done," Gibbons said. "There was a lot going on this winter so I just kind of laid low, you know? We've talked. We laid the groundwork ... I told Ross, 'Listen, you got a lot going on, man. In due time, we'll get that done.' We've got a good working relationship. We proved that last year."
Atkins first mentioned his desire to re-sign Gibbons during last year's end-of-the-season news conference. The two sides were tentatively scheduled to talk contract during Major League Baseball's annual Winter Meetings, but Gibbons had to skip the event outside of Washington, D.C., because of a personal matter.
Gibbons previously had a clause in his contract that tacked on another season to his deal if he was still employed by the organization on Jan. 1 of every year. The contract was put together by former GM Alex Anthopoulous, and the idea behind it was to avoid the potential "lame-duck" status that comes with a manager who has an expiring contract. That clause was removed last spring in exchange for a two-year deal that included a raise.
There are some people who believe that a manager doesn't carry as much authority inside a clubhouse if his future with the club is uncertain. That may not be true of the Blue Jays' clubhouse, but regardless it doesn't sound like it's going to be a problem because it's a question of when, not if, Gibbons gets a new deal.
"I'm exciting coming into the season, we're always optimistic, because we've got a good ballclub," said Gibbons, who has a career record of 644-614 over nine seasons with the Blue Jays. "But baseball is a business. Some guys come and some guys go. Really, that happens on every team. You just have to move, but we still have a really good ballclub."
Gregor Chisholm has covered the Blue Jays for MLB.com since 2011. Follow him on Twitter @gregorMLB and Facebook, and listen to his podcast. This story was not subject to the approval of Major League Baseball or its clubs.