Travis 'felt good' after Minor League game
Blue Jays 2B targets Grapefruit League game Friday; Tellez has future at 1B
DUNEDIN, Fla. -- Blue Jays second baseman Devon Travis, who is recovering from a bruised knee, saw his first action in the field this spring during a Minor League game on Monday, and he expects to play Friday in a Grapefruit League game.
Travis, who went 0-for-2 and didn't have any chances in the field, had been doing some baserunning drills during his recovery. Blue Jays manager John Gibbons said he's optimistic Travis can still be the Opening Day second baseman.
"Minor League game today, Minor League game Wednesday … and hopefully the next game is [in the Grapefruit League]," Travis said. "I'm playing in the field. I get to be a full baseball player, a real baseball player.
• Spring: Info | Tickets | Schedule | Gear
"I didn't have anything hit to me, but I went for a few balls. I felt good when I made the crossover step. It felt good to be in a real game."
Travis missed the first 47 games of the 2016 season after undergoing shoulder surgery. A hand injury cost him a few games in August. He also suffered a knee injury in Game 1 of the American League Championship Series, which knocked him out of the rest of the postseason.
"He's feeling great,'' Gibbons said. "I've been watching him on the days he can participate when we do our drills, and he looks really good to me.
"The doctors have a plan and they know better than I do. As a [manager], you want these guys out there all the time. But this time of year, the docs have a better idea than I do. … If all goes well, he'll play in a [Grapefruit League] game not too far off."
Tellez making waves
Blue Jays No. 5 prospect Rowdy Tellez, who made a big impression before being sent to Minor League camp, is expected to start the season in Triple-A Buffalo.
Tellez, who had 23 home runs and 81 RBIs at Double-A New Hampshire this past season, batted .267 in 18 Grapefruit League games. The 6-foot-4, 220-pound Tellez dropped to the 30th round in the 2013 Draft, but the Blue Jays managed to sign him; he nixed his commitment to the University of Southern California.
Gibbons said Tellez appears to have a great future at first, a position expected to be handled this season by Justin Smoak and Steve Pearce.
"If all goes well for him -- and there are no guarantees in this business -- he could be the guy who anchors that position in Toronto for a lot of years," Gibbons said.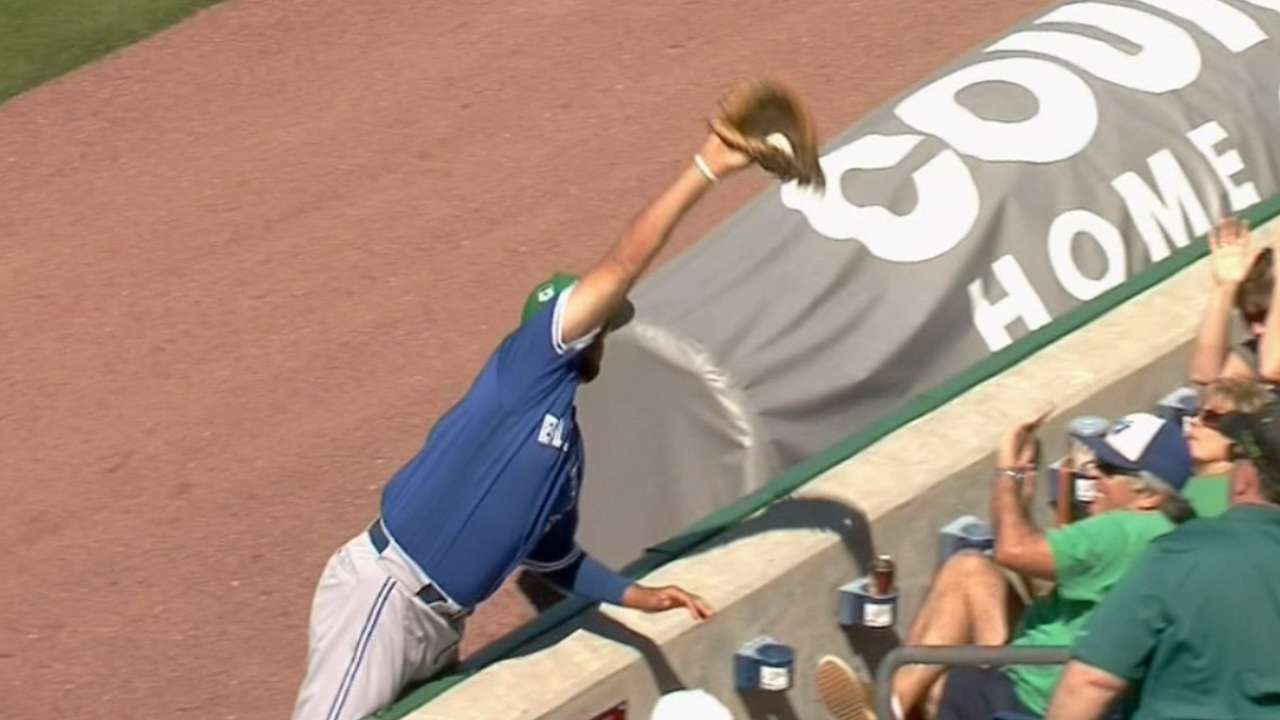 Tellez's power potential is obvious. But Gibbons said Tellez's defense "improved a ton, especially his footwork around the bag. … He has great size, and he's a nice target over there."
Gibbons also said he was told Tellez could be the best baserunner in Toronto's Minor League system. After watching him up close, Gibbons said that lofty statement could be on the mark.
"He had a great spring, but basically what happened was we told him that his at-bats were going to run out now,'' Gibbons said. "You stay over [in big league camp] too long, and you start backtracking, falling behind some of the kids over there you're going to be playing against."
Joey Johnston is a contributor to MLB.com and covered the Blue Jays on Monday. This story was not subject to the approval of Major League Baseball or its clubs.