Inbox: Who's the Blue Jays' sixth starter?
Beat reporter Gregor Chisholm answers questions from Toronto fans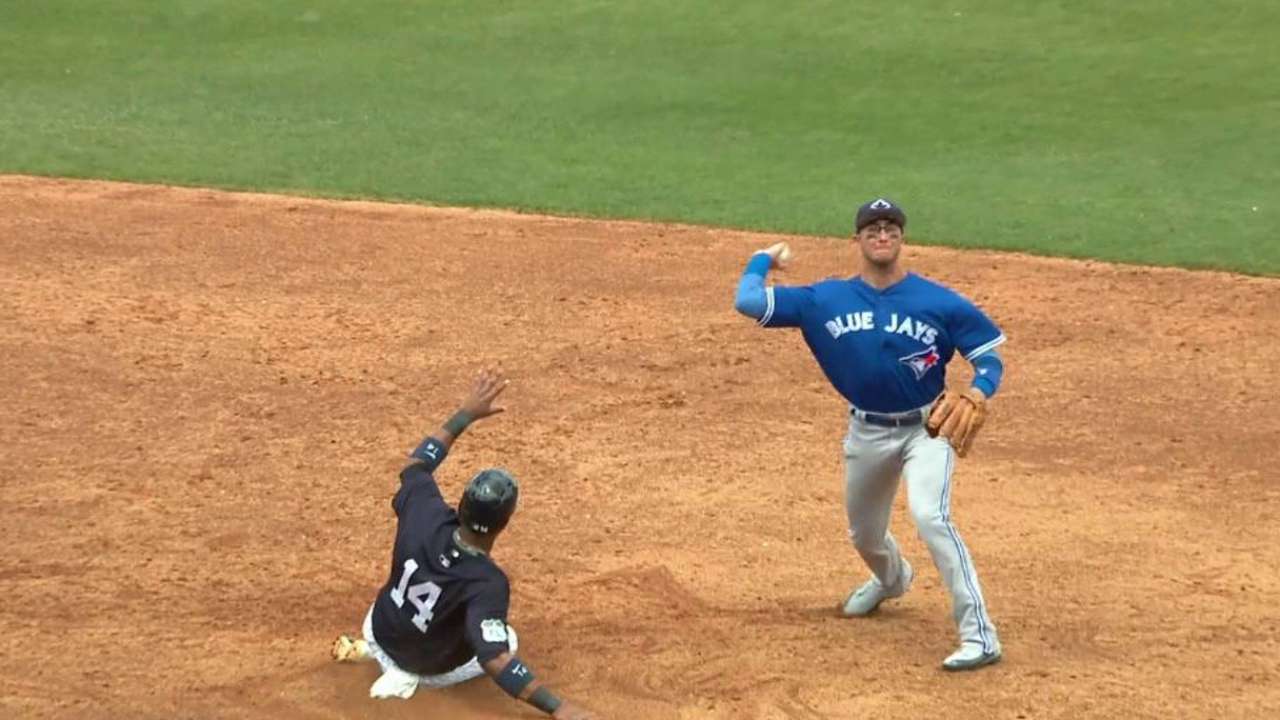 Who is shaping up to be the Blue Jays' sixth starter? It's unlikely their good fortune of healthy starters will continue this year.
-- Dave P.
Mat Latos is the early favorite, but it really will come down to which starter is pitching the best for Triple-A Buffalo at the time of an injury. Casey Lawrence is one name to keep in mind, while TJ House, Jarrett Grube and Brett Oberholtzer round out the Bisons' rotation. If a couple of big-league starters get hurt, the Blue Jays could be in serious trouble, but the same could be said about most teams.
• Submit a question to the Blue Jays Inbox
Why was Roberto Osuna pitching in Montreal if he wasn't healthy? Will this decision cost him more time on the DL?
-- Caleb H., Vancouver, British Columbia
The quick answer is the Blue Jays expected Osuna to be ready, but his lack of work this spring meant he needed to throw more innings before Opening Day. Was that a mistake? In hindsight, it probably was, but his neck spasms are still pretty minor in the grand scheme of things. There is not any structural damage in the area and Osuna should be good to go soon. The player has to take some accountability here as well, because when there is no noticeable damage to the body, the training staff relies on how the player says he is feeling.
Do you think the Jays' brass should lock up Joe Biagini through his arbitration years, perhaps beyond? I think his comedy itself is worth an investment, and he seems headed for a bright career, whether it be as a reliever or a starter.
-- Thomas D.
Biagini is enjoying a lot of success early in his career, but let's not get too carried away here. The 26-year-old won't be eligible for arbitration until 2019 and he's not set to become a free agent until '22. Considering the length of club control, there really is no incentive whatsoever to get a deal done. It's way too early to start talking about buying out Biagini's free agency, and while guaranteeing a deal through his arbitration years would provide cost certainty, it wouldn't be worth the risk of him eventually underperforming or getting hurt.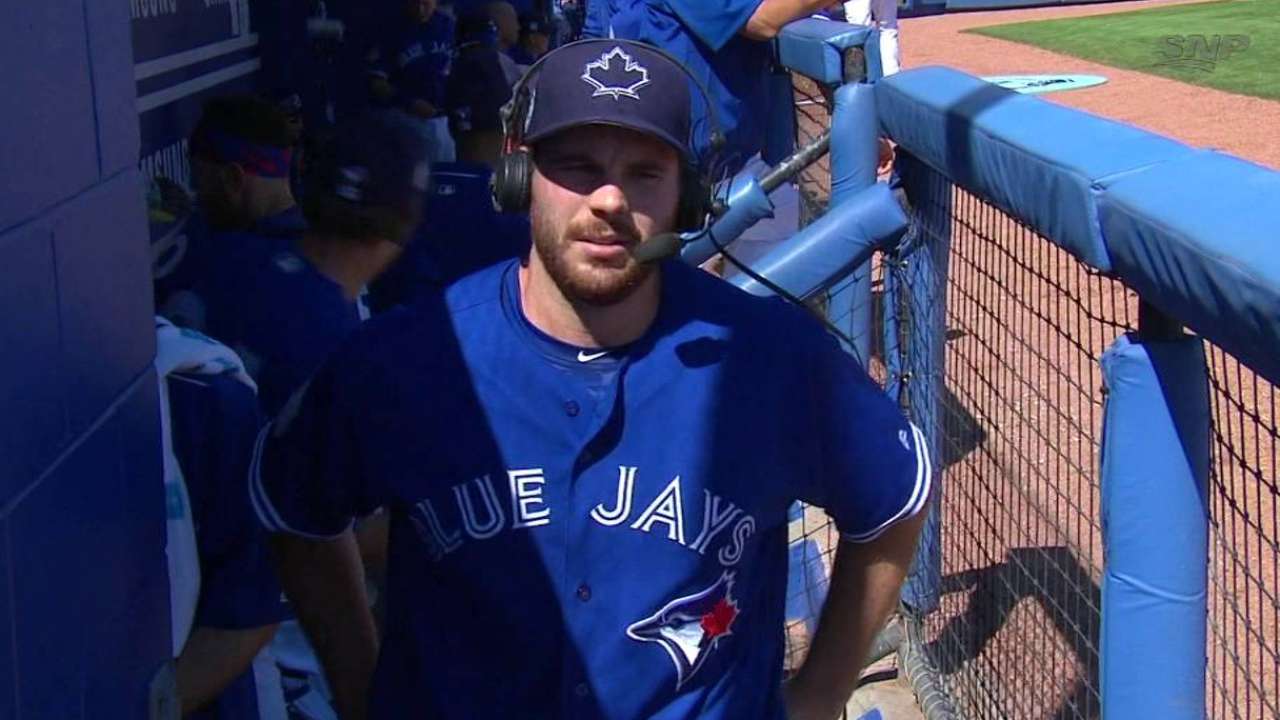 How do options work? I understand that a player only has so many. And once they've run out, they can no longer switch between Triple-A and the MLB team. But how many do they start with? And if a player clears waivers and is signed again, do they get more options?
-- Michelle H
Once a player has been placed on the 40-man roster, there are three option years where he can be sent to the Minors without clearing waivers. An option year is only used if the player is sent down for at least 20 days. For example, Ryan Tepera was continuously shuffled between the Majors and Minors in 2015 and '16, so the club used two of his option years. He recently made the 25-man roster so his third option year has not been used, but it will be if he goes back down to Buffalo for at least 20 days. Once the option years are used, there is no getting them back, regardless of whether a player was waived and then signed, traded, etc.
Who do you think is the best option, defensively and offensively, for left field? What about first base?
-- Brooke N., Glenboro, Manitoba
Defensively, the best option in left is Ezequiel Carrera. And at first, it's Justin Smoak. But I firmly believe Steve Pearce needs to be an everyday player for this team. Early indications are that John Gibbons will use Carrera in left field and Pearce at first base when a fly-ball pitcher like Marco Estrada is on the mound. When a sinkerballer like Aaron Sanchez is pitching, it should be Pearce in left and Smoak at first base. The only time I'd take Pearce off the field is when he needs a day off, but his bat is much better than either of the other two candidates, and it's clear he needs the playing time.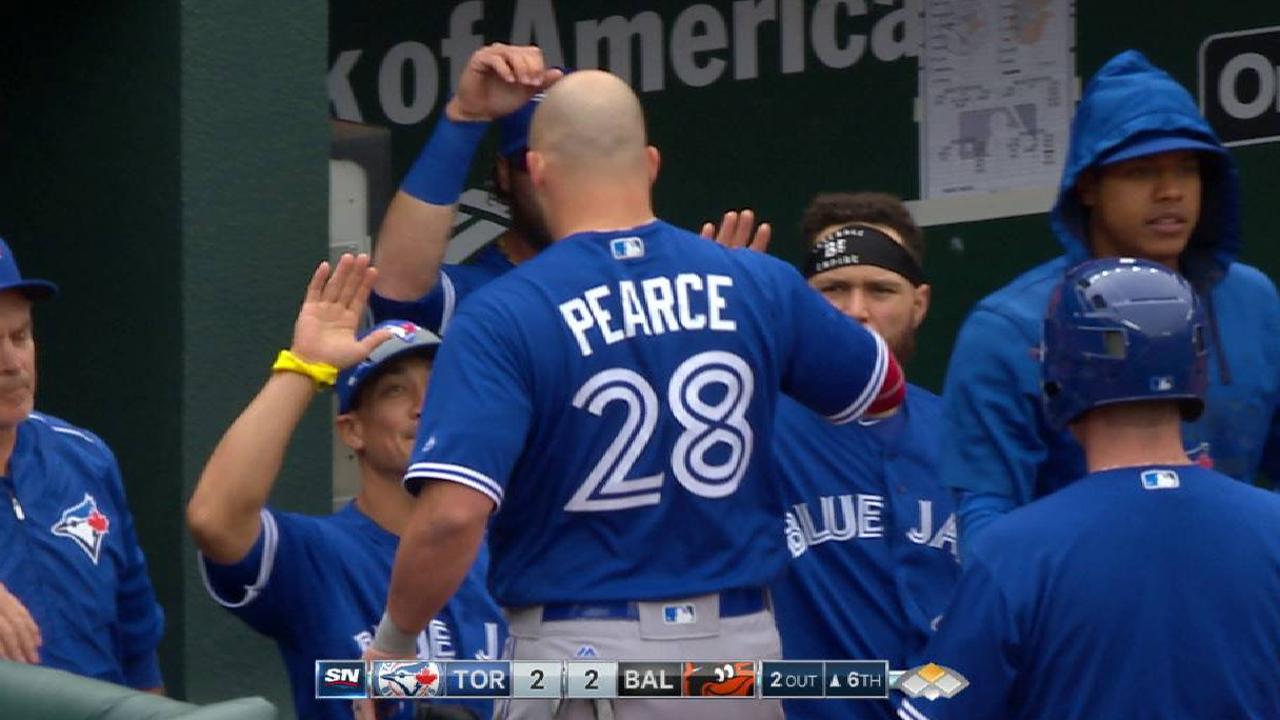 Spring Training is about getting the players ready as individuals for the grueling season. When does the club start to work on getting the team to come together as one? I would love to know what the organization does to bring the team together and jell as a unit.
-- AJ B., Melbourne, Australia
Honestly, there is not a lot that needs to be done. Teams typically come together the most when they are on the road, because there are fewer outside commitments and not as many family members around. Whether it's on the team charter, at the hotel or at the ballpark, these guys spend almost every waking minute together, so team chemistry is something that just comes along naturally. Just like in any work environment, there are certain cliques within the larger group, but when you're together this much, you don't really need specific team-bonding exercises. As the year progresses, the team will get together for concerts, other sporting events, fantasy football drafts, etc., but it's never mandatory for everybody to attend.
Gregor Chisholm has covered the Blue Jays for MLB.com since 2011. Follow him on Twitter @gregorMLB and Facebook, and listen to his podcast. This story was not subject to the approval of Major League Baseball or its clubs.