Pillar showing he can handle leadoff spot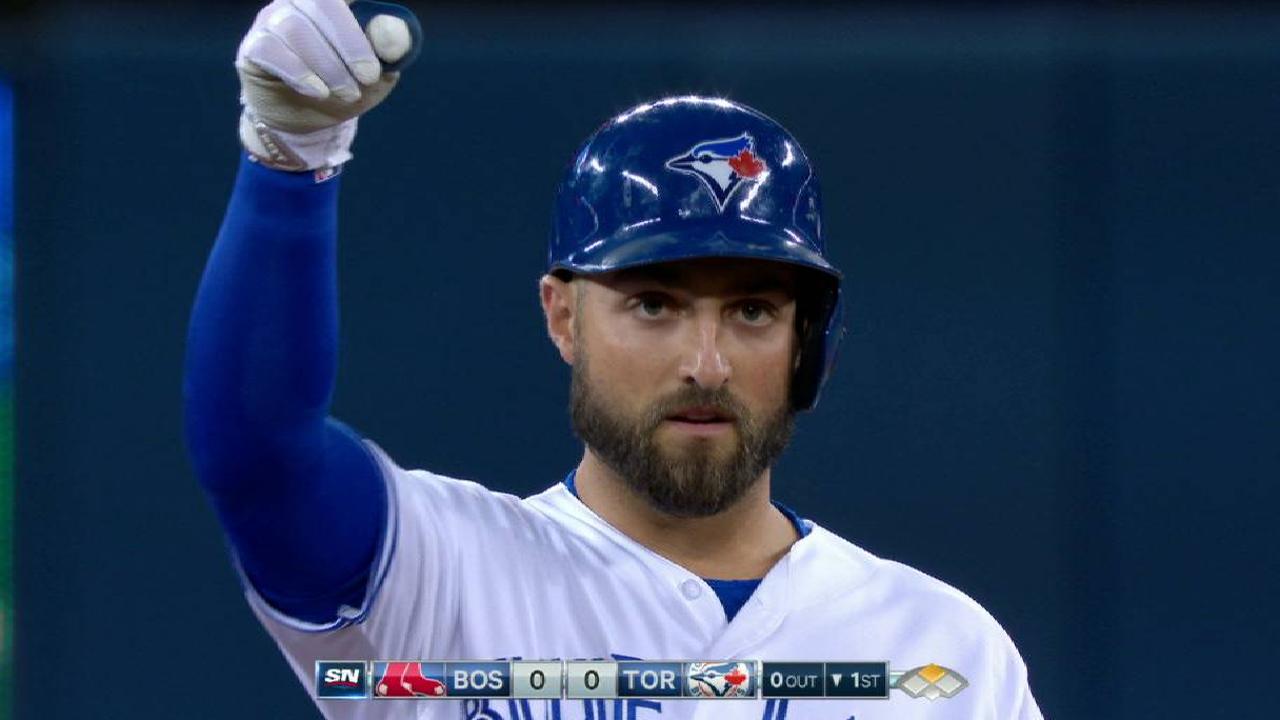 TORONTO -- With three doubles down the left-field line that looked like replays of one another, Kevin Pillar's successful audition as the Blue Jays' leadoff hitter continued in Tuesday night's 8-7 loss to the Red Sox at Rogers Centre.
Pillar overhauled his plate approach this past offseason, focusing on improving his patience, especially with two strikes, and attacking early pitches inside the zone. After a short-lived stint atop the lineup to open 2016, these changes were made consciously and with a certain opportunity in mind.
"He's always told me he wants to be the leadoff guy," manager John Gibbons said after the loss. "'OK, show us.' You know? That's what he's doing right now."
Tuesday marked Pillar's first career game with three extra-base hits, extending his hitting streak to six games and bumping his average up to .314. For an offense still looking to get over the top on a consistent basis without a set batting order, a leadoff hitter that can get the ball rolling early is one of the quickest fixes.
Pillar's first double of the day came on the second pitch he saw from Red Sox lefty Brian Johnson, who was making his second big league start. After watching a Johnson fastball go high for ball one, Pillar jumped on the first pitch in the zone and used his quick hands to pull the ball past a diving Pablo Sandoval. All part of the plan, according to Pillar.
"I think the only thing that changes is my first at-bat of the game," Pillar said. "It's one of the surest things in baseball. Leading off the game, a guy's going to try to throw strike one and I'm trying to jump on that pitch"
While encouraging, Pillar's development does remain a work in progress early in the season. After opening the year by going eight consecutive games without a strikeout, the longest such streak of his career, Pillar had struck out twice in three of four games entering Tuesday's opener against Boston.
Gibbons said over the weekend that the plan is to eventually return Devon Travis to the leadoff spot when he finds his swing. Ezequiel Carrera, who provided some late fireworks with a two-run pinch-hit home run to bring Toronto within a run late on Tuesday, got the leadoff nod in a game last week and has long held the trust of Gibbons in important spots. Steve Pearce led off once against a left-handed starter and Jose Bautista held the job for 40 games last season, so the top of Toronto's lineup card is hardly concrete.
To Pillar's credit, this game represented an immediate bounce-back from that relapse. Known primarily for his defense, Pillar is making hard contact and represents the team's foremost threat on the bases. If he can prove that there is some permanence to his adjustments, the continued maturation of his plate discipline will have as big an impact on the Blue Jays' lineup as anything.
"His first couple years, he's always been an aggressive hitter, but to the extreme," Gibbons said. "And he'd chase out of the zone all the time. Especially when he would get two strikes. So he really worked on that and it's paying off for him."
Keegan Matheson is a reporter for MLB.com based in Toronto. This story was not subject to the approval of Major League Baseball or its clubs.