Latos to make '17 debut vs. Angels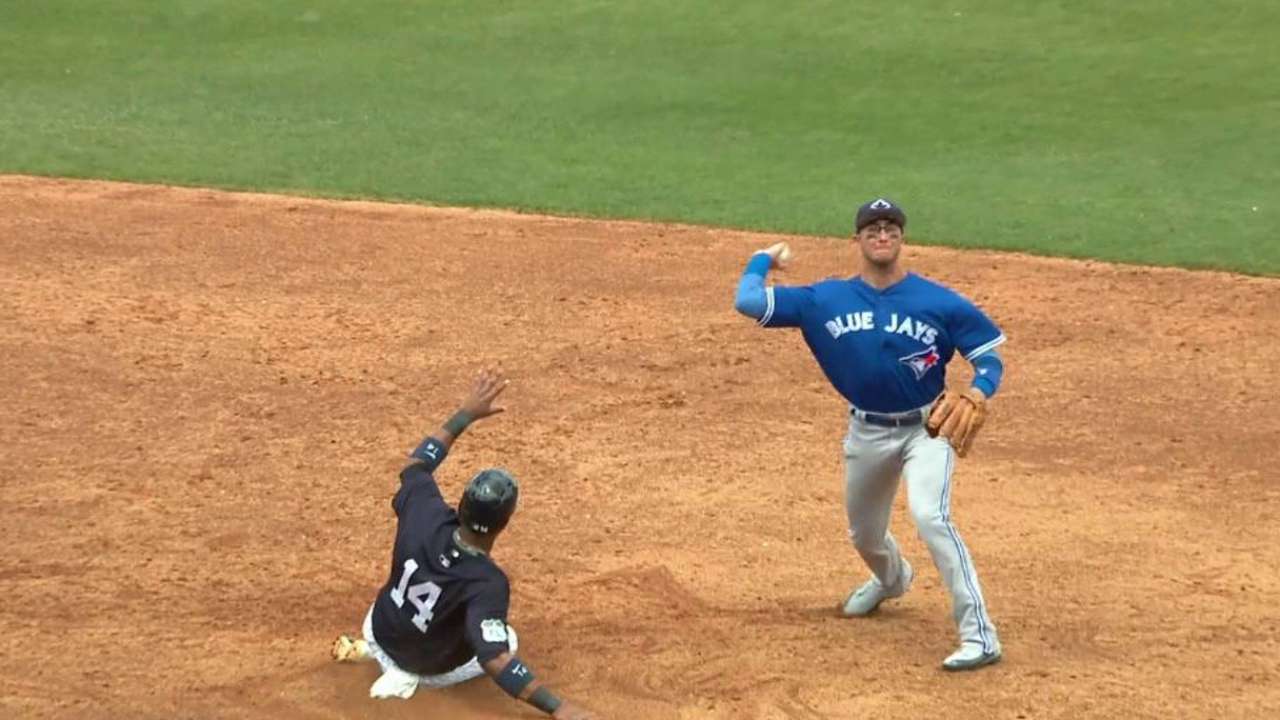 The Blue Jays and Angels open their four-game series on Friday in Los Angeles with starters Mat Latos and Alex Meyer both making their 2017 debuts.
Meyer's start is intended to give the Angels' five regulars an added day of rest as they're in the midst of playing 20 games in 20 days. The 6-foot-9 right-hander brings a high strikeout ability and impressive fastball velocity to the mound, averaging 95.28 mph in five starts with Los Angeles this past season, according to Statcast, but he has struggled with control at times in his career.
Through 28 Major League innings, Meyer, the Angels' No. 8 prospect according to MLBPipeline.com, has walked 20 batters, and he averaged 4.2 walks per nine innings at the Triple-A level. In three starts this season with Salt Lake, Meyer holds a 4.80 ERA over 15 innings.
Latos, who joined the Blue Jays on a Minor League deal in February, competed for a bullpen spot in spring, but he ultimately opened the year in the Triple-A rotation, where he's found success early on.
Over his first nine innings, Latos has worked around six walks to keep his ERA at 1.00. Latos' four-seam fastball averaged 91 mph at the Major League level in 2016.
"The thing that's good about him, he's been around the game a while," said Blue Jays manager John Gibbons. "He's a veteran guy, and that's why we signed him. You know, if something happened, we'd need him."
Latos will be followed in the rotation by Casey Lawrence on Saturday, and Gibbons said on Thursday that one of the two starters is likely to stick with the team for a second outing against St. Louis next week. Latos and Lawrence are currently replacing J.A. Happ and Aaron Sanchez, both of whom are on the 10-day disabled list.
Things to know about this game
• The Blue Jays and Angels hooked up for a minor trade on Tuesday, with Toronto sending catcher Juan Graterol to Los Angeles for a player to be named later or cash considerations. It's possible Toronto sees Graterol in this series, as the 28-year-old was called up Wednesday to join Martin Maldonado behind the plate.
• Meyer earned his first career Major League win in 2016 against the Blue Jays, throwing five innings of shutout ball with seven strikeouts while allowing just two hits. Devon Travis managed a single and a walk against Meyer, but Toronto's only other hit came on a double from Edwin Encarnacion.
• Meyer only threw a small sample of 25 1/3 big league innings this past season, but during that time, he found much more success with his offspeed pitches (curveball, changeup) than with his fastball, despite averaging better than 95 mph with it. Opponents batted .327 with a .635 slugging percentage and 91.3-mph exit velocity in at-bats ending with the heater, compared with .174/.283 and an 86.7-mph exit velocity against the slower stuff.
• Boston closer Craig Kimbrel's 97.1 mph fastball was the fastest pitch Kendrys Morales has hit for a home run since the beginning of pitch tracking data in 2008. The previous hardest pitch Morales had homered on was a 96.9 mph fastball from Seattle's Tom Wilhelmsen on Aug. 11, 2012, as a member of the Angels.
Keegan Matheson is a reporter for MLB.com based in Toronto. This story was not subject to the approval of Major League Baseball or its clubs.