Smoak's big day emblematic of hot start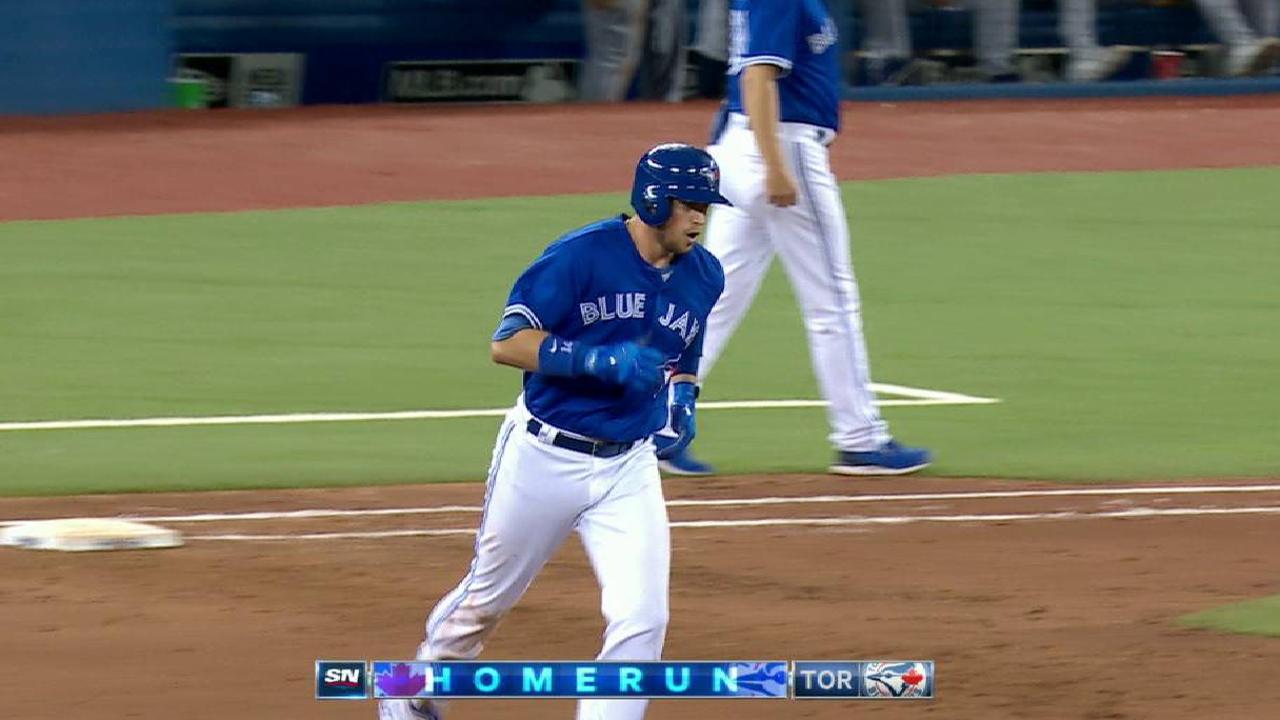 TORONTO -- There were plenty of questions and concerns surrounding Justin Smoak at the start of the season, but he is answering them better than almost anybody expected.
Smoak played a key role in Toronto snapping its three-game losing streak on Saturday afternoon with a two-run homer in the sixth inning. He also had a pair of singles to close out the 4-1 victory, finishing 3-for-3 at the plate, with a pair of runs scored and two RBIs.
The 30-year-old was a lightning rod of criticism from the Toronto fanbase during the offseason. Part of that was a by-product of the Blue Jays' inability to sign Edwin Encarnacion and instead hand Smoak the everyday job at first base. Fans still miss Encarnacion, but it also might be time to acknowledge what Smoak has been able to accomplish in the season's opening month.
"I see him laying off some breaking balls, that last year he would swing at, particularly the ones down," Blue Jays manager John Gibbons said. "Smoakie does some good things for us. Last year, he was thrown into a tough situation. In the second half of the season, he wasn't playing a whole lot, but we're counting on him and he's off to a good start this year."
Smoak's fourth homer of the season moved him into a tie with Kevin Pillar and Kendrys Morales for most on the team. According to Statcast™, his latest was projected to travel 437 feet and left his bat at 102 mph. That gave the Blue Jays some much-needed breathing room by increasing their lead to 4-1 and taking some pressure off a bullpen that has been struggling of late.
The shot to center field was the third-longest home run hit by a Blue Jays player this season. Russell Martin is still the leader with a home run against the Red Sox that traveled a projected 449 feet and Morales is second with a homer that went 444 feet. Smoak's power was never really in question but the rest of his approach at the plate was and that has improved this season as well.
Smoak's strikeout numbers are down, with 17 K's in 78 plate appearances (22 percent) compared to 112 strikeouts in 341 plate appearances last season (33 percent). Gibbons believes a lot of that has to do with playing every day and pitch recognition. Earlier in Saturday's game, he singled off a changeup and a curveball before unloading on a fastball from Matt Andriese for the homer.
"Honestly, the third at-bat, I felt like I was all over the curveball and the changeup," Smoak said after his fifth multi-hit game of the year. "You get to two strikes and honestly I don't think he wanted to throw a fastball in the zone there. He wanted a high fastball to go back to the soft stuff and I was able to do something with it."
Turns out, Smoak read the situation perfectly. Andriese admitted as much after the game.
"I was just trying to elevate a fastball," Andriese said. "I was going to come back with a curveball under the zone. But he got to a pitch that could have been a better pitch, but he put a good swing on it. That was it."
Gregor Chisholm has covered the Blue Jays for MLB.com since 2011. Follow him on Twitter @gregorMLB and Facebook, and listen to his podcast. This story was not subject to the approval of Major League Baseball or its clubs.