Stroman goes opposite field for 1st career HR
Blue Jays righty becomes first AL pitcher to barrel a ball this season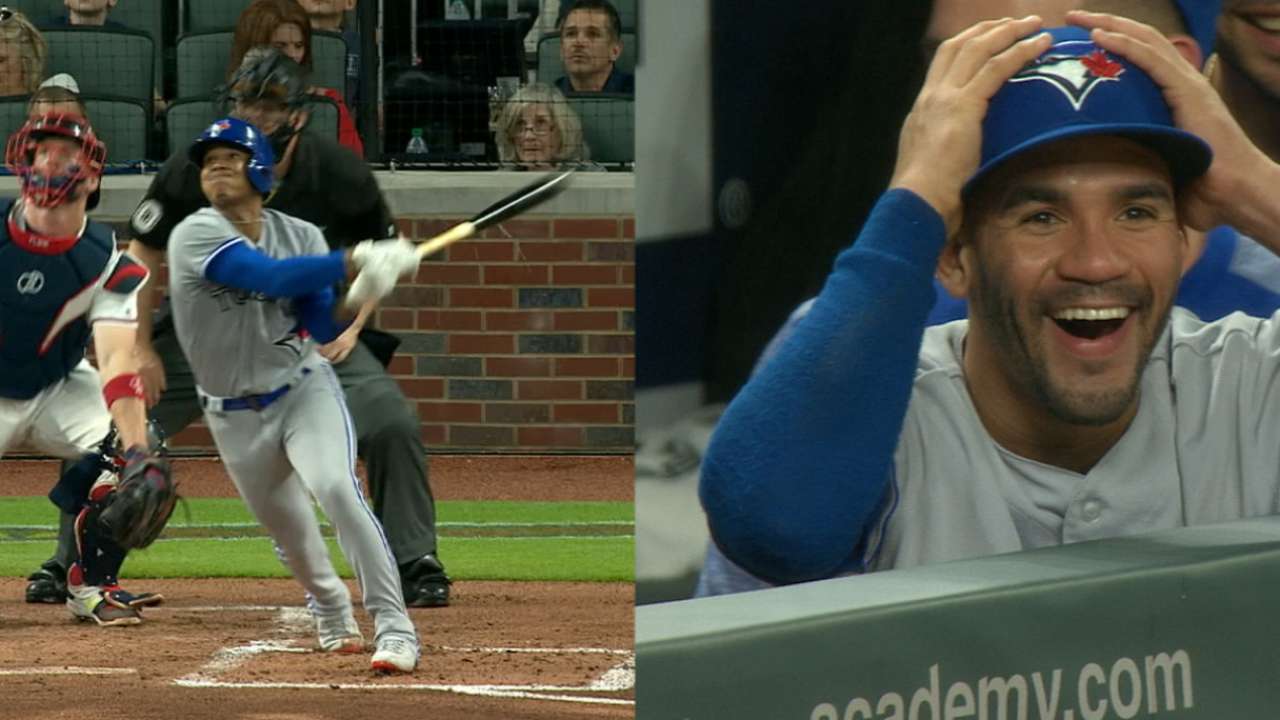 ATLANTA -- Marcus Stroman talks a big game when it comes to his hitting prowess. He backed it up on Thursday night with the first home run of his career.
Toronto's right-hander hit an opposite-field homer, going back-to-back with Luke Maile, during the fourth inning of a 9-0 win over the Braves. According to Statcast™, Stroman's shot to right was projected to travel 370 feet and left his bat at 99 mph.
Stroman became the second pitcher in franchise history to hit a home run. The only other pitcher to do it was lefty Mark Hendrickson back on June 21, 2003. More important, Stroman has bragging rights on the pitching staff and inside the clubhouse for the foreseeable future.
• Stroman the first Blue Jays pitcher to homer since Hendrickson
"These guys know I'm probably not going to shut up for a little bit in here. I've never hit an oppo homer in BP in my life," Stroman said. "It's just something that I ran into and just out there competing. Fun day. Glad to get the win. Boys swung it unbelievable and hopefully we can carry this into Baltimore."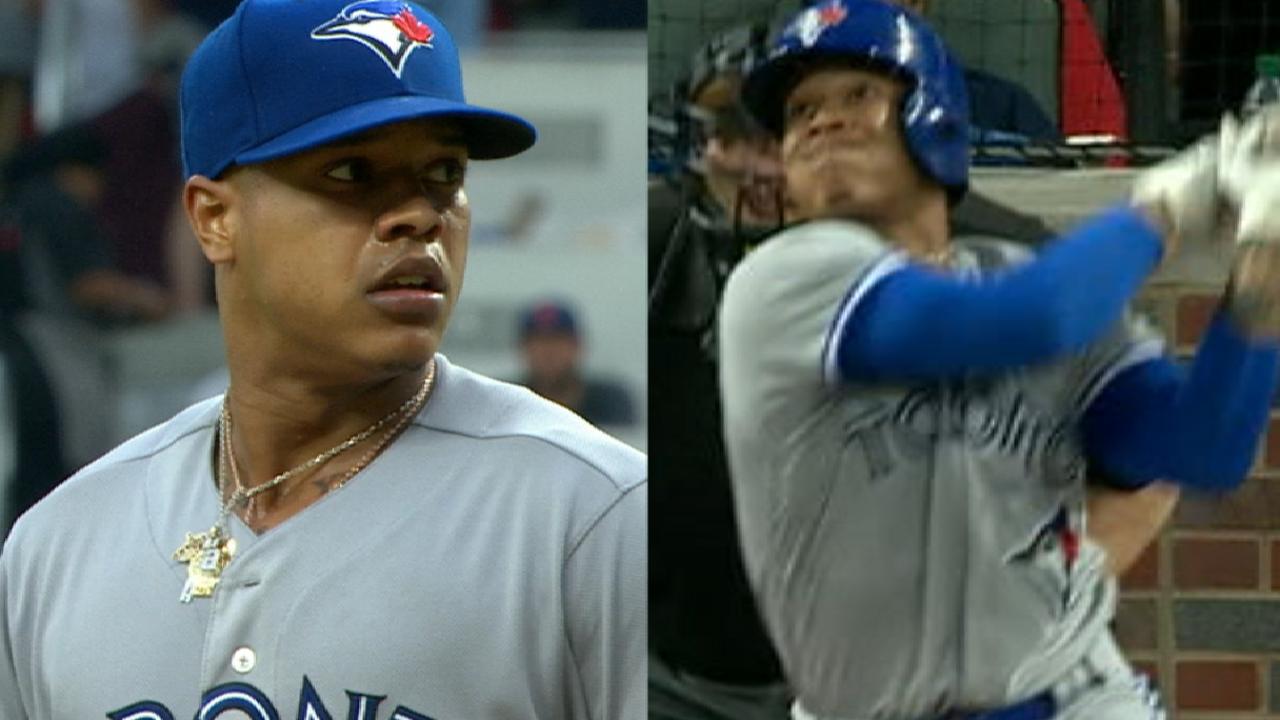 The reaction in the Blue Jays' dugout after the home run said it all. Devon Travis stood there with his hands on his head and a look of disbelief on his face. Marco Estrada could not stop laughing and Jose Bautista was waiting in the on-deck circle for a celebratory forearm bump. Manager John Gibbons had his arms over the dugout fence and a bewildered smirk on his face as Stroman ran the bases.
It was a moment that will not be forgotten anytime soon and with good reason. Stroman became the 22nd pitcher to go deep while playing for an American League team and the first this season. It was just the sixth barrel hit by a pitcher this season and the first by an AL pitcher. Stroman is the first AL pitcher to barrel a ball since Yu Darvish on Aug. 24 of last season.
"It was amazing," Bautista said. "I'll be hearing about it for a long time."
Height doesn't measure homers. https://t.co/afUBD6wYHZ #PitchersWhoRake pic.twitter.com/0Fd5XV8qIa

- MLB (@MLB) May 19, 2017
The 26-year-old Stroman is no stranger to the batter's box. He spent part of his time at Duke University playing second base and hitting at the top of the lineup. Earlier this year, Stroman also became the first pitcher in franchise history to successfully record a pinch-hit when he doubled during a game against the Cardinals.
Stroman appeared in 97 games as a position player at Duke, hitting .252 (76-for-301) with two homers, 19 doubles, four triples and 35 RBIs. There's clearly some ability in his bat, but it's not very often he gets to showcase it.
"I miss it a lot," Stroman said. "I had a lot of fun playing in the field. I still consider myself a pretty good athlete. I never consider myself just a pitcher. I feel like I can go out there and compete. It's fun any time you get into National League games and you have the opportunity to go out there and hit.
"You take BP leading up to it, you're always talking smack with all the position guys. That was for [Troy Tulowitzki]. That was for Tulowitzki right there. I know he's not with us, but me and him talk hitting more than anybody. So that's for Tulo, my guy, I miss him."
Gregor Chisholm has covered the Blue Jays for MLB.com since 2011. Follow him on Twitter @gregorMLB and Facebook, and listen to his podcast. This story was not subject to the approval of Major League Baseball or its clubs.