McCoy back in action after scary outfield collision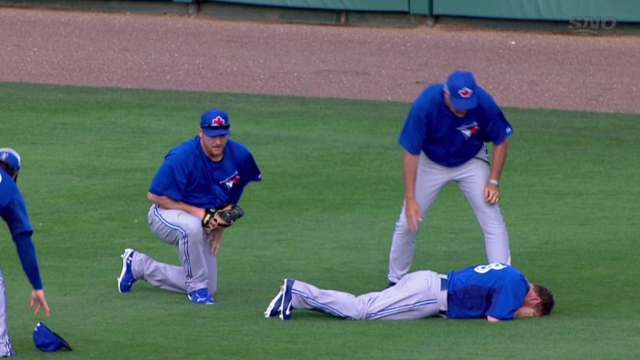 DUNEDIN, Fla. -- Utilityman Mike McCoy made his return to the Blue Jays' lineup Wednesday afternoon, four days after suffering a left-leg injury during a scary collision with outfielder Ryan Langerhans.
McCoy was diagnosed with a contusion on his left thigh when he crashed into Langerhans -- who was not injured on the play -- during a game against the Tigers on Saturday afternoon.
"Feeling a lot better," said McCoy, who is expected to begin the season with Triple-A Buffalo. "I was happy that I was able to recover quite quickly, so it's good to get back in there."
McCoy narrowly avoided a major injury during the collision. The incident occurred when a deep fly ball was sent into the gap in right-center field.
Both McCoy and Langerhans attempted to make a play on the ball and ended up running into each other at almost full speed. McCoy was sent flying and remained on the ground for several minutes before he limped off the field under the close eye of Toronto's medical staff.
The crash caused a large gasp from the crowd and all of the Blue Jays that were on the field ran to his aide. Lucky for McCoy and Langerhans, though, the two didn't knock heads and the only damage could be found on the thigh.
"I was pretty sore but I thought it was going to be a lot tighter than it was because after the bus ride coming home it was pretty tough," McCoy said.
"It was really sore and tight so I iced it all night, and it seemed to be all right in the morning. I was just trying to get over the impact of running and stuff, and it's starting to feel a lot better."
McCoy has spent parts of the past three seasons in Toronto. He is a career .190 hitter with a .273 on-base percentage and has the ability to play every position except catcher and first base.
The 31-year-old is currently blocked by fellow utilityman Mark DeRosa but could be called up at some point this season if there's an injury.