Matured Snider trying to stick with Pirates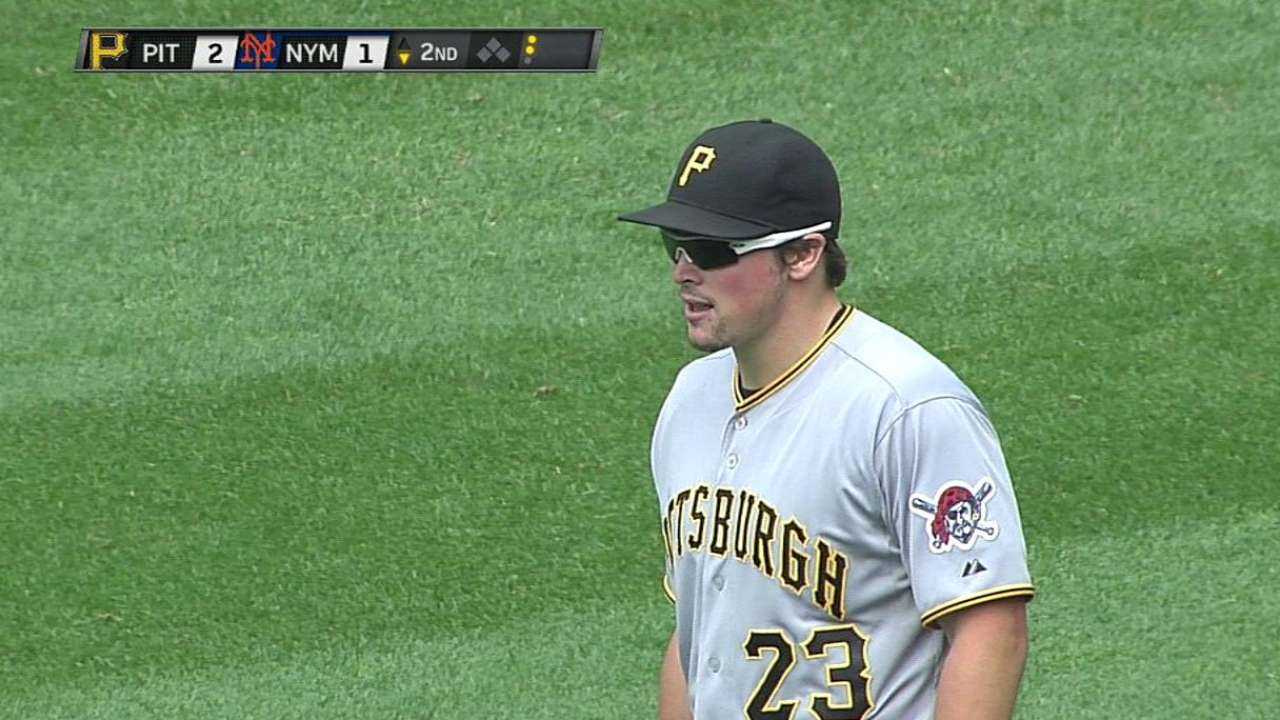 BRADENTON, Fla. -- In some ways, Travis Snider's life is completely different. But in other ways, it has remained exactly the same.
Toronto's former No. 1 prospect is still battling for playing time, still part of a young core that operates on a relatively tight budget and still calls Central Florida home during the spring.
The difference this year, though, is that he's doing it while wearing yellow and black instead of Blue Jays' royal blue.
"That first time putting on a different color uniform is something you won't forget," said Snider, who was traded to Pittsburgh last July for right-hander Brad Lincoln.
"But spending the last couple of months of the season, the offseason, Spring Training, I've been able to develop some good relationships with not only the players but the coaching staff. The goal here every day is to get better as a whole unit and looking forward to seeing how things play out."
Even though it seems like he's been around for a while, Snider is only 25 years old, and there's plenty of time to establish himself. But when it comes to his time in Toronto, he's most often used as a cautionary tale for what happens when teams rush prospects to the big leagues before they're ready.
The Blue Jays drafted Snider in 2006, and two years later he was making his debut at age 20. Throughout his struggles, there were concerns about an inconsistent approach at the plate and an apparent lack of ability to hit the curveball.
But instead of being able to being able to work through the issues at one level, Snider was constantly shuffled back and forth between the Majors and Minors. Along the way, there were disagreements with the coaching staff and perceived mixed messages being sent from the front office.
There were plenty of mistakes made by both sides, and Snider has never shied away from admitting where he went wrong.
"There were times, as I've spoken to before, my focus was outside of things that I can control and things that I could have done better," Snider said. "But as a young man maturing in the game, you have to learn by experience.
"You can be as mature off the field, deal with the things I dealt with in my personal life, but until you go through baseball adversity -- that's what molds us into young men and hopefully makes us stay around this game for a long time."
One thing Snider likely won't have to worry about -- at least for now -- is being sent to the Minor Leagues. He's out of options on his contract and cannot be demoted without first clearing waivers. That move remains unlikely, and Snider finds himself in position to potentially win the starting job in right field with Pittsburgh. The options -- or lack thereof -- worked against Snider in the past, but now they could be used to his advantage, even if he's trying not to think about it that way.
"The option thing is something that every player has to go through at some point of their career," Snider said. "Some guys are fortunate to play well enough in their first couple of years [that] you don't have to deal with it. As I realized, the No. 1 thing is that you play better, you don't worry about that kind of stuff.
"To play better you have to focus on each and every day. Not having that situation from a business standpoint, but I don't look at it as an advantage per se ... I have to validate my job in whatever my role is going to be with the team and make sure that I'm doing everything I can to prepare myself."
Gregor Chisholm is a reporter for MLB.com. Read his blog, North of the Border, and follow him on Twitter @gregorMLB. This story was not subject to the approval of Major League Baseball or its clubs.