Romero focusing on positives amid mixed results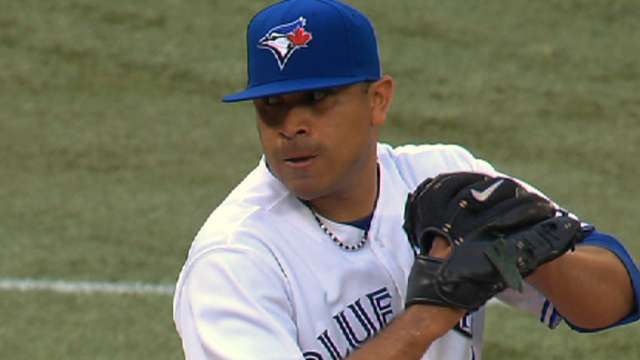 LAKELAND, Fla. -- Ricky Romero knows there are plenty of skeptics out there who think he will never be as good as he once was.
The voices are hard to ignore, but it is something he has slowly learned to cope with. At least publicly, Romero said he was no longer interested in talking about what went wrong and would rather focus on what went right.
That's at least one of the reasons why Romero still appeared upbeat despite giving up three runs in three innings of work against the Tigers on Friday afternoon.
"I'm confident that I'm going to be back to the guy that everybody is used to seeing," said Romero, who has a 7.27 ERA this spring. "I'm very confident, and there are a lot of things that are positive about today, and that's what I'll stick to.
"It's a work in progress, I'm not hitting the panic button, I'm sure a lot of people are, but stay with me."
Romero's outing against Detroit wasn't exactly pretty. He walked two of the first three batters before giving up an RBI single to Victor Martinez in the 30-pitch frame.
The second and third innings were much better, despite a similar result on the scoreboard. In the second it was a solo home run by Jhonny Peralta, and in the third it was a leadoff double by Austin Jackson, which eventually led to the ugly pitching line.
But the pace and rhythm in which Romero pitched was vastly superior to how he started the game. Romero indicated that last year he might have focused on the first inning, when everything went wrong, but this Spring Training he is instead focusing on what he liked about the performance.
"The quality of pitches in the second and third inning," Romero said when asked what he liked best. "You take away that first inning, I felt like I worked down in the zone. Changeup, I threw some really good ones other than the first inning. Got some ground balls, got a strikeout, you take away those two walks, let the guys put the ball in play, I definitely have a chance to do a lot better."
Gregor Chisholm is a reporter for MLB.com. Read his blog, North of the Border, and follow him on Twitter @gregorMLB. This story was not subject to the approval of Major League Baseball or its clubs.