Dickey, Arencibia return to Blue Jays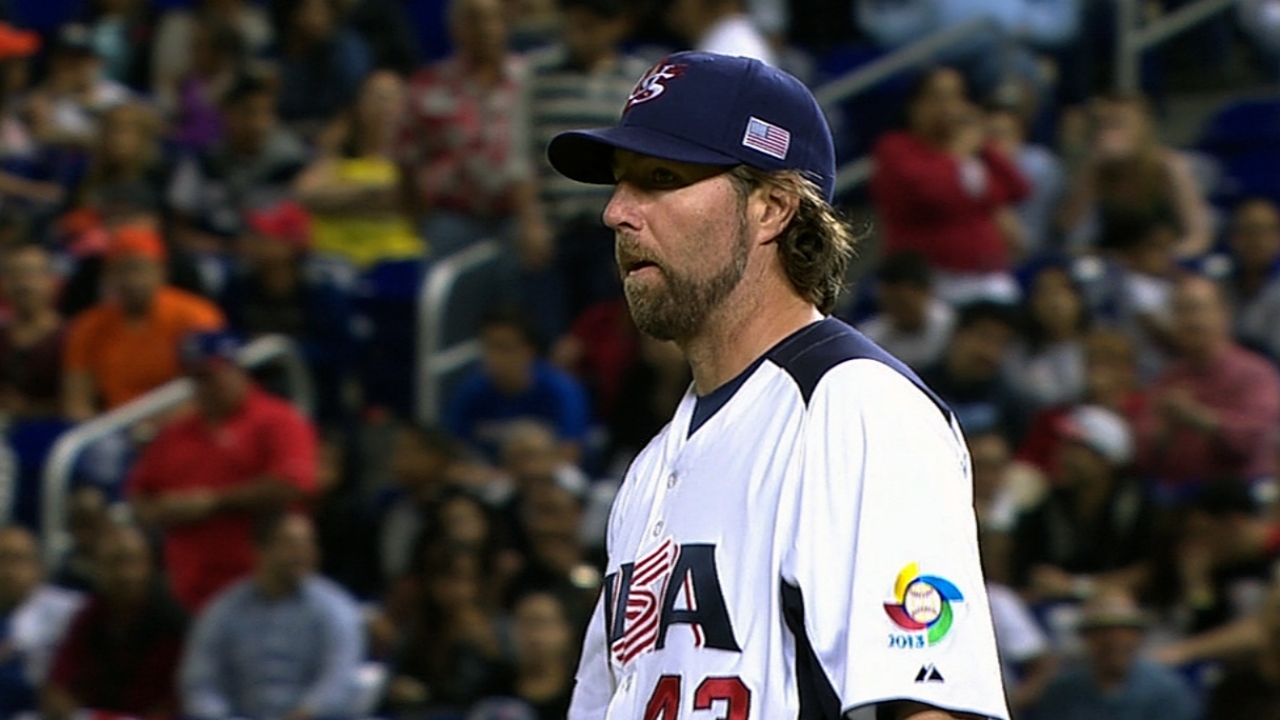 DUNEDIN, Fla. -- R.A. Dickey and J.P. Arencibia rejoined the Blue Jays on Saturday afternoon following Team USA's loss to Puerto Rico at the World Baseball Classic the night before.
The Americans found themselves needing a win to advance into the semifinals but instead came out on the wrong end of a 4-3 ballgame.
The morning after the loss, Dickey and Arencibia made the four-plus hour drive from Miami to Dunedin for the Blue Jays' game against the Orioles.
"It was a bittersweet experience," Dickey said. "A great experience to be in that environment and with that amount of energy. But it was bittersweet in the sense that we could have done a lot better, should have done a lot better.
"It was heartbreaking to lose. We wanted to represent our country a little bit better than we did, and we were unable to do that, so it hurts."
Dickey struggled in the first round of the tournament by surrendering four runs over four innings of work to Team Mexico. He received a second chance in Round 2 and redeemed himself by allowing just one run in five strong innings of work.
In many ways, the Classic is a challenging tournament to pitch in because while the level of competition is high and the atmosphere is intense, players are not exactly in midseason form.
Dickey found himself fatigued during his first start, but by the time he took the mound in the second round he noticed his endurance was improved. He threw 82 pitches in that outing against the Dominican Republic and seems to be rounding into form as the regular season approaches.
"In the first game, your heart wants to step on the gas, but your body just can't really do it yet," Dickey said. "That was only my third outing since Oct. 2, so as much as I wanted to be in midseason form, my body didn't cooperate.
"Every two or three days I get a little bit stronger. The last game was a little bit more indicative of how I feel like I'll be performing on a normal basis."
Arencibia was behind the plate for both of Dickey's starts. The Blue Jays have yet to make an announcement on who will become Dickey's catcher this season, but Arencibia has made no secret of the fact that he would like to be the guy.
The 27-year-old Arencibia was charged with one passed ball against the Dominicans but appeared comfortable behind the plate as Dickey's knuckleball continues to improve with each outing.
"I've felt good with him," Arencibia said. "I felt great, I was able to catch it well and it's something that I'm comfortable with."
Gregor Chisholm is a reporter for MLB.com. Read his blog, North of the Border, and follow him on Twitter @gregorMLB. This story was not subject to the approval of Major League Baseball or its clubs.