Blue Jays likely to use platoon at second base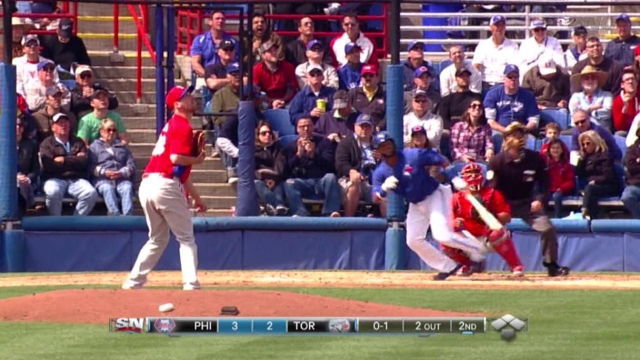 DUNEDIN, Fla. -- It appears as though the competition at second base between Maicer Izturis and Emilio Bonifacio will end in a tie. Both players have always been guaranteed a spot on the 25-man roster, but have been battling it out this spring for Toronto's starting job at second.
The evaluation is still ongoing, but the Blue Jays are leaning toward a platoon and having both infielders split time at the position.
"It would not surprise me if, at the end of the day, those guys share the role," general manager Alex Anthopoulos said. "I think it's going to evolve. One thing we've talked about, you're going to get more defense from Izturis. Maybe when you have someone you think is going to put the ball on the ground a little bit more, Izturis plays.
"I think there will be enough playing time for both guys. I don't believe at this stage one guy is going to have the job 140-games-plus. It can evolve -- someone could run away with it -- but they've both played well."
Izturis is the superior defender at second base, while Bonifacio possesses a more dynamic skillset at the plate. That could set the table for Izturis to start with the likes of Mark Buehrle and Ricky Romero or J.A. Happ on the mound, while Bonifacio could get the call for Brandon Morrow and Josh Johnson.
Bonifacio began the spring with some well-documented issues up the middle. His range and hands appeared fine, but his throws to first often sailed wide and resulted in four errors this spring. But some of those flaws appear to have been ironed out in the past couple of weeks, and the Blue Jays have been encouraged.
"It seemed like it was just from the left side," Anthopoulos said of Bonifacio's defensive woes. "He hadn't played shortstop for awhile. Bonifacio defensively, in terms of second base, he has been fine. He's actually getting better. At shortstop, it just looked like that wasn't the greatest fit for him."
Gregor Chisholm is a reporter for MLB.com. Read his blog, North of the Border, and follow him on Twitter @gregorMLB. This story was not subject to the approval of Major League Baseball or its clubs.