Morrow solid except for one stretch in fifth inning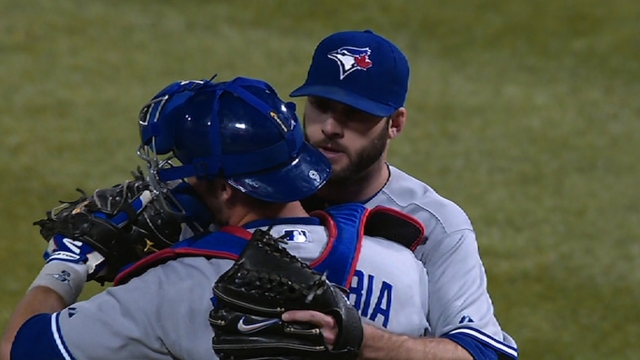 DUNEDIN, Fla. -- Blue Jays right-hander Brandon Morrow said he felt good about his 5 1/3-inning start Saturday afternoon, even if he would have liked to pitch a full six innings and even if his statistical line didn't look all that great.
Morrow gave up five runs on eight hits and a walk while striking out two in Toronto's 10-5 loss against Atlanta at Florida Auto Exchange Stadium. He had been cruising until he recorded the second out of the fifth inning, having retired nine straight batters. Then the Braves put six straight runners on base and scored four runs.
"It looked like he ran out of gas a little bit. Early on, he was sticking it pretty good," Blue Jays manager John Gibbons said. "Maybe he did run out, get a little bit tired. It was a little humid. Overall, good."
Indeed, Morrow said, the Florida heat and humidity got to him a little bit, especially given how cool it's been most of the spring, but he also said the Braves simply "singled me to death" when they compiled four straight two-out base hits in the fifth inning. If anything, he said, maybe that was good preparation should he run into long innings during the regular season.
"There's going to be innings like that during the year. You're going to have to bear down and, if you're getting tired, trick your body into getting through it," Morrow said. "Mind over matter kind of thing, sure."
Morrow has given up 13 earned runs on 21 hits and four walks with eight strikeouts in 15 innings this spring, but he said he's been happy with his work overall. His next start will be his last of the spring, and he'd like to keep his pitch count around 85 so that he can throw 100 in his regular-season debut.
Other than that, Morrow would like to pitch more or less the way he did Saturday. But it would help if the weather cooperated.
"Mother Nature flipped the switch on us, went from winter to summer in 48 hours," Morrow said. "My legs were getting a little tired."
Adam Berry is a reporter for MLB.com. Follow him on Twitter at @adamdberry. This story was not subject to the approval of Major League Baseball or its clubs.