Lawrie working his way back from strained rib cage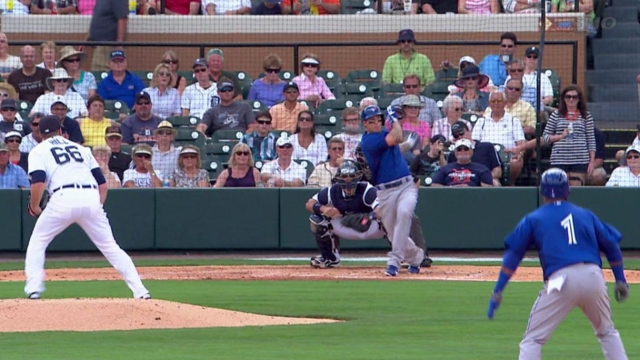 DUNEDIN, Fla. -- Blue Jays manager John Gibbons was hopeful Saturday that first baseman Edwin Encarnacion -- day to day with a jammed index finger -- will be back in the lineup Monday, when Toronto will begin using as much of its regular lineup as possible on an everyday basis.
He was not quite as optimistic about third baseman Brett Lawrie's return from a strained muscle in his rib cage.
Gibbons said Lawrie, who hasn't played since March 2, felt good after hitting off a tee and taking ground balls Friday. Lawrie is still working through the program the club set up for him, but Gibbons noted that the third baseman needs to be in a game by the beginning of next week to be ready come Opening Day.
Since there is some degree of uncertainty, it would be reasonable to have Lawrie play in Minor League games the rest of the spring so the Blue Jays can backdate his disabled-list stint to March 22, making Lawrie eligible to return April 6. Gibbons mentioned the idea Saturday morning but said he hasn't heard from general manager Alex Anthopoulos about it.
"I don't know what Alex wants to do with that," Gibbons said. "He didn't really talk to us about that, how he wants to approach that."
Right-hander Dustin McGowan, working his way back from another operation on his right shoulder, faced five batters in a Minor League game Saturday morning.
Adam Berry is a reporter for MLB.com. Follow him on Twitter at @adamdberry. This story was not subject to the approval of Major League Baseball or its clubs.