Janssen wants to be 100 percent for Opening Day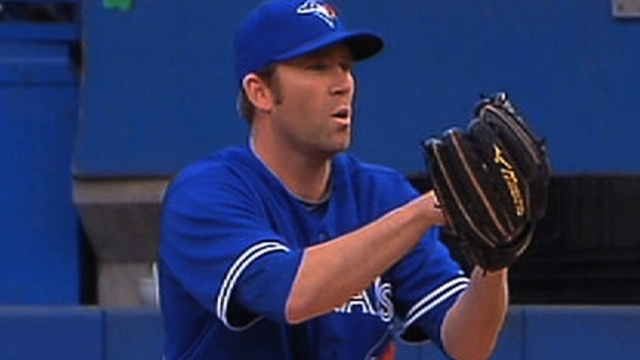 DUNEDIN, Fla. -- Blue Jays manager John Gibbons said Saturday that Casey Janssen should be ready to break camp with the Blue Jays and be their closer on Opening Day. But Janssen wasn't quite as certain.
Asked if Janssen will head north with the club next week, Gibbons responded, "I don't see why not, if there's no setbacks."
Janssen, who had minor shoulder surgery in November, said several times he is still "working toward" being ready for the Blue Jays' season opener on April 2. But he stopped short of saying he had doubts about his Opening Day availability.
"Not doubt. I don't want to give false hope," he said. "I'm probably more a little on the conservative side. I want to."
He admitted he was sore a day after his perfect Grapefruit League debut -- the kind of normal soreness most pitchers feel when they ramp up their pitch count and velocity in Spring Training, but not something he'd experience the day after an 11-pitch outing in the middle of the season.
"I think [being able to pitch on Opening Day is] everybody's hope. At the same time, like I said earlier, I want to be good," Janssen said. "I want to be in on all my pitches. I want to be able to throw a backdoor curveball whenever I need to, so if it's the first outing and there's a runner on second and I need to hit on that pitch and I'm still trying to figure it out, it would potentially cost us a loss or something like that. I think it's only fair to them, and I've got to be honest with myself."
Janssen is scheduled to pitch again Monday, but he was unsure when his next appearance after that will be. He said he felt good Friday and appreciated Gibbons' vote of confidence in him, but he doesn't want to come back unless he's 100 percent healthy and capable of throwing all his pitches at any time.
If Janssen isn't ready, Toronto will turn to Sergio Santos as its closer to begin the season. Santos, who had season-ending surgery last July, hasn't flashed excellent command this spring, but he's throwing hard and, more importantly, seems to be completely healthy.
"Sergio's throwing the ball really well, and he's done it before," Janssen said. "I think we've got all the confidence in the world in him. If it doesn't work out April 2, then I don't think we'll miss a beat."
It's less clear where Santos will work when Janssen assumes the ninth-inning role. Gibbons said he could "mix it up" with any number of relievers in the eighth inning, and he wouldn't hesitate to use Santos in a higher-leverage situation earlier in the game.
"The thing we've been watching is how healthy he is, and that's behind us. Now it's just bringing it all together with his command and stuff like that," Gibbons said. "But yeah, I've got no problem bringing him in in the middle of the game going into the season."
Adam Berry is a reporter for MLB.com. Follow him on Twitter at @adamdberry. This story was not subject to the approval of Major League Baseball or its clubs.