Happ proved he belonged in rotation with results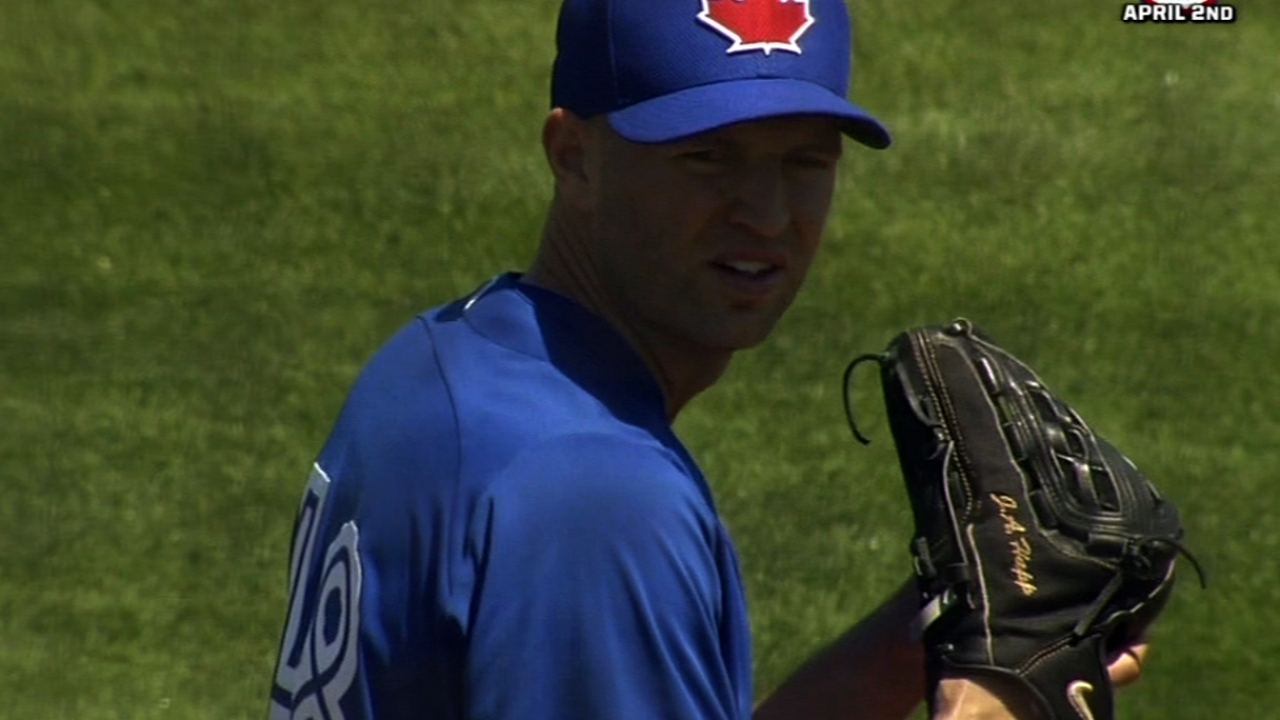 PORT CHARLOTTE, Fla. -- J.A. Happ made it perfectly clear with his words and with his work on the mound: He wanted to be a part of the Blue Jays' starting rotation. He didn't want to be a reliever, and he didn't want to be a Triple-A starter.
He got his wish Tuesday night, when Toronto general manager Alex Anthopoulos called him to tell him he will be the Blue Jays' fifth starter. Happ laughed because the moment was almost anti-climactic given the amount of focus his situation received, but it was no less rewarding.
"It was great. It was definitely a relief," Happ said Wednesday after allowing one run over 4 2/3 innings against the Rays at Charlotte Sports Park. "I obviously had been wondering and pushing the best I could, so it was definitely really, really nice to get that call."
Blue Jays manager John Gibbons said Happ's presence made it easier for the team to demote Ricky Romero to Class A Dunedin on Tuesday night to work on his mechanics. Happ had been stating his case this spring, finishing his Grapefruit League campaign with a 1.90 ERA. But he's also proven himself as a capable Major League starter with a 35-35 record and 4.19 ERA over six seasons.
"Nobody could've had a better spring than he did. [Happ] came in here determined to make the team," Gibbons said. "He said so publicly that he should be one of the starters here, but he put his money where his mouth is. Not everybody does that. And rightfully so, because he deserves to be a Major League starter somewhere, with the 30 teams out there. He's good.
"Just the way it was set up this year, it wasn't going to be the case, but he did his thing and then Ricky faltered a little bit so Happ comes out on top. The thing about Happ is, it's not like he's some young greenhorn that hasn't been at this level and you're taking a gamble. He's had some success. The big leagues isn't going to rattle him. He's a proven commodity."
Happ admitted that the news took a huge weight off his shoulders, not only because of what he felt he deserved, but also due to the uncertainty of simply not knowing where he was headed after Spring Training. He will hang back in Florida and throw either a simulated game or pitch in a Class A Minor League game on Monday before making his first start in the Majors, likely April 6 against the Red Sox.
He made his final Spring Training appearance Wednesday, allowing four hits and four walks while striking out four. He said he got into too many deep counts and didn't pitch as many innings as he hoped to, but Gibbons said he was surprised Happ even pitched that well considering he wasn't pitching for a job like he had been all spring.
For his part, Happ said that wasn't even on his mind when he took the mound to face Tampa Bay. But before and after that? Sure, he might have felt a little different than he did the day before.
"Excited more than anything, as I think everybody is about this ballclub," Happ said. "I'm hoping it's going to be a lot of fun."
Gregor Chisholm is a reporter for MLB.com. Read his blog, North of the Border, and follow him on Twitter @gregorMLB. Adam Berry is a reporter for MLB.com. Follow him on Twitter at @adamdberry. This story was not subject to the approval of Major League Baseball or its clubs.