Reyes playing his part atop Blue Jays' lineup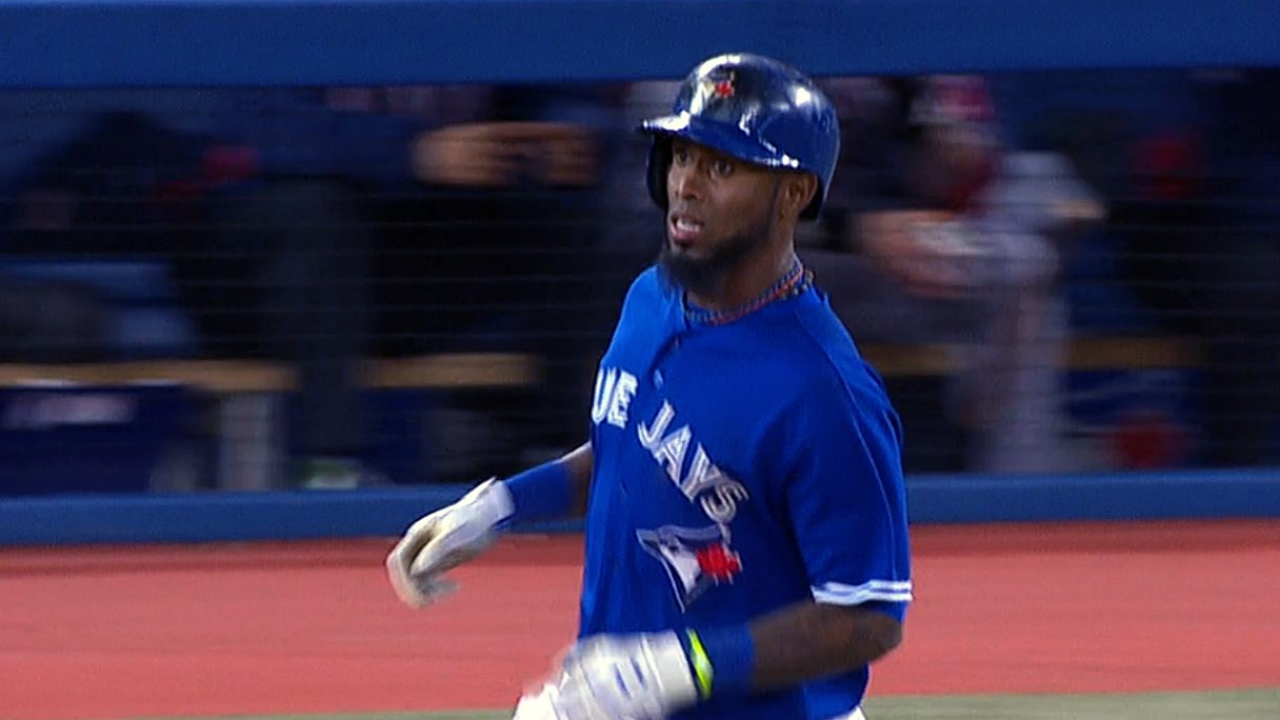 DETROIT -- The Blue Jays are off to a slow start this season, but the same can't be said for their All-Star shortstop, Jose Reyes.
Reyes has been one of the few bright spots in an otherwise disappointing Opening Week. He entered play on Wednesday with a .444 average, five runs scored and three-extra base hits through seven games.
The Dominican native has been everything the Blue Jays were hoping for at the top of their order, and while the heart of the order hasn't done a very good job of driving him in, the opportunities certainly have been there.
"I feel good at the plate right now," said Reyes, who extended his hitting streak to seven games later in the day with a single in the eighth inning of the Blue Jays' 8-6 win over the Tigers. "Just seeing the ball good, make a good swing on the ball. I go up there looking for a pitch, and if I get it, I'm going to put a good swing on the ball.
"But that doesn't mean anything, because we know we're not playing the way we're supposed to play -- so I feel like I haven't done anything, because it's all about winning."
While Reyes was waiting out the rain during a 2-hour and 29-minute delay before Wednesday's game, he could take some solace in the fact that he had reached base in 14 of his past 22 plate appearances. He also had enjoyed a multi-hit game in his past four contests, and while that came to an end on Wednesday, his 12 hits through the first seven games trailed only Dave Martinez (14) for the most to start a Blue Jays career.
One of the contributing factors to Reyes' hot start could be his participation in the recent World Baseball Classic. Reyes was one of the offensive standouts from that tournament, and the success clearly has carried over into the regular season.
Reyes prepared himself for competitive baseball a little bit earlier than normal, and while it helped result in a Classic championship, it also produced some positive numbers at the plate.
"Yes I had to get ready this year sooner because you're going to go play in the WBC," Reyes said. "I think that helped me with my winning attitude, too. Take the confidence and bring it to this ballclub."
One of the trending topics surrounding the Blue Jays' slow start is how it relates to what the Marlins went through last season. In some ways, it's a natural comparison to make, considering Miami went through a similar offseason spending spree a year ago, and now several of those key players find themselves on Toronto's roster.
But that's where the comparisons end in Reyes' opinion. The ballclubs are completely different, and while the Marlins started last season with a 2-5 record -- the same win/loss total the Blue Jays had entering Wednesday -- it doesn't mean the failed results will find their way to Toronto as well.
"What happened in Miami was in Miami," Reyes said. "This is a new ballclub, different atmosphere here, different chemistry. I can't compare what happened last year to this year. We're going to be fine. We believe in the talent that we put on the field every single night. We're going to turn it around, and hopefully it will be sooner than later.
"There's still plenty of baseball left. If we were talking about September it's a different ballgame, but we're just a week into the season, the season is still young."
Gregor Chisholm is a reporter for MLB.com. Read his blog, North of the Border, and follow him on Twitter @gregorMLB. This story was not subject to the approval of Major League Baseball or its clubs.