Blue Jays open to playing Lawrie at second base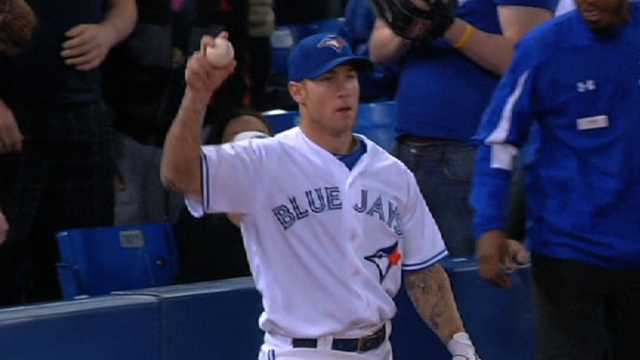 KANSAS CITY -- The Blue Jays have decided to explore their infield options, with Brett Lawrie getting some game action at second base as he rehabs at Class A Dunedin.
If Lawrie shows well at second in a trial run, it opens the possibility that he could get some time there, with Jose Bautista at third.
"We just wanted to take a look at it," general manager Alex Anthopoulos said. "We feel we're deeper in the outfield. It's not something we're ready to commit to and, if we don't feel good about it, we won't go forward with it."
Anthopoulos noted that Lawrie was receptive to playing second base.
"He was very confident," Anthopoulos said. "That doesn't surprise me. If I asked him if he could pitch, he'd probably tell me he could pitch two shutout innings.
"We just want to see how it looks in a game. Even if it doesn't happen now, we can have it in our back pocket going forward. We'd know if we had to move him around that we could."
With Jose Reyes on the disabled list, the Blue Jays want to find their most productive lineup without compromising defense. Anthopoulos emphasized that he feels good about having Bautista at third.
"We feel very confident with how Jose plays third base," Anthopoulos said. "I think he could win a Gold Glove there. He could do the same thing in right field, and it's great to have a player like that."
Robert Falkoff is a contributor to MLB.com. This story was not subject to the approval of Major League Baseball or its clubs.