Lawrie to debut Tuesday; Santos placed on DL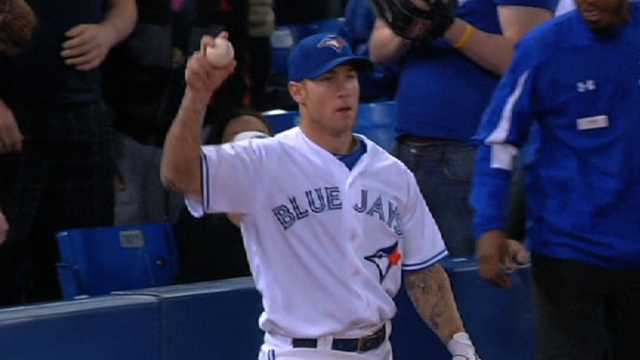 TORONTO -- Brett Lawrie will make his long anticipated season debut for the Blue Jays on Tuesday.
Toronto activated Lawrie and placed Sergio Santos on the 15-day disabled list after the club's 4-3 win over the White Sox on Monday.
Lawrie spent almost all of March and the first two weeks of the regular season rehabbing a strained left oblique that he injured prior to the World Baseball Classic.
Despite playing the past two games at second base in Class A Dunedin, the 23-year-old will be manning the hot corner when he returns to the Blue Jays lineup on Tuesday.
Lawrie's return comes only four days after the Blue Jays lost Jose Reyes for three months with a sprained left ankle.
Santos' injury is a recurrence of a similar issue from Spring Training with the right triceps in his throwing arm, just above his elbow.
"It's kind of been lingering, and I just kind of maintained and did the stuff I had to do to in order get back out there and pitch," Santos said. "It just kind of hit a point where I felt I wouldn't be doing the team any service, or helping them out, if I couldn't come in there and pitch effectively."
As has been the case with the Blue Jays all season, they are taking the cautious route in dealing with injuries and Santos will receive a precautionary MRI at the club's Spring Training facility in Dunedin on Tuesday.
Santos received an MRI back in March when the issue first surfaced. That test revealed no structural damage, and the reliever doesn't expect there to be any revealed in the new MRI.
"I think it's was just a matter of not giving it enough rest and letting it completely heal, because it did get better when I got a little bit rest. I want to be here pitching toward the end of the year when things get exciting," Santos said.
Santos played in only six games last season before being shut down for the year with a shoulder injury.
In five games in 2013, the 29-year-old has a 2.08 ERA and six strikeouts in 4 1/3 innings and was a key cog to the team's late-game bullpen strategy.
"It's frustrating, just from missing a lot of last year and working so hard to get back and be ready for Opening Day and then to have something else kind of go wrong," Santos said.
Evan Peaslee is an associate reporter for MLB.com. This story was not subject to the approval of Major League Baseball or its clubs.