Lawrie makes season debut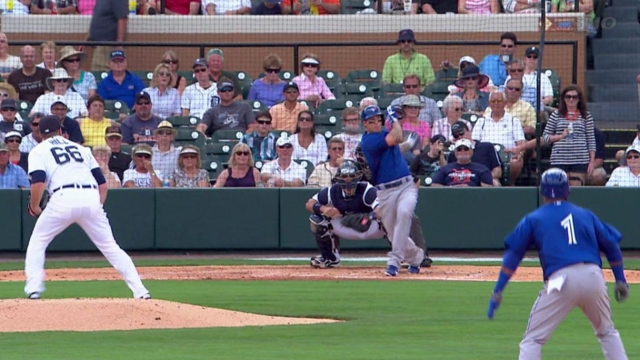 TORONTO -- The Blue Jays saw the return of their starting third baseman Brett Lawrie on Tuesday against the White Sox. He went 0-for-3 with a sacrifice fly in the ninth.
Lawrie's arrival comes just four days after the Blue Jays lost Jose Reyes to a long-term injury, and he is a welcomed addition to the club.
"He's one of the cornerstones of our team," said manager John Gibbons. "We expect him to be a great player here for a lot of years and we've missed him.
"He made some great plays over there at third base. Tremendous range, good arm. Good to see him out there.
Last season, the 23-year-old had 11 home runs, 48 RBIs, scored 73 runs and hit .273 in 125 games.
Lawrie spent the last few days with Class A Dunedin, getting into some games for the first time since suffering his left oblique injury in early March.
Tuesday's debut was nearly seven weeks since Lawrie suffered the injury just prior to the World Baseball Classic, and it lingered a lot longer than anyone thought it would.
"I didn't really think it was going to take that long, but that's the thing, you can never put a timetable on that kind of injury," Lawrie said. "You just kind of have to go about it yourself … and unfortunately for myself, it took a few more days then expected, but I'm here."
His return to the Toronto lineup is good news, not only for his offense but also his glove work. The Blue Jays had a series of defensive miscues at third during his absence with Maicer Izturis and Mark DeRosa struggling to cover ground in the field.
"He's one of the better guys in the league [defensively]," Gibbons said. "I think everybody thinks that he's got a shot of a winning a Gold Glove one of these days. He's one of those guys that can take away hits."
Even with all the excitement of his return, Lawrie isn't coming into the game hoping to set the world on fire, but rather take things as they come.
"Not trying to do too much out there, just trying to help the team, be calm and have fun," Lawrie said. "I just want to help the boys out and put a smile on everyone's face."
Evan Peaslee is an associate reporter for MLB.com. This story was not subject to the approval of Major League Baseball or its clubs.