Gibbons: Time for Blue Jays to play better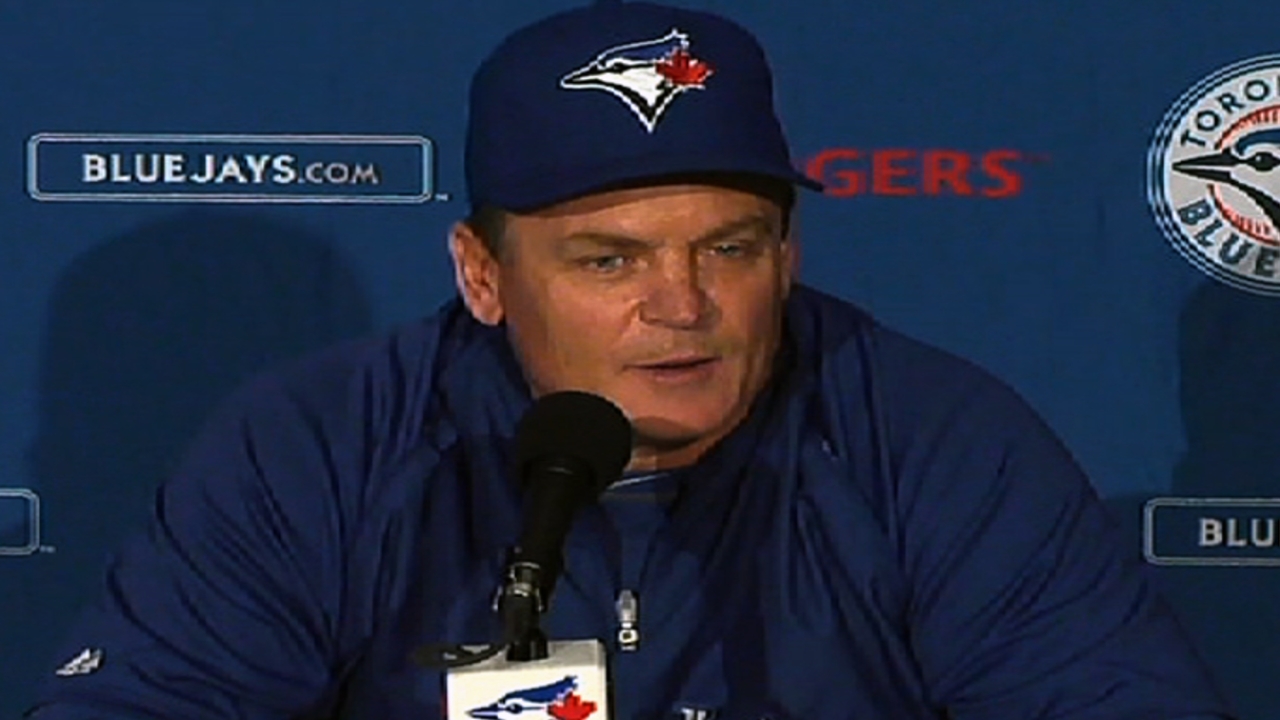 TORONTO -- Safe to say that for the Blue Jays, the season hasn't started the way that everyone hoped it would.
Toronto began the season 7-10 entering play on Saturday, emerging victorious in only one of its first five series, and had given up the first run in 12 of its 17 games, finding it consistently in an early hole.
"We're kind of just sputtering," manager John Gibbons said. "We haven't been able to get anything going."
All three phases of the game have yet to click at any one time, but the biggest issue, surprisingly, lays on offense.
Toronto re-tooled its offense in the offseason, adding the likes of Jose Reyes and Melky Cabrera to a lineup that already included two-time home run champion Jose Bautista, Edwin Encarnacion, J.P. Arencibia, and Brett Lawrie.
However, 17 games into the season, the offense had struggled scoring runs, sitting 19th in the league before Saturday's contest, 27th in OBP, and the Blue Jays were hitting .180 with runners in scoring position.
"We've had some well-pitched outings and haven't gotten a whole lot of offense with it," Gibbons said. "Nothing has come together yet. I think it will, it's just a matter of time, but you know what, it's time to start playing some better baseball, there's no question about it."
The club however continues to struggle, with a 9-4 loss to the Yankees on Friday night exposing weaknesses in the Blue Jays' lineup, but the team is trying to stay mentally tough. Something that has become more difficult with the weight of the expectations Toronto had coming into the season.
Even hitting coach Chad Mottola admitted earlier this week the team was pressing a little to make up for the loss created by some injuries.
"I'm not worried about that," Gibbons said. "We still have a confident bunch, but I know they're all frustrated as we all are."
"It's early" has become the team's mantra of late, but the Blue Jays are a mentally tough club, something that stems from a meeting with Gibbons in Spring Training.
The Toronto manager reminded the club that the best teams, and the best players in the league, have a tough mentality, one that's not bothered by a slow start, a cold streak, or a tough loss. These things happen in baseball, and the teams that can move on from them have a better chance to succeed.
The talk from Gibbons still remains a nice reminder for a club that has seen its fair share of all those challenges to begin the season.
"Obviously we're not off to the best start, but again, no one's panicking, no one's worried," said Arencibia. "We know we've got to make adjustments and go out there and change this around, but there's a long season ahead."
Evan Peaslee is an associate reporter for MLB.com. This story was not subject to the approval of Major League Baseball or its clubs.