Dickey feels better entering Tuesday start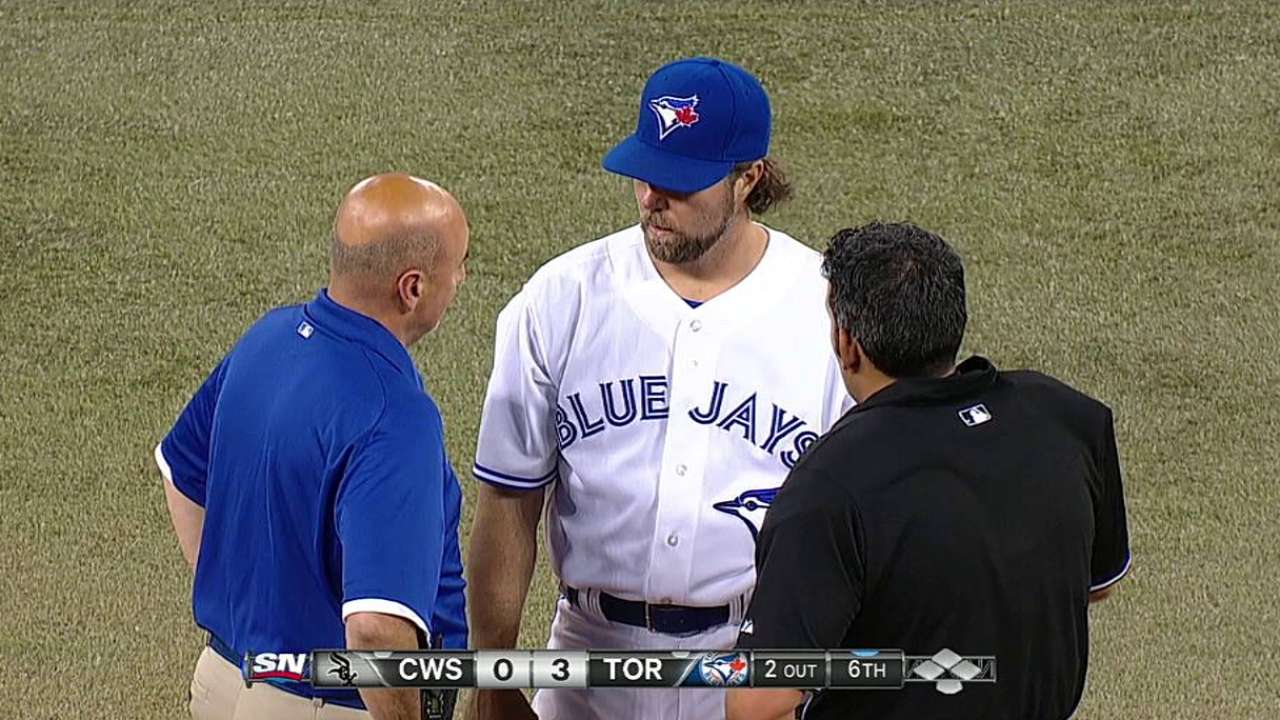 BALTIMORE -- Right-hander R.A. Dickey appears set to make his scheduled start Tuesday night against the Orioles.
Dickey had been questionable for the outing because of lingering tightness in his upper back and neck area, which forced him from his last start after six shutout innings.
Toronto's No. 1 starter has been dealing with the issue for more than a week. But in his mind, there was never any doubt he'd take the mound in Baltimore.
"I was going to make it all along," said Dickey, who is 2-2 with a 4.30 ERA this season. "I don't feel like I've ever let anyone believe I wasn't going to make it. It's just something I have to monitor."
Dickey skipped his scheduled bullpen session this week to provide more time for the injury to heal. Instead of throwing off the mound, he had a light catch to keep his arm active while avoiding any strenuous activity.
The brief period of rest appears to have led to some positive results. Dickey said he feels much better than he did prior to his start Thursday against the White Sox, which was an outing he wasn't as confident he'd able to make.
Dickey said the discomfort felt more like a sore knot in his upper back rather than a sharp stabbing pain. It got progressively worse against the Royals, but the hope is that his start in Baltimore won't result in the same issue.
"It was just a progressive thing," said Dickey, who allowed just two hits in six scoreless innings against the White Sox. "Getting up, sitting down, cooling off, heating up, cooling off. It just tightened up.
"I probably could have kept going another inning, but it just didn't make any sense if I wanted to get to this place for my start [Tuesday] and be at full capacity."
This certainly isn't the first time Dickey has taken the mound while experiencing some discomfort. He pitched most of last season with a torn abdominal muscle, while he suffered a torn plantar fascia muscle in his foot the year before.
Despite the injuries, Dickey made a combined 67 starts over those two seasons. He expects to handle this latest ailment in a similar fashion, but won't know how it will feel until he takes the mound for the second leg of a three-game set in Baltimore.
"I don't really know what to anticipate," Dickey said. "If it's like last start, I'll have to tip-toe around it a little bit. But if it's not, if it has healed better than it did between the last start to this start, I might be just fine. I just won't know until I get out there and really get the adrenaline going."
Gregor Chisholm is a reporter for MLB.com. Read his blog, North of the Border, and follow him on Twitter @gregorMLB. This story was not subject to the approval of Major League Baseball or its clubs.