Pain causing Dickey to alter release point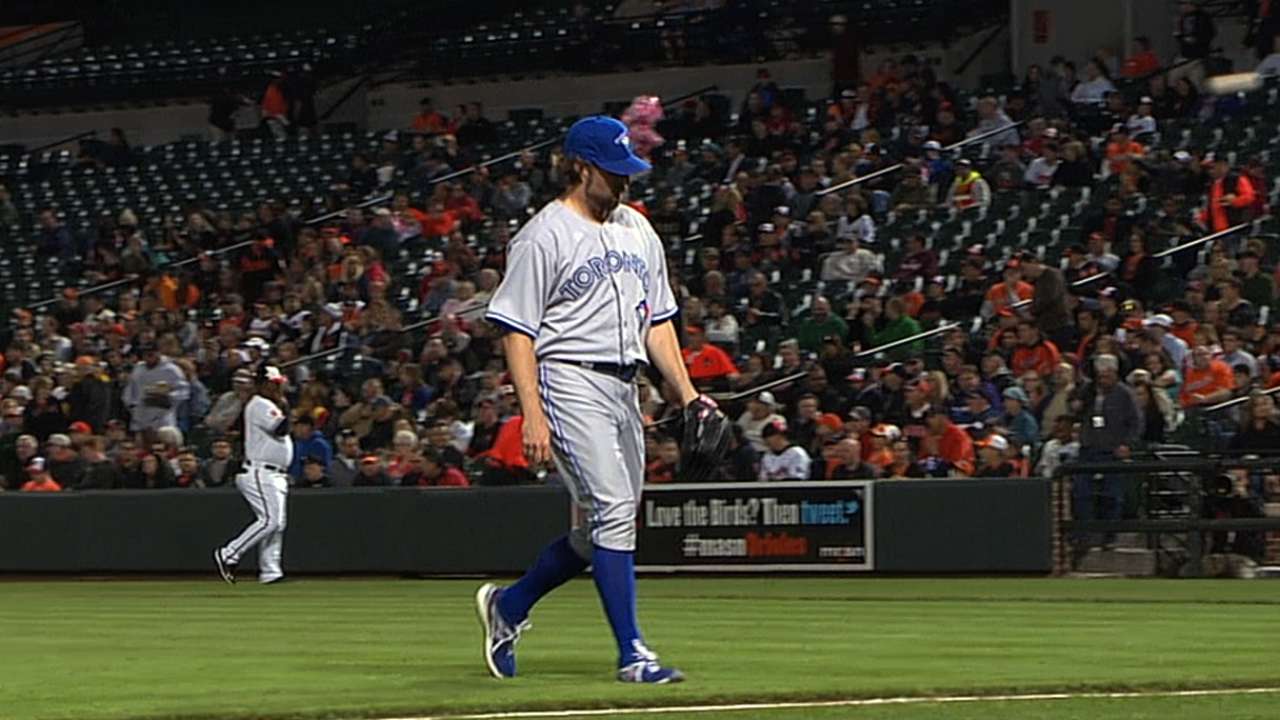 BALTIMORE -- Blue Jays knuckleballer R.A. Dickey's upper-back and neck injury hasn't been enough to force him to miss a start, but it is making things more challenging on the mound.
Dickey has been able to pitch his way through the discomfort and tightness, but it hasn't been easy. The injury has slightly impacted the velocity on his knuckleball, which has repercussions with the release point on each pitch.
The 38-year-old Dickey began the year by averaging 77 mph on his knuckleball according to Brooks Baseball, but has seen that speed drop down to 75 during his past two outings. It might seem minor, but it has led to more experimentation on the mound than normal.
"Obviously when you're throwing a ball that's not traveling as fast, you've got to start it higher in order to get it to the plate and strike zone," Dickey said after allowing four runs in six innings against the Orioles on Tuesday night.
"If I throw a 79-mph knuckleball, I can start it a little bit more on plane. I've done it before, I can continue to do it, I'm just trying to get ahead of the condition here, and hopefully next time out we're going to try some different treatments and see if it works."
It might seem as though Dickey is off to somewhat of a slow start this season, but in many ways his April is very comparable to what he went through a year ago.
Dickey owns a 4.66 ERA with 24 strikeouts in 29 innings while opponents are hitting .257 against him. Those numbers are strikingly similar to last season, when he had a 4.45 ERA in 30 1/3 innings with opponents hitting .246 during April.
Both months saw the numbers skewed because of one bad start. Last year it was an outing against the Braves in which he allowed eight earned runs, while this season it was seven earned runs against Boston.
During a brief exchange on Wednesday morning, Dickey said it was too early to know how he feels following the start the night before, but there doesn't appear to be any intention of sitting out for a period of time.
"No, you certainly contemplate how can you eradicate what's going on back there, but I get paid to be on the field and I take a lot of pride in that," Dickey said on Tuesday. "I feel like my team needs me, and if I can be out there, I'm going to be out there."
Gregor Chisholm is a reporter for MLB.com. Read his blog, North of the Border, and follow him on Twitter @gregorMLB. This story was not subject to the approval of Major League Baseball or its clubs.