Gibbons ejected for arguing strike call in ninth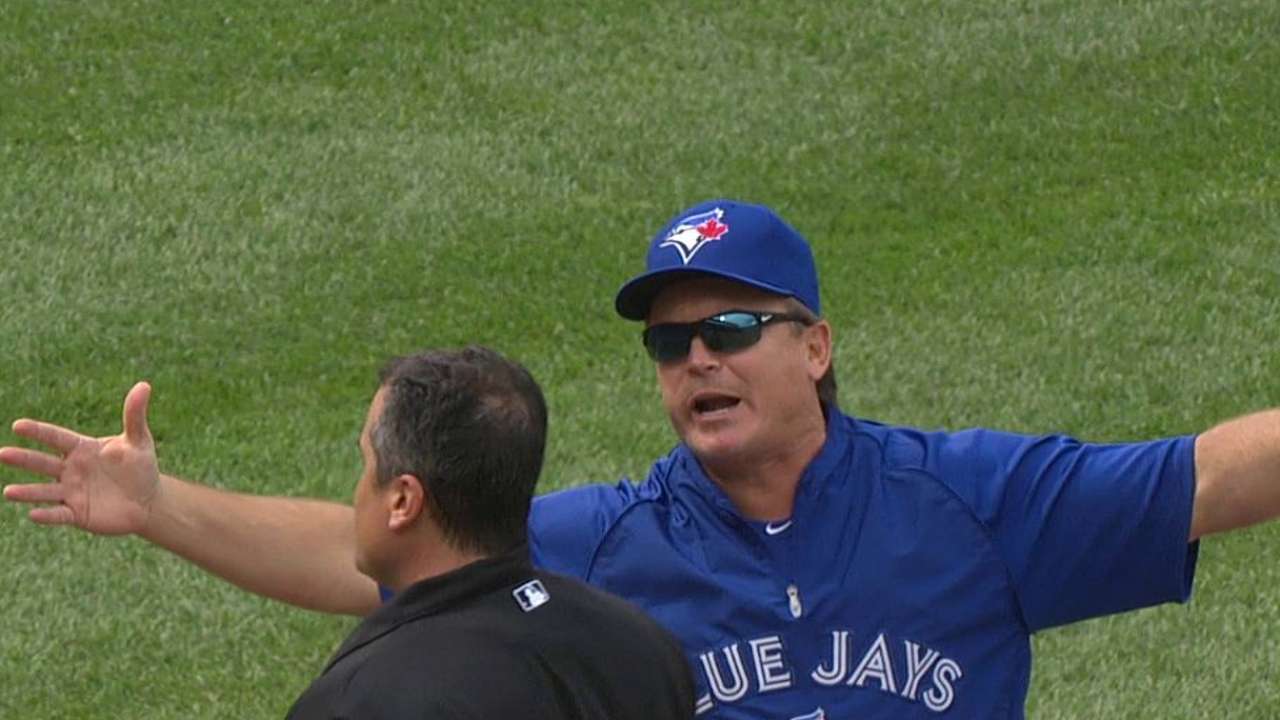 BALTIMORE -- Blue Jays manager John Gibbons was ejected during the ninth inning of Wednesday afternoon's 6-5 victory over the Orioles for arguing balls and strikes with home-plate umpire Mike DiMuro.
Gibbons was visibly upset with DiMuro's strike zone earlier in the game and was seen chirping at the umpire from the dugout. He appeared to receive a warning from DiMuro when Baltimore's Nate McLouth took a borderline pitch during the fifth inning that went against the Blue Jays.
The final straw for Gibbons came in the top of the ninth when third baseman Brett Lawrie was called out on strikes with the scored tied at 5 to end the inning. Lawrie immediately turned to argue the call and was quickly defended by Gibbons, who was tossed within seconds.
"I thought there was some borderline calls throughout the game," Gibbons said. "It's tough recognizing in and out when you're on the side like that, but I thought there might have been a couple of close calls.
"Basically, I went out there to keep [Lawrie] from getting thrown out. I asked the guy, 'Where was that pitch?' Then he chucked me. You can't argue balls and strikes, but I'm not so sure I was doing that."
Another incident occurred in the 10th inning when Emilio Bonifacio was called out on strikes on a pitch that appeared to be inside. Bonifacio also immediately turned to argue and was waved away several times by DiMuro before he finally walked back to the dugout.
This marked the first time this season Gibbons was ejected from a game.
Gregor Chisholm is a reporter for MLB.com. Read his blog, North of the Border, and follow him on Twitter @gregorMLB. This story was not subject to the approval of Major League Baseball or its clubs.