Trying to return, Romero excels in Class A start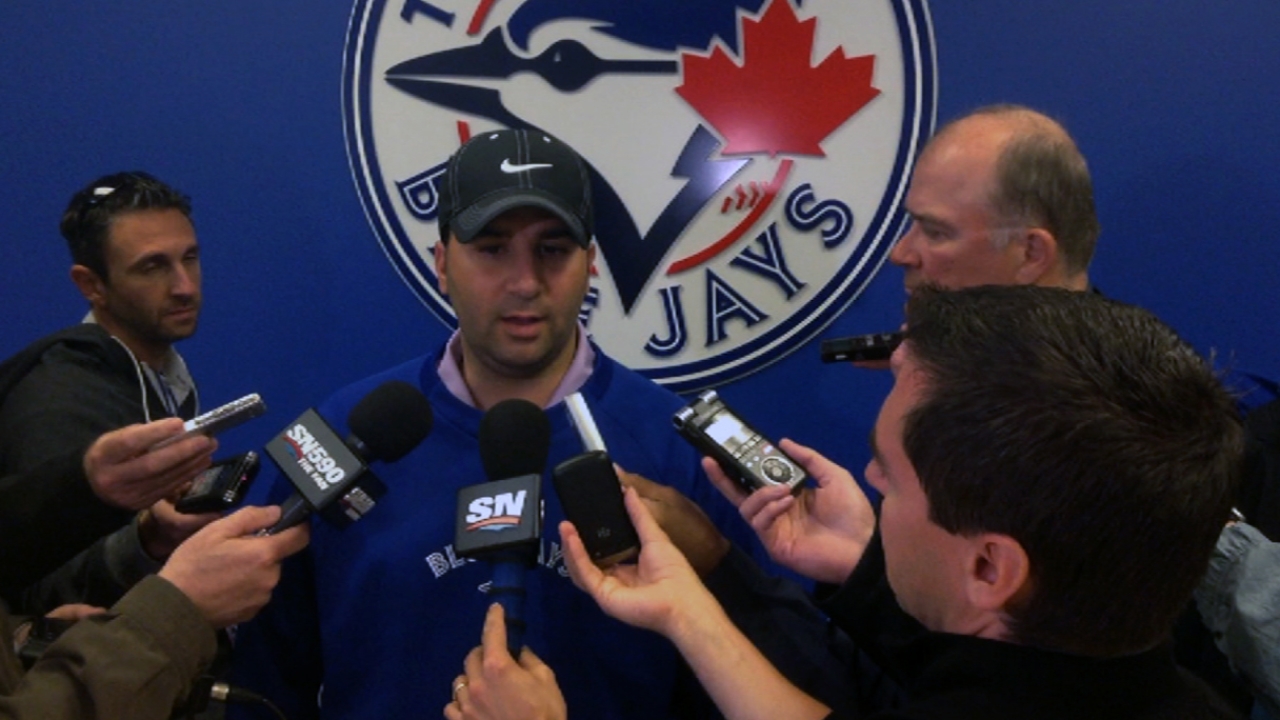 NEW YORK -- Left-hander Ricky Romero took the first step in his return to the Major Leagues by tossing seven quality innings for Class A Dunedin on Saturday night.
Romero got the start against the Brevard County Manatees and allowed just one run on six hits. He struck out four, but perhaps the most encouraging aspect of the outing was that he didn't walk a batter.
Toronto's former ace had been held out of games until Friday as he worked through a series of mechanical adjustments on the mound with roving pitching instructor Dane Johnson at the club's Minor League complex in Dunedin, Fla.
"I don't know yet at this point," general manager Alex Anthopoulos said when asked what the next step for Romero is. "I want to speak to Dane and see what he feels. ... I'm really leaning on him to make the decisions on what he feels is best.
"Dane's the one who decided he was ready for a start now. I'm not down there day in and day out, Dane is the one doing the work with him. Alternately, Dane will let me know what he wants to do. For the most part, we're letting Dane Johnson make the decisions."
The Blue Jays are attempting to have Romero pitch with a more direct line to the plate. The goal is to stop the Los Angeles native from throwing across his body as much as he has done in the past.
Romero used to go with a full windup by bringing the glove over his head during the delivery. That has since changed, and Romero now also taps the ball in his glove prior to each pitch to act as a timing motion.
The walks will never be completely eliminated, but the hope is that the number of pitches outside of the zone will be at least more limited.
"He just basically brings [the glove] down to his belt, little things to take away the moving parts overall, sometimes he'd rock back, balance and things like that," Anthopoulos said. "Dane Johnson is encouraged by it and the results are obviously good. I know it's a Florida State League game, but overall, Dane has done a really good job with him."
The timing of when Romero could eventually make his return to the Majors is still unknown. Left-hander J.A. Happ won the final spot in the rotation during Spring Training and currently has a 3.86 ERA in five outings, which ranks first among Blue Jays starters.
An opening could be created if either R.A. Dickey or Josh Johnson require a stint on the disabled list. Dickey has been dealing with an upper back and neck injury, while Johnson was scratched from his last start because of tightness in his right triceps muscle.
But Anthopoulos doesn't believe either starter will require an extended period of time off. Dickey has yet to miss a start, and Johnson remains in the mix for an outing at some point between Thursday and Saturday.
"Obviously, the results of the MRI were completely clean, just a little bit of inflammation, so I don't see there being any problem there," Anthopoulos said of Johnson. "We don't have any other complaints from any of the other starters.
"At some point, obviously we expect Romero to continue to progress and we'll have a decision to make, which is exactly what we want. That's a good thing, we want him back to being the guy he was, the All-Star, and that's a great problem for our organization to have."
Gregor Chisholm is a reporter for MLB.com. Read his blog, North of the Border, and follow him on Twitter @gregorMLB. This story was not subject to the approval of Major League Baseball or its clubs.