Gibbons trying to settle on set batting order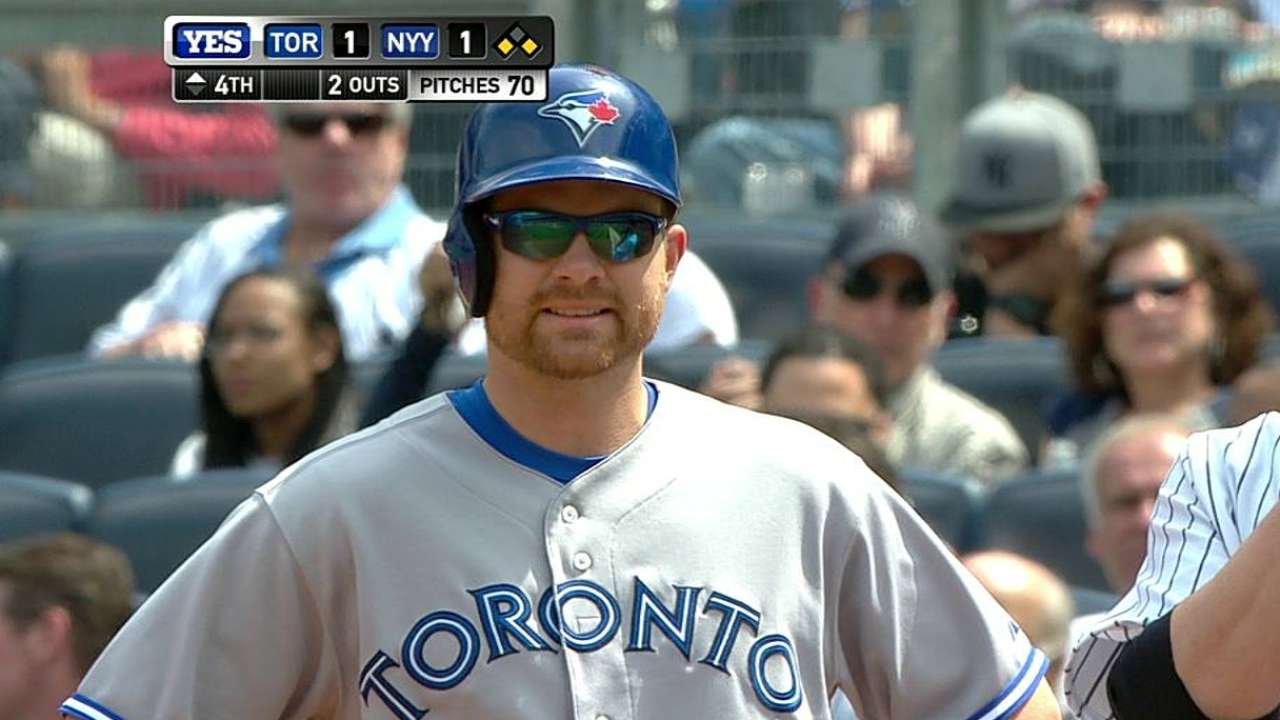 TORONTO -- Blue Jays manager John Gibbons would like to bring an end to the constant lineup shuffling that went on for the first month of the season and settle on a set batting order.
Gibbons has used 26 different lineups through 29 games this season. A lot of the changes were because of injuries to Jose Reyes, Brett Lawrie and Jose Bautista, but Gibbons also has been attempting to find the right mix for a clearly struggling offense.
Gibbons unveiled another batting order for Thursday night's game, which saw the return of Adam Lind to the No. 2 hole, and it's one he hopes to stick with for the foreseeable future.
"I've been juggling it a lot more than I ever wanted to," Gibbons said. "I like what Lindy's doing right now. Move J.P. [Arencibia] back into that fifth slot, now you've got Bautista, [Edwin] Encarnacion and him.
"They can all do some damage with one swing of the bat, and then we'll just run with this for awhile, leave it like that. You never want the back-and-forth, things like that. Even though I don't necessarily think it's a big deal, sometimes it can be. You want to create some stability, but we've been going through our struggles and you want to try something that will spark something."
The No. 2 spot was supposed to be the position where left fielder Melky Cabrera would shine in front of Bautista and Encarnacion. That clearly hasn't been the case this season, as the former All-Star entered play on Thursday hitting just .243 with a .580 OPS.
Lind isn't the prototypical two-hole hitter, but Gibbons is desperately searching for someone who can get on base for the heart of his batting order. That's something Toronto's first baseman/designated hitter has been able to do a lot of this season.
The Indiana native started Thursday with an impressive .405 on-base percentage. The other numbers haven't necessarily been there, as he is batting just .234 (11-for-47) with a .701 OPS, but Gibbons feels as though there have been signs of late that the overall production is about to change.
"I like the way he's swinging the bat. I think it's just a matter of time before he really explodes," Gibbons said. "He's up there, he's looking for a pitch to hit -- and that's a big thing -- and he's not afraid to hit with some strikes on him, which is what all of the good ones do. That's confidence, too. He's very confident right now."
Gregor Chisholm is a reporter for MLB.com. Read his blog, North of the Border, and follow him on Twitter @gregorMLB. This story was not subject to the approval of Major League Baseball or its clubs.