Delabar becoming an important 'pen fixture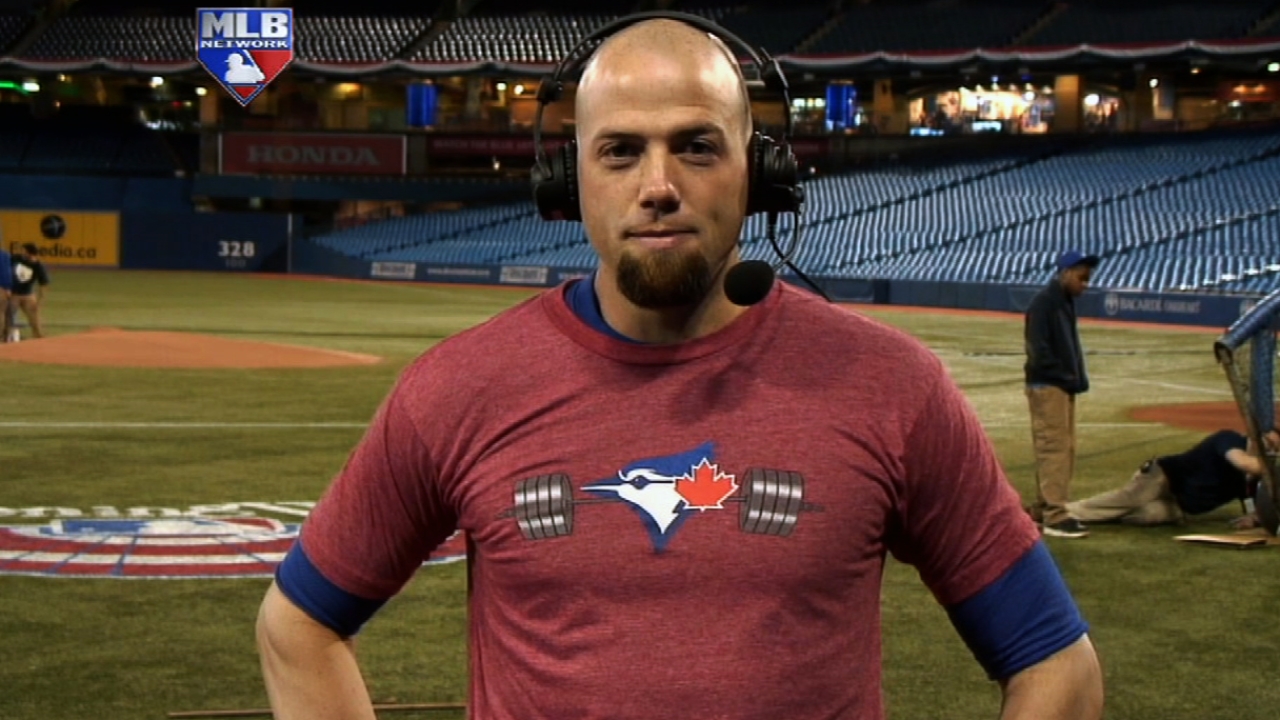 BOSTON -- The Blue Jays never could have envisioned just how important right-hander Steve Delabar would become to their bullpen following last year's midseason trade with Seattle.
Delabar was acquired for outfielder Eric Thames in a deal prior to the Trade Deadline. At the time, the move was overshadowed by another trade -- as outfielder Travis Snider was sent to Pittsburgh for Brad Lincoln. But it's Delabar who has become the more valuable addition.
The 29-year-old Delabar has been an integral part of Toronto's bullpen ever since, and now finds himself among the league leaders in almost every category for relievers. He's also proven himself to be equally capable facing lefties (.583 OPS) and righties (.675 OPS).
"You want to be the guy who can get anybody out -- not just, 'You're a righties guy or you're a lefties guy,'" Delabar said. "You want to be able to get everybody out so that you're a reliable reliever coming out and [not] get a quick hook and get three guys going in one inning because you have to do matchups. Every guy that we have in the 'pen can get everybody out -- it's just about executing pitches."
Delabar entered play on Saturday afternoon with a 3-1 record and 2.14 ERA in 17 games this season. The native of Kentucky leads all American League relievers with 25 strikeouts, while his 21 innings rank fourth.
Perhaps the most encouraging thing is that Delabar has found a way to limit the amount of home runs while he's on the mound. When Delabar was in Seattle, the long ball proved to be his Achilles' heel, as he surrendered nine in 36 2/3 innings.
That hasn't been nearly as problematic in Toronto. He allowed just two after joining the Blue Jays in 2012, and didn't surrender his first this year until a solo shot by Tampa Bay's Yunel Escobar on Thursday.
Overall, it's a stark difference from the way Delabar began last year in Seattle. Prior to the midseason trade, he was sent back and forth between the Majors and Minors on three separate occasions. But now, he finally has a firmly cemented role in the big leagues.
"I'm just down there trying to grind it out with the rest of the guys," Delabar said. "They call our name, we're getting up, getting in there. Last year, it was the same thing -- but it was more I didn't know when I was going to get in.
"This year, it's still about the same -- but you have an idea of when and what might happen. So you kind of just pay attention to what's going on and make sure you're ready."
Gregor Chisholm is a reporter for MLB.com. Read his blog, North of the Border, and follow him on Twitter @gregorMLB. This story was not subject to the approval of Major League Baseball or its clubs.