Back with Blue Jays, Reyes progressing with rehab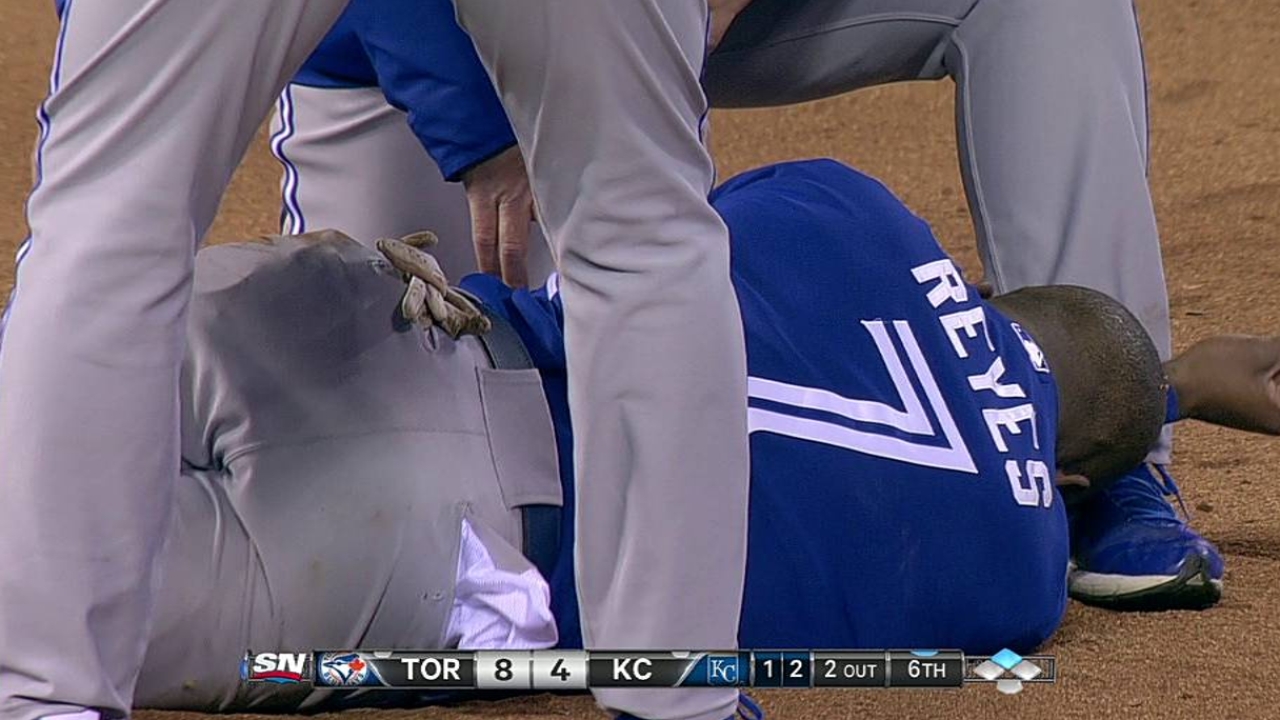 NEW YORK -- Jose Reyes rejoined his teammates in New York on Friday night as he continues to rehab a severe left ankle sprain.
Toronto's shortstop has been out of action since sustaining the injury while stealing second base on April 12 in Kansas City. He recently had a walking boot removed and has begun the slow process of regaining strength in the area.
Reyes went onto the field prior to Friday night's game at Yankee Stadium and took part in stretching while also playing catch. He's already resumed hitting off a tee and expects to start jogging by the end of next week.
"It's frustrating because I want to be on the field helping my ballclub win a lot of ballgames," said Reyes, who will accompany the team back to Toronto on Sunday. "Injuries happen, that's part of the game. I've been working the last five weeks very hard to come back as soon as possible."
Reyes was expected to be out until the All-Star break, but Blue Jays general manager Alex Anthopoulos said it's possible that timeline could be pushed up to the end of June. The biggest test will come when he starts running, something which likely will happen within the next couple of weeks.
The injury is somewhat similar to the one he experienced back in 2003 with the Mets. He was forced to miss only 26 games because it happened toward the end of the season, but he was still feeling the effects the following Spring Training.
The healing process should be a lot quicker this time around because the pain hasn't lingered in quite the same way.
"The one that I had with the New York Mets was worse than this one," Reyes said. "That one took me a long time to come back from, this one is not that bad. I can see in five weeks I've made a lot of progress. That's good to see."
Reyes was off to a hot start at the time of his unfortunate injury. He hit .395 (15-for-38) with four extra-base hits and five RBIs in 10 games and provided Toronto with the prototypical leadoff hitter the club hasn't had in arguably a decade.
The Dominican native's departure sent a ripple effect through the batting order, and the club has experienced difficulty regaining its footing ever since. The Blue Jays entered play on Friday night having won four consecutive games, but they were still seven games below .500 and in last place in the American League East.
The Blue Jays' prolonged struggles have made it even more difficult on Reyes, who said he has watched every game this season. But the recent turnaround has given the Blue Jays and their walking wounded some renewed hope.
"Right now they're doing the little stuff, getting a big hit with two outs -- that's something earlier in the season you didn't see that much," Reyes said. "When you get that huge hit with two outs, everybody gets excited and that's something I've seen the past week. Hopefully, they can continue to play like that."
Gregor Chisholm is a reporter for MLB.com. Read his blog, North of the Border, and follow him on Twitter @gregorMLB. This story was not subject to the approval of Major League Baseball or its clubs.