After recent turnaround, Gose called up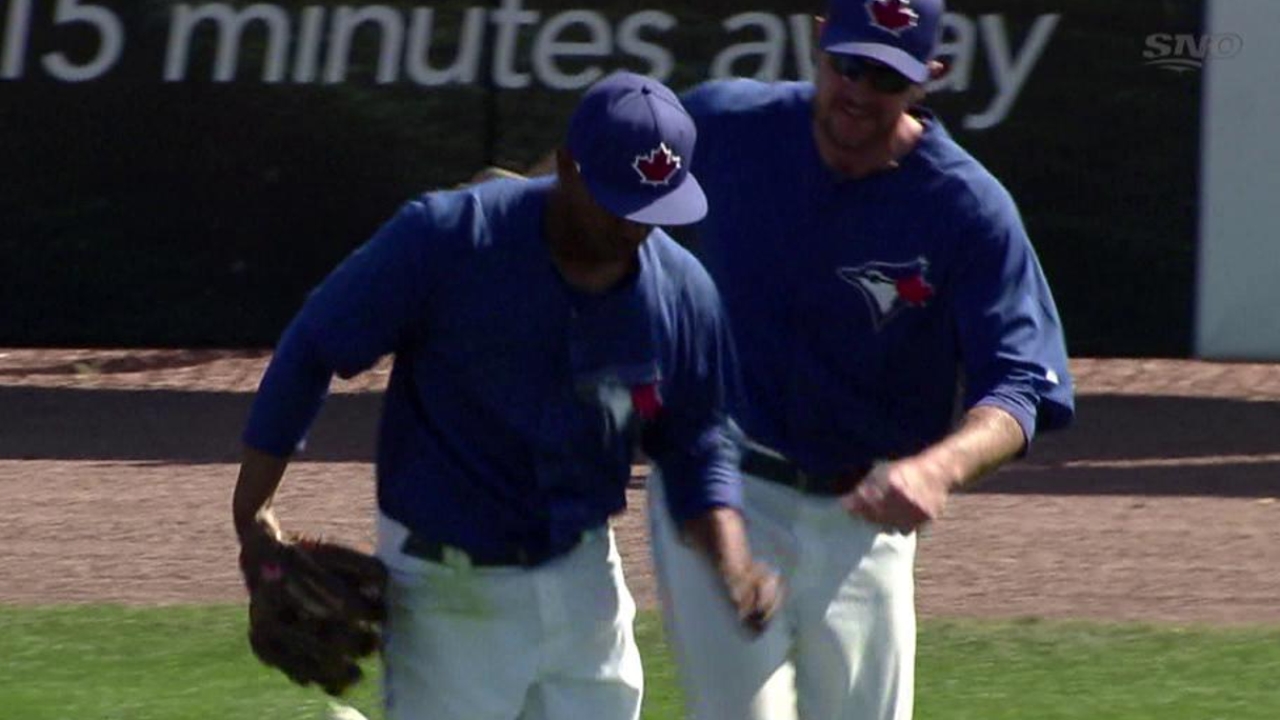 TORONTO -- Prior to Monday's contest against the Rays, the Blue Jays announced they had called up Anthony Gose from Triple-A Buffalo and sent down reliever Mickey Storey.
"I can't explain how excited I am; I'm happier than can be right now," Gose said prior to Monday's game against the Rays.
"We're really high on him in this organization," manager John Gibbons said of Gose. "He's got a great future here. And he can come up and help us in a lot of different ways that we need right now. He's the easy choice."
Despite the ease with with Gibbons said he made the choice, the timing is a bit peculiar.
The 22-year-old has struggled at the plate in Buffalo, and the speedy outfielder has been in a particularly tough stretch in the month of May, with only 14 hits in 70 at-bats to sit on the Mendoza line, something that was very mentally draining.
"The last three weeks, the last two days have been better for me, starting to get back on track," said Gose, who is batting .227 with 36 runs scored, two home runs, 12 RBIs, and five stolen bases in nine attempts in the Minors. "The early part of the month was rough for me, definitely. Definitely mentally, definitely rough; I'd worn myself out mentally so bad that I made everything to be extreme.
"Everything was just going downhill for me, just kept sliding away and sliding away," Gose added. "When you dig yourself into that hole, mentally it's tough to get out of. I was fortunate enough the last two days to kind of start getting back on track and start getting out of it."
That turnaround was the result of a talk with Bisons manager Marty Brown, and a surprise visit from Gose's father, Steve.
Gose said seeing his father "was probably the best thing for me."
Among his words of advice: "Just pull your head out and keep going. Just stay positive, and keep working. Trust in what you're doing and what you've been doing and turn the page."
It seemed to work. In the following two games against White Sox affiliate Charlotte, Gose had an on-base percentage of .500, and he scored five runs in the process.
"The last two days have been great," Gose said. "I felt a difference in Indianapolis, but I still wasn't having the at-bats that I wanted, but seeing my dad pretty much uplifted my spirits more than anything."
Whether the young California native will get much playing time in the big leagues this season is yet to be seen, and it is likely he will mostly fill in defensively for Melky Cabrera and his sore legs.
However, Gibbons still plans on using Emilio Bonifacio against left-handed starters and have Cabrera DH, making it difficult to find time for Gose.
The manager nevertheless insists there is a place for Gose in Toronto.
"He'll help us in different ways," Gibbons said. "He's a defensive specialist. He'll steal you a base, great baserunner. He's been here before, and we like him."
Evan Peaslee is an associate reporter for MLB.com. This story was not subject to the approval of Major League Baseball or its clubs.