Elite prospect Stroman makes first '13 start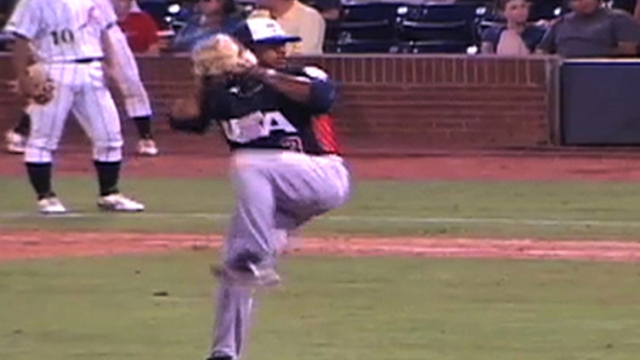 It took a while, 50 games to be exact, but the Blue Jays and Marcus Stroman are both extremely happy he is back pitching again.
Stroman, the Duke product taken in the first round of the 2012 Draft by Toronto (No. 22 overall), began the year serving a suspension for taking a performance-enhancing drug, one the right-hander has said he took unknowingly as part of an over-the-counter supplement. The Blue Jays' No. 5 prospect made his 2013 debut Sunday and did not show any signs of rust, tossing five scoreless innings, allowing four hits and one walk while striking out six for Double-A New Hampshire.
"Obviously, we're happy he's back pitching," Blue Jays assistant general manager Andrew Tinnish said. "I know he is, too. He's such a hard worker and dedicated young man. We expect he'll hit the ground running. He's been doing a lot of good things; he's in the right frame of mind. He'd been champing at the bit, and we were excited to get him back. Now that it's here, he just has to keep working."
Stroman reached Double-A during last summer's debut, one in which he worked as a reliever. With his power stuff and smaller stature -- he is listed at 5-foot-9 -- many felt the bullpen was his future home and one that could get him to the big leagues in a hurry. At the same time, however, Stroman throws strikes, maintains his velocity and has a deep arsenal at his disposal.
"He's a starter right now," Tinnish said. "He's shown the ability to throw four pitches. I think there's a lot of quality on all four of them. His changeup is something that's developed in the last year. He's not a tall guy, as we all know, but he's athletic, and he has a quick arm. When he commands his fastball, which he's been doing, and keeps it down in the zone, it makes his secondary stuff that much better.
"I'm not going to say that he can't do this or that. He's a hard worker and is extremely dedicated."
Stroman has excelled both as a starter and reliever in the past. He threw very well in the Duke rotation as a junior and was virtually unhittable as a short reliever for Team USA the summer before that. Though the team knows he has the ability and stuff to potentially close games in the future, the plan for now is to let him continue working on starting, given the premium for those who can fill that role.
"We've seen him in both roles," Tinnish said. "We've had him in both roles as well. But it's hard to find starting pitching, and starting pitching that has quality stuff to go with it."
Evan Peaslee is an associate reporter for MLB.com. This story was not subject to the approval of Major League Baseball or its clubs.