Nolin to get the call from Double-A, start Friday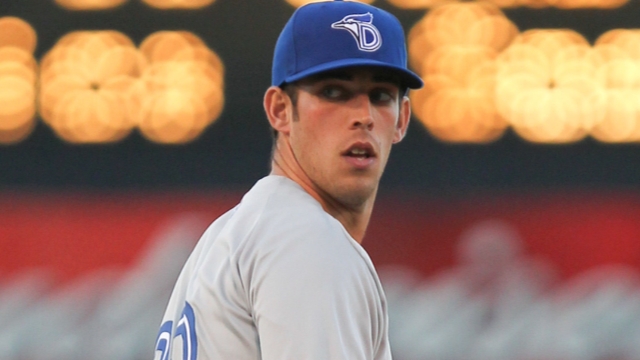 TORONTO -- It may have been one of the worst kept secrets in baseball, but the Blue Jays announced Thursday that prospect Sean Nolin will start for the club Friday vs. the Baltimore Orioles.
The Blue Jays had been mum over the last couple days on who would be making the start Friday, but there was an overwhelming thought that the club might turn to the big left-hander sooner rather than later.
"He's got the stuff to do it," manager John Gibbons said after the announcement. "He's pitching in a nice little groove, and we need somebody."
Nolin had been nursing a left groin strain from Spring Training, but has made three starts for the Double-A New Hampshire Fisher Cats in May. In those starts, the 23-year-old is 2-0 with a 1.17 ERA, 1.23 WHIP and 16 strikeouts in 15 1/3 innings on the mound.
Friday's start will be Nolin's Major League debut, and comes only three years after being drafted.
"Super excited," said Nolin, whose plane landed in Toronto late Thursday evening. "It's something I've always wanted to do since I was five years old."
Nolin's start comes only a day after Kevin Gausman made his debut start for the Orioles, and the manager is anticipating some nerves from his starter.
"You expect them to be nervous," Gibbons said. "You make your debut, something's wrong with you if you're not."
Gibbons is hoping a nice first inning will settle down any nerves, but he has faith in the player he saw in Spring Training before his injury.
"He's a very mature kid, he carries himself well." Gibbons said. "He can handle that."
After he was selected in the sixth round of the 2010 MLB First-Year Player Draft, Nolin has progressed throughout the Blue Jays' Minor League system, but he has been in Double-A -- the highest level he's played in -- for a short amount of time.
His game plan for tomorrow is simple.
"Just get ahead of guys like everyone else," said Nolin, whose arsenal includes a fastball, slider, changeup and curveball. "Try to throw strikes early, and hopefully be able to just get guys out."
The San Jacinto Junior College product has made only six starts with the Fisher Cats, three each in 2012 and '13, but the Blue Jays are hoping his success can transfer over at the big league level. Something that Toronto had success with when Jesse Litsch made his debut with the club in May '07.
Litsch, then 22, also came out of Double-A and pitched 8 2/3 innings of one-run ball on May 15, 2007 to record his first Major League victory. Litsch stuck with the team through the end of the year, making 20 starts and going 7-9 with a 3.81 ERA.
"It's the same game. It's played the same way. … It's how you react mentally," Gibbons said.
Evan Peaslee is an associate reporter for MLB.com. This story was not subject to the approval of Major League Baseball or its clubs.