Gose learns lesson after scoring on aggressive play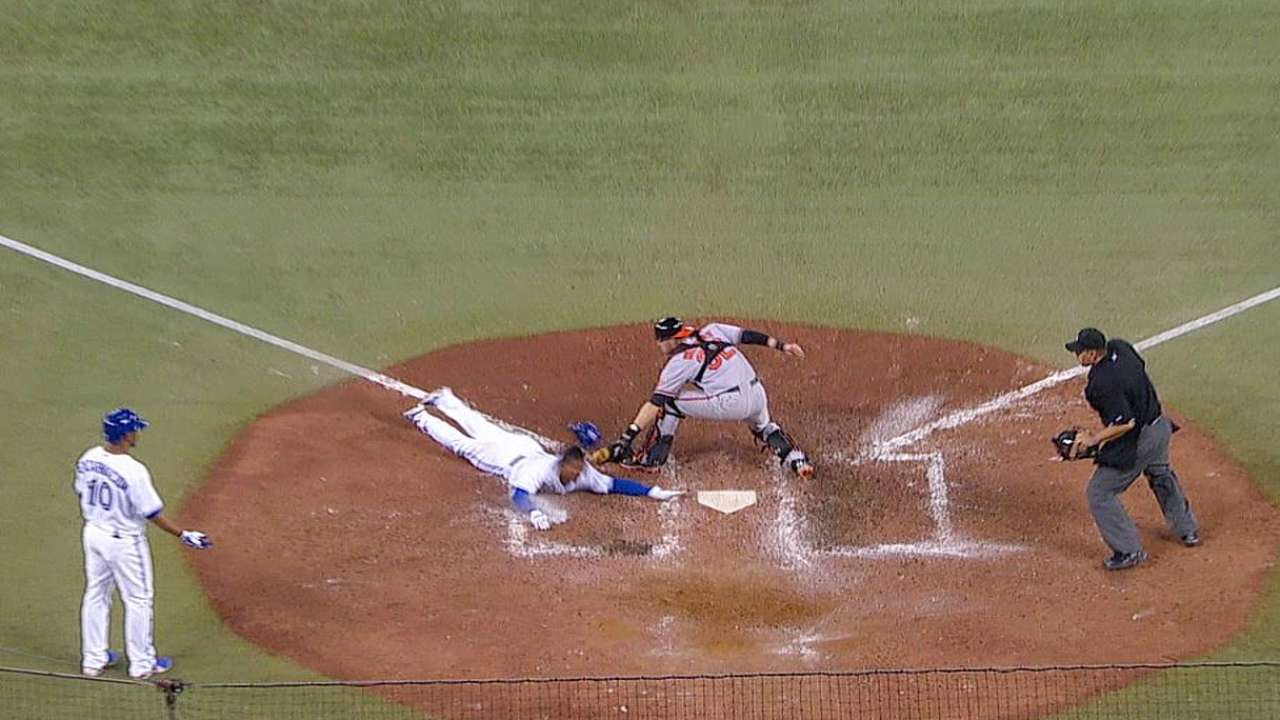 TORONTO -- One of the most exciting plays in Thursday's 12-6 victory over the Orioles was actually a mistake.
Anthony Gose scored all the way from second on a passed ball by Baltimore catcher Matt Wieters, rounding third when the catcher threw to second and narrowly beating the return throw home.
"I just completely 100 percent missed what [third-base coach Luis Rivera] said," Gose said. "I thought he said, 'Go, go,' and he was saying, 'Watch the throw.' … I was already in 'run' mode, so when I heard, 'Oh, oh' at the end, that's all I caught. I took off. Not smart in that situation."
Blue Jays manager John Gibbons wasn't that upset Friday afternoon since the speedy outfielder managed to slide under the tag, but he admitted that Gose needs to be better at understanding when the right time in the game is to take a risk like that.
"You got to recognize the situation," Gibbons said. "We have the middle of our lineup up there, no outs. There's time to take some risks and there's time not to."
After the passed ball, the Blue Jays likely would have had runners in scoring position with none out and one of their most dangerous hitters at the plate in Edwin Encarnacion, who hit a grand slam earlier in the game.
"That's a moment right there that could've turned into something really bad by not thinking," Gose said.
It's a fine line for the athletic outfielder, who's been working with hitting coach Chad Mottola on thinking less at the plate and letting his natural athletic ability and skill take over.
With that said, there's a time and place for that as well.
"Obviously, you still got to be smart," Gose said. "You need to know the situation that's going on."
"Ninety-nine times out of 100, I'm out. Guys are too good ... they don't panic under pressure here. The guys are calm. That's why they're here, because they can slow the game down. Right there, I sped it up and it worked out, but it's not something I'm going to keep doing."
For the youngster, who's found his way into three games since arriving with on Monday and scoring twice, it's a lesson learned.
"Being more aware and having a better feel of what the situation is and what's going on is what has to happen there," Gose said. "Not a smart baserunning decision on my part."
Evan Peaslee is an associate reporter for MLB.com. This story was not subject to the approval of Major League Baseball or its clubs.