Reyes begins running in recovery from sprained ankle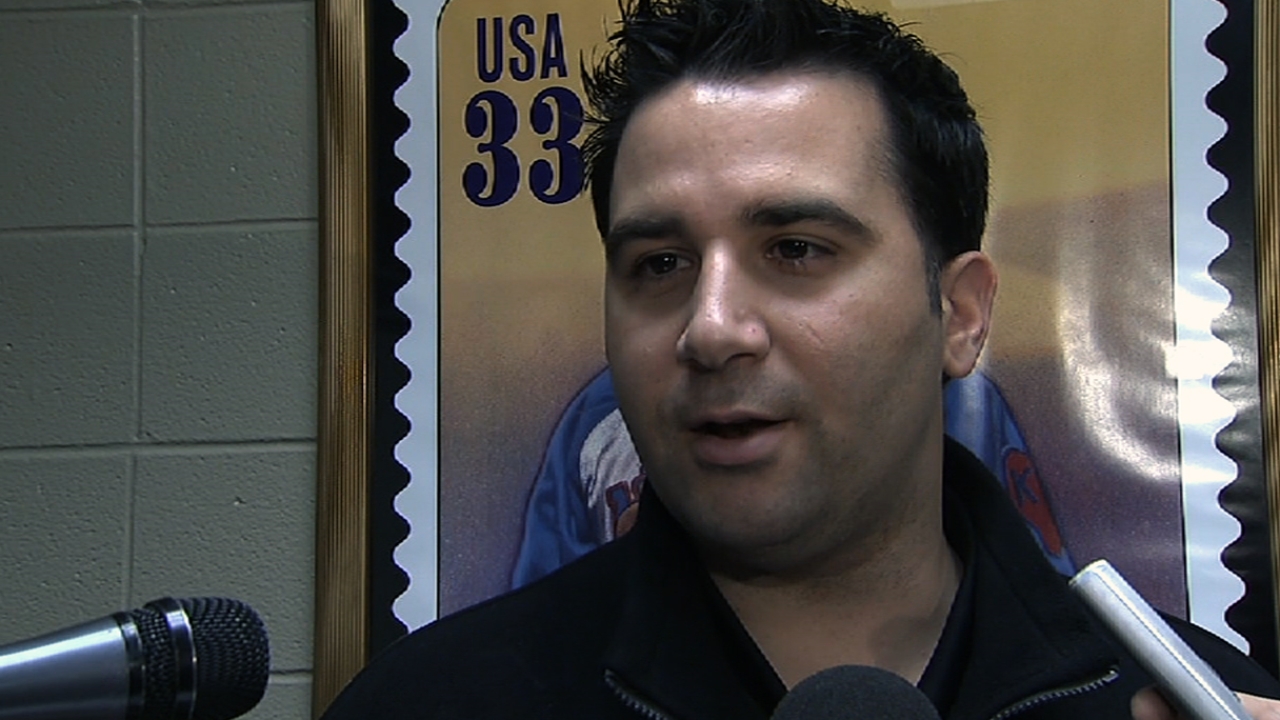 TORONTO -- This weekend marked a milestone in Jose Reyes' recovery from a severely sprained left ankle. Reyes started running for the first time on Friday, and he continued to push the envelope in his recovery process before Saturday's afternoon game vs. the Orioles.
"It was a little bit scary for me," Reyes said of his first time running. "But pain free."
"I just started running a little bit. I'm very happy the way that I performed yesterday; better than I expected. As I said, I'm going to continue to work the hardest I can to be on the field as soon as possible."
The 29-year-old has been able to push himself a little, and he was able to actually run as opposed to jog. It was the first time he's been able to put that much pressure on his ankle after severely spraining it on an awkward slide in Kansas City on April 12.
Before this weekend, Reyes had taken some soft toss practice in the cage and played catch, but he was limited in his activities in the tedious rehab process. This is likely the result of an ankle that is still a little swollen. Fortunately, that's par for the course with this type of injury, something Reyes is aware of because of a similar injury in 2003 with the Mets.
His rehab process continues to develop steadily as Reyes is expected to take batting practice, field ground balls and even resume full baseball activity sometime next week.
The real key for the former National League All-Star in returning to full health will be running and mobility.
"You can take a ground ball right in front of you and you feel good," Reyes said. "You can hit batting practice and feel good. When it comes to running and jumping around in the real game, it's going to be a different story."
The big difference will be when he's able to round the bases.
"Even if I don't feel a hundred percent, I'm 85-90 percent and I'm able to run the bases good ... I'm going to let it fly," Reyes said. "I'm going to let it go. I'm going to go play, come back and help this ballcub."
The energetic shortstop has been with the team since their recent road series against the Yankees last weekend, and he has no plans of leaving his club until he has to.
"When I get ready to play some baseball games, then I'll decide where I need to go," Reyes said. "I like to be around my teammates, that's why I'm going to continue to do my rehab here with the ballclub. I want to be here."
One of Toronto's prized offseason acquisitions will even travel with the team on the road until it's decided that he needs to get in some rehab games.
Although he's having a lot of fun being back with his teammates, he admits he's going a little stir crazy from having to watch the games from the bench.
"That's the way it is when I don't play, man, I don't know what to do," Reyes said. "It's kind of crazy for me."
When he does return, which optimistically may come sometime in June as opposed to around the All-Star break, it may take a few games to return to his normal self.
"People have to understand it's going to be a process, because I'm away from baseball for a while," Reyes said. "Hopefully it doesn't take that long. Hopefully when I come out, I come out ready to go and people see the real Jose Reyes."
Evan Peaslee is an associate reporter for MLB.com. This story was not subject to the approval of Major League Baseball or its clubs.