Hentgen expects Blue Jays' pitching to improve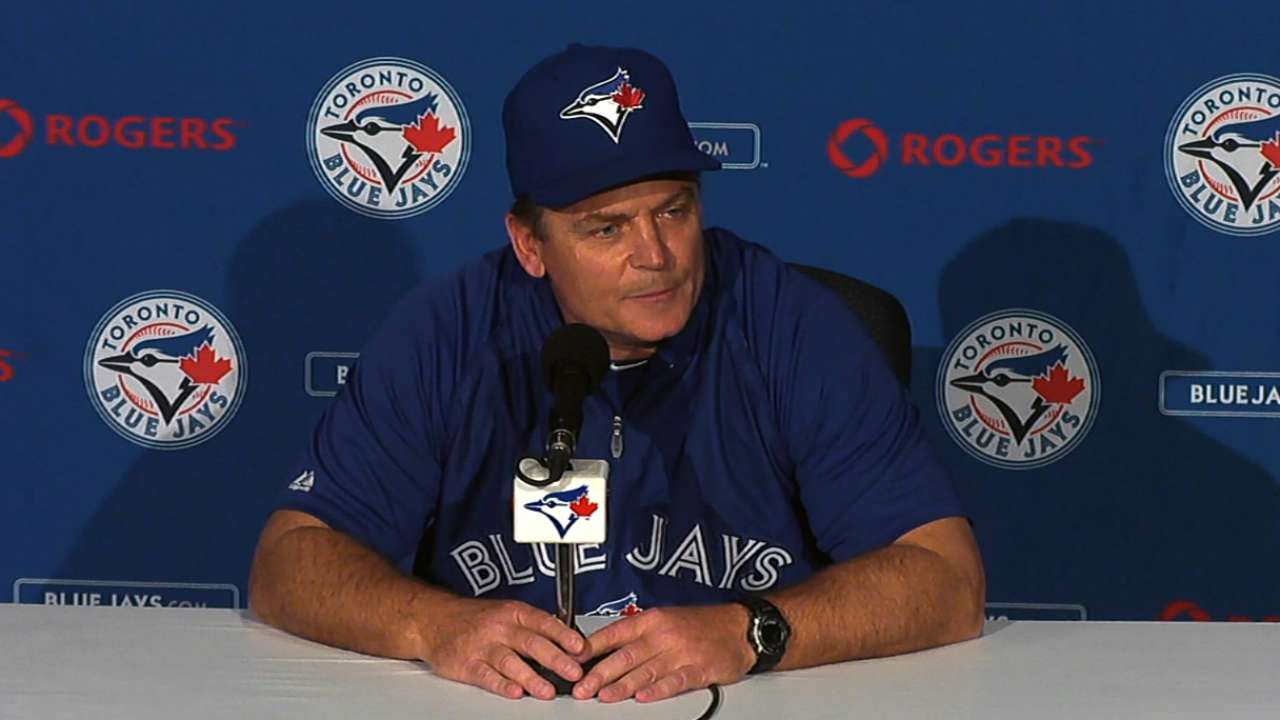 TORONTO -- The Blue Jays pitching staff has pitched poorly for most of the year, with only the Astros and the Twins sporting a worse ERA and WHIP than the Toronto starters have.
"It's been a grind," bullpen coach Pat Hentgen said.
With only three men in the rotation from the beginning of the season, two of them nursing neck and back soreness for a period of time, it's easy to understand what the former American League Cy Young Award winner means.
Since J.A. Happ's injury, the Blue Jays have consistently had to rely on one or two spot starters to bridge the gap to their other three semi-healthy starters, which is something that has certainly inflated the staff's numbers. Even Mark Buehrle, R.A. Dickey, and Brandon Morrow, who have avoided the disabled list, have had their issues.
However, Hentgen thinks you can't always look at the box score to determine how a pitcher performed.
"I think that sometimes, everybody over-analyzes the game," said Hentgen, who referred to Dickey's start Saturday vs. the Orioles as the perfect example.
Dickey's numbers were ugly. He allowed six earned runs in 6 2/3 innings with three walks and nine hits. However, all six of those runs came with two outs.
"He's one popup away from pitching seven innings giving up two runs," Hentgen said. "And yet his box score is going to read five runs or six runs, based on a two-out performance. As a pitcher, sometimes you just got to keep grinding. Sometimes it doesn't fall your way."
Unfortunately for pitchers, all it takes is one poorly located pitch to ruin their numbers -- and their night.
The one concern that Hentgen does have comes from the troubles the starters have had in the first inning. The Blue Jays rotation has a combined 5.69 ERA in the first inning, good for 25th in the Majors. Dickey leads the team in that regard with 11 earned runs and a 9.00 ERA. All of last season, the knuckleballer allowed only four first-inning earned runs in his 33 starts, and he fell behind 3-0 after the opening frame on Saturday.
"What happens as a starter ... when you fall behind early, it tends to take a little bit of the wind out of the sail," Hentgen said. "I think the starters need to focus on one pitch at a time and just getting through that first inning, and just build on that."
Toronto has fallen in the hole in two straight games, but as a whole, their bullpen coach isn't too concerned.
"I think they keep us in a lot of games, day in and day out," Hentgen said. "I think by the end of the year, with four months still to play, their numbers will be there."
Evan Peaslee is an associate reporter for MLB.com. This story was not subject to the approval of Major League Baseball or its clubs.