DeRosa shares thoughts on PED investigation
DeRosa shares thoughts on PED investigation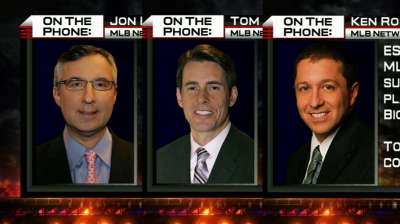 SAN FRANCISCO -- Following Tuesday night's ESPN report that Major League Baseball could pursue the suspension of more than 20 players, including teammate Melky Cabrera, the Blue Jays' Mark DeRosa weighed in on the issue.
"I don't know the ins and outs, but [Cabrera] has served a suspension for the mistakes he has made," DeRosa said. "I don't know if this will reopen the case according to him. But until the facts come out, until everything comes out, I think it's better off not to comment.
"Honestly, it's depressing to see it come to the surface again, but at the same time, from my standpoint, if there are guys cheating the system that was put in place, I'd like to see them penalized."
Cabrera was mentioned in the ESPN report, which stated more than 20 players could be suspended for their connection to the Miami-area Biogenesis anti-aging clinic accused of supplying performance-enhancing substances to athletes.
The 28-year-old Cabrera served a 50-game suspension last season after he tested positive for elevated levels of testosterone.
DeRosa has been around the Major Leagues for 16 years and played during the height of baseball's apparent performance-enhancing drugs problem. A lot has changed since he broke into the big leagues back in 1998, but there was a genuine hope that the controversies had become a thing of the past.
DeRosa made it clear he would like to see those who are cheating brought to justice. Major League Baseball has done a lot to clean up the game and players are subjected to stringent testing, which can be bothersome to athletes but at the same time is embraced because of its overall impact.
DeRosa just doesn't want to see the progress ignored or discredited because a select number of athletes allegedly continue to find ways to try to beat the system.
"That's the thing that I think people lose sight of: Back when I first came up, we weren't tested for steroids," DeRosa said. "Not to say people who were doing it weren't completely cheating, but we weren't tested. Now, we have put in place to clean up the game for the right reasons and guys are still trying to undermine the system.
"I'm sure that's the same in all walks of life and in all professions. I think not only are you cheating the game but you're going about it in such a shady way. I just think if it comes to light that this is 100 percent factual, I think that the suspensions are warranted."
Gregor Chisholm is a reporter for MLB.com. Read his blog, North of the Border, and follow him on Twitter @gregorMLB. This story was not subject to the approval of Major League Baseball or its clubs.