Bautista tossed arguing ninth-inning strikeout
Bautista tossed arguing ninth-inning strikeout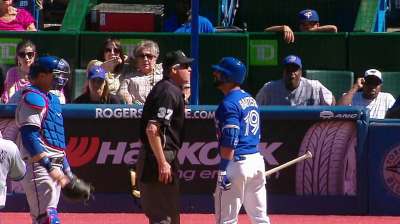 TORONTO -- Jose Bautista let some frustration show in a big way Sunday in the ninth inning of a 6-4 loss.
With the Blue Jays down two and the tying run on second, Bautista struck out on three pitches against Rangers closer Joe Nathan.
The right fielder was displeased with one, or both, of the first two strikes and let home-plate umpire Gary Darling know about it. Bautista was almost immediately ejected for the first time this season, then turned it into a heated argument before throwing equipment onto the field as he returned to the clubhouse.
"Doesn't help him, that's for sure," manager John Gibbons said of his slugger's growing reputation for showing up home-plate umpires. "It really hasn't been a problem this year. Today he kind of blew up, but if you look over the season, it hasn't been an issue. We just need to move on."
Bautista was presumably upset with the first pitch he saw from Nathan, which was in the lower portion of the zone, but he could have also been upset with the second strike, called by first-base umpire Paul Emmel on a check-swing attempt. He refused to speak to the media after the game.
That didn't stop Nathan from speaking his mind.
"It's a strike in baseball," Nathan said of the first pitch. "I'm not going to say it was borderline, I think it was a strike."
Evan Peaslee is an associate reporter for MLB.com. This story was not subject to the approval of Major League Baseball or its clubs.