First-round pick Bickford optimistic about signing
First-round pick Bickford optimistic about signing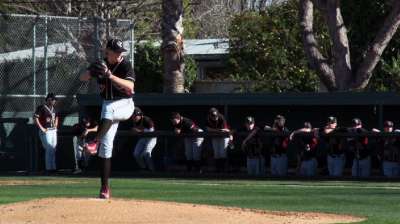 TORONTO -- Right-hander Phil Bickford seemed optimistic about the possibility of signing with the Blue Jays but declined to get into specifics when speaking with reporters Monday evening.
Toronto used the 10th overall pick of the 2013 First-Year Player Draft to select the product of Oaks Christian High School in California. He is committed to Cal State Fullerton in the fall but could opt to forgo college and sign a professional contract.
Bickford had been considered a relatively tough sign in the days leading up to the Draft but that could change depending on what the Blue Jays are prepared to offer.
"I'm just told to talk it through with my family and just see what happens," Bickford said. "I'm excited for the opportunity to sign and start to pursue my big league career.
"As of now, it's still being discussed but when I know what the deal is, then we'll see how it plays out."
Bickford's adviser during the negotiation process is R.J. Hernandez of the Legacy Group. The recommended slot value for the 10th pick is $2,921,400, while the Blue Jays have a bonus pool total of $6,398,200 for the Draft.
In Bickford, the Blue Jays now have a pitcher who recently led his high school club to its first Southern Section Division 4 championship. He struck out 18 in the final, including 11 consecutive batters at one point. The native of Ventura, Calif., finished his senior season with a 1.72 ERA while allowing 42 hits and striking out 159 in 99 1/3 innings.
The 17-year-old was ranked the 26th overall prospect of the Draft according to MLB.com. Bickford said there were a few indications in the days leading up to his selection that he could be headed to the Blue Jays.
"I just reminded myself to stay calm and just enjoy it," Bickford said. "When the Blue Jays called my name with the 10th pick, the whole house just erupted and everybody was very excited. It was a very powerful moment.
"All I know is that they were calling a lot of family friends, my teams ... So I knew that there was interest, I had not spoken to them personally, but when it was their pick there was an idea I might have a shot of going there and then to actually see it happen was very cool."
The Blue Jays were initially drawn to Bickford because of his overpowering fastball. He consistently throws 92-95 mph and has been known to hit 97 on occasion. There's a belief that the velocity could increase even a bit more as his body continues to mature.
The biggest question mark surrounding the pick, though, is whether Bickford will be able to add any consistent secondary pitches. He currently throws a slider and changeup but both will need work in order to succeed in the professional ranks.
Bickford admitted as much during his conference call on Monday but added that his slider has already come a long way in the past year.
"It does need work and I'm excited to go through that process if I do sign with the Blue Jays and see what happens," Bickford said. "I have been working on it, it was mediocre at best in my junior year, but senior year I can confidently say it developed a lot. It's not how it should be but it's going to be a lot better."
Gregor Chisholm is a reporter for MLB.com. Read his blog, North of the Border, and follow him on Twitter @gregorMLB. Teddy Cahill is a reporter for MLB.com. This story was not subject to the approval of Major League Baseball or its clubs.