Blue Jays taking time to bring back Reyes
Blue Jays taking time to bring back Reyes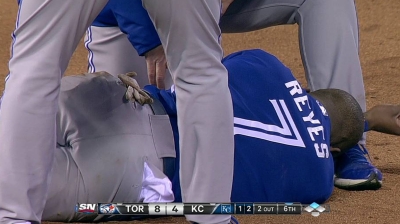 ARLINGTON -- Jose Reyes is one step closer to making his long-awaited return to the Major Leagues after he played in a simulated game Friday morning.
Reyes played two innings in the field and registered three at-bats in his first game appearance since severely spraining his left ankle April 12 in Kansas City.
The four-time All-Star also went through some sliding drills after the game and is expected to appear in his first official rehab game Monday for Class-A Dunedin.
"It's a pretty good injury, so we have to ease him into it, too," manager John Gibbons said. "He can do all of those drills on the field, but it's still not like reacting in a game. It'll be a build-up thing, but the hitting and timing at the plate is important, too."
One thing the Blue Jays want to avoid is rushing Reyes back before he is ready to handle a full workload at the big league level. Earlier in the season, the club prematurely brought back third baseman Brett Lawrie from an oblique injury, and his production suffered at the plate as a result.
The move with Lawrie was understandable at the time because the club desperately needed his defense. Maicer Izturis was struggling at the position, and the Blue Jays were giving opposing teams a lot of extra outs.
There is a big need to have Reyes back as well, but not if it means his hitting will suffer. The Blue Jays need to make sure he has his timing down before being forced to face some of the league's elite pitchers.
"We want to be fair to the guy, but Reyes has been playing the game for so long that it's a little bit different," Gibbons said when asked to compare the two situations. "Brett's still trying to establish himself with a long career, whereas Jose has been an All-Star for a number of years.
"We definitely needed Brett to fill that spot; we were really struggling over there, but Jose we're going to make sure he's good to go."
Gibbons estimated that Reyes would be ready after appearing in games for two weeks. That would see the Dominican native return during a series at Fenway in late June, but he could join the club just before that for a series in Tampa Bay from June 24-26.
Gregor Chisholm is a reporter for MLB.com. Read his blog, North of the Border, and follow him on Twitter @gregorMLB. This story was not subject to the approval of Major League Baseball or its clubs.