Blue Jays' 'pen has become mighty
Blue Jays' 'pen has become mighty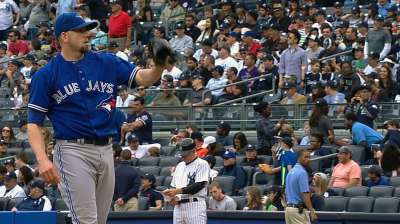 TORONTO -- A big part of the Blue Jays' eight-game winning streak entering Friday's game against the Orioles has been the club's starting pitching. But what has been a constant all season has been the strength of the bullpen.
The Blue Jays are the only team in the Majors yet to blow a lead in the seventh inning or later; they were 26-0 heading into Friday's series opener.
The emergence of Steve Delabar and Brett Cecil has pulled the bullpen -- largely considered to be the weakness of the club entering the season -- out of obscurity and turned it into the Blue Jays' greatest weapon.
Cecil was riding a club record with 43 consecutive batters faced without allowing a hit after retiring all five batters he faced Friday night, and Delabar has been on quite a roll himself. He hasn't allowed a run over his last nine appearances and has struck out 18 batters in his last 10 innings, leading to the moniker that some fans have given him -- Strikeout Steve.
"That sounds pretty cool, so I'll stick with it," said Delabar, who leads the American League in strikeouts for a reliever with 47.
"First off, he's got that great arm," Blue Jays manager John Gibbons said. "It's a great success story, you know. He was out of the game, comes back, and he's one of the better relievers in baseball right now."
Delabar famously worked as a high school baseball coach and substitute teacher three years ago, after sustaining a severe elbow injury in 2009 while in the Minors.
His success and resurgence comes after he started using the velocity program that was created by Jamie Evans, who is now a consultant with the club. The program helped increase Delebar's speed, and he now regularly sits in the mid-to-high 90s.
The new-found velocity has made both his fastball and splitter among the game's best, allowing him to strike out batters seemingly at will.
"You go in with the mindset that I'm going to get this guy out, and our whole bullpen has been the same." Delabar said. "When the count gets in our favor with two strikes, we just put them away."
Like Delabar, the bullpen is currently enjoying its finest month as a unit. They haven't allowed an earned run in their last 24 innings, four shy of the club record set in 1989, and they lead the Majors with a 0.67 ERA, .147 opponents average and a 0.85 WHIP since May 31.
"The confidence is there, and the whole feel of everything, the same guys are down there, familiar faces, everything is just real comfortable," Delabar said. "The bullpen is kind of rolling together. We know when we're going to pitch [and] everybody is in a comfortable role right now."
With the bullpen rolling, and each man in a defined role, the unit feeds off of the momentum that they've built.
"It's not me against the other guy in the 'pen. It's what he did, I'm going to roll off that," Delabar said. "You got that big rock at the top of the hill and that rock is starting to roll. So we're going to keep giving it a little bit of a shove and keep it rolling."
Evan Peaslee is an associate reporter for MLB.com. This story was not subject to the approval of Major League Baseball or its clubs.