Dickey still searching for consistency on the mound
Dickey still searching for consistency on the mound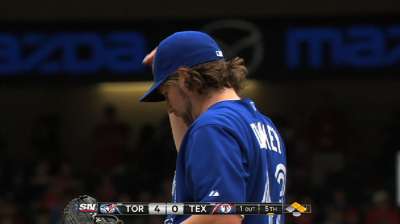 TORONTO -- The Blue Jays' pitching staff has turned a corner of late, but their ace is still searching for consistency on the mound.
Veteran knuckleballer R.A. Dickey surrendered six runs on seven hits in Toronto's 7-6 victory over the Orioles on Friday night. It marked the fourth time in his past six outings that Dickey allowed at least six runs, and a lot of it can likely be traced back to his mechanics.
Dickey spent the first couple of months of the season trying to battle through an upper back and neck injury. That caused a drop in velocity, and Dickey attempted to compensate by altering the release point in his delivery.
"I'm hopeful that [my velocity is] going to become more and more consistent," Dickey said. "It was good early on [Friday night], hit a little bit of a brick wall in the fifth and sixth innings, but for the most part I was pretty happy with the way the ball was moving.
"Josh [Thole] was telling me it was familiar to him from last year, so that was a good sign -- especially early on. But it's going to take me a little while to unlearn some bad habits, and hopefully it won't take me too long. But [I'll] keep grinding it out, and it'll turn for me as far as the mechanics go."
Dickey was able to get away with the subpar outing for at least one night. He did allow the six runs, but the Blue Jays earned a come-from-behind victory following a two-run homer by Munenori Kawasaki in the seventh inning and a walk-off single by Rajai Davis in the ninth.
That will help ease whatever frustration Dickey might be dealing with. But there's no question he's attempting to turn the page on what has been a disappointing opening stint with the Blue Jays. His ERA now sits at 5.15 with a record of 6-8.
"Just trying to compensate for some things," Dickey said of his mechanics. "Not that that's an excuse of any kind, but your body does choose the path of least resistance when you're nursing some things -- and that, for me, equals some bad habits. ... I'm trying to get out of those as quickly as possible."
Gregor Chisholm is a reporter for MLB.com. Read his blog, North of the Border, and follow him on Twitter @gregorMLB. This story was not subject to the approval of Major League Baseball or its clubs.