DeRosa marvels at Blue Jays' win streak
DeRosa marvels at Blue Jays' win streak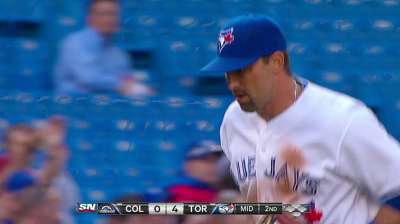 TORONTO -- Mark DeRosa has been around baseball a long time, but he can't remember a streak quite like this one.
DeRosa, who made his Major League debut in 1998 with Atlanta, says the 10-game winning streak the Blue Jays find themselves on entering Sunday is new to even him.
"I don't remember one longer," the 38-year-old said. "We certainly needed it. What a way to get ourselves right back into relevance, after a horrendous April."
Toronto's opening month was far below what the club and pundits alike expected after a significant revamping of the roster in the offseason. The Blue Jays were 10-17 in April and, until Friday, were never even at .500, let alone above it.
However, this stretch has put the Blue Jays right back into the thick of things. Toronto is now tied with Tampa Bay for fourth place in the American League East, and sit just four games back of Baltimore for the second Wild Card spot.
"It feels great -- the way we expected coming out of Spring Training," DeRosa said. "Not to win 10 in a row, but to show up to the yard every day -- and feeling like we have a really good chance at putting a 'W' on the board."
The biggest difference in June for the club has been contributions from the entire team. There are plenty of examples to point to just from the first two games vs. the Orioles -- from Munenori Kawasaki's game-tying home run and Rajai Davis' clutch walk-off single on Friday, to Chien-Ming Wang's solid outing and Jose Bautista's go-ahead homer the following day.
"Obviously, we've had a lot of contributions from a lot of people," DeRosa said. "I think that's what it takes at the end of the year, when you look back on it. It's not just going to take 25 guys, it's going to take at least 30-35 guys to get it done."
With this stretch, the Blue Jays have, in a way, verified why there was so much optimism before the season began.
"I think they knew," DeRosa said when asked if this was validation to the baseball world that his club was playing like it should be. "I think they knew the amount of talent that Alex [Anthopoulos] and his staff acquired."
However, for DeRosa, there isn't one turning point that started the club in the right direction.
"I just think it's a testimony to our togetherness, to our belief in each other, having respect for what we do and coming to work with the idea that we were going to right the ship," DeRosa said. "It remains to be seen what happens from this point on, but certainly it made us a lot more mentally tough."
Evan Peaslee is an associate reporter for MLB.com. This story was not subject to the approval of Major League Baseball or its clubs.