Lind's torrid stretch key to Blue Jays' turnaround
Lind's torrid stretch key to Blue Jays' turnaround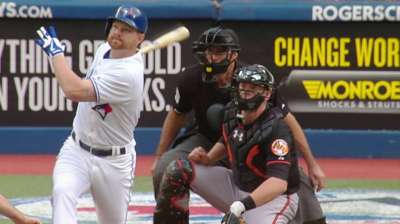 TORONTO -- Even Adam Lind doesn't want to beat a dead horse when it comes to his continued production at the plate, referring to himself as overexposed a couple of days ago.
However, that hasn't stopped other teammates from commenting on his torrid stretch.
"The nicest thing that's happened has been the re-emergence of Adam Lind," said Mark DeRosa. "He solidified that No. 4 slot for Gibby [manager John Gibbons], gives protection to Eddy [Edwin Encarnacion] and Jose [Bautista], and has really done an amazing job for us."
Lind hit .346 in May, and is swinging at a .392 clip in June entering play on Sunday. Coming into the finale with the O's, he had an on-base percentage of .406, with 10 home runs, 30 RBIs and a .970 OPS -- with almost all of that damage coming since the calendar turned to May.
Lind's return to this high level of performance has meant a lot to the club -- and has been a big part of its turnaround.
"It deepens your lineup so much," DeRosa said. "Adam has certainly been one of the better hitters in the American League, right now. Having to go through Melky [Cabrera], [Bautista], and [Encarnacion] and him, and the guys behind those four, makes for a tough afternoon. "
Evan Peaslee is an associate reporter for MLB.com. This story was not subject to the approval of Major League Baseball or its clubs.