Janssen strives for perfection each time out
Janssen strives for perfection each time out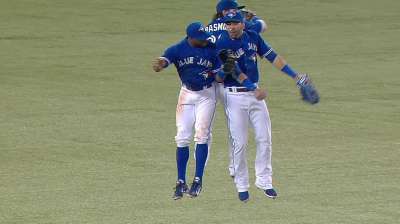 TORONTO -- Casey Janssen has been a stabilizing force in the Blue Jays' bullpen all season long, despite recovering from offseason shoulder surgery that shaved down his collarbone.
Earlier in the year, the club was very cautious with the use of their closer, avoiding back-to-back appearances. For the most part, that is a thing of the past. Janssen has pitched in three consecutive games, making it three appearances in the last four days, with the off-day on Thursday.
The reliever refused to comment on whether he might step on the mound on Sunday, because it gives the Orioles a competitive advantage. But he did provide some insight into how his recovering shoulder feels.
"It's feeling better," Janssen said. "Every day is working towards making it feel a hundred percent more often. I think with consistent work, it helps -- and then getting an occasional rest day, it helps.
"I don't want to make it more than it is, because I'm pitching. I'm thinking about it less. But, at the same time, you still want to exercise caution at times, at the right times, to make sure there's no setback or no different discomfort that might linger."
Even with a shoulder that is still healing, Janssen has managed to save 17 games out of his 18 chances, with a 2.10 ERA, 0.70 WHIP, .159 opponents' batting average, and 24 strikeouts in his 25 2/3 innings. Despite this, he isn't completely satisfied with how he's performed.
"From a personal level, I've done OK," Janssen said. "I hate to say it, but you want to be pretty darn close to perfect. You want to execute every pitch as best you can and eliminate mistakes."
Oddly enough, it was a conversation with former Blue Jays starter Josh Towers that changed Janssen's mental approach to pitching.
"Josh Towers told me, 'If you can hit down and away once, you should be able to do it every time,'" Janssen said. "'Nothing's changing, other than you mechanically, if you can master down and away, or down and in, or up. If you can master that pitch, you should be able to do it every time.'"
For the 31-year-old, it's perfection that he strives for every time he steps on the mound -- even though he knows that, over time, he's unlikely to maintain that level of dominance.
"You don't want to settle for mediocre," Janssen said. "I want to set the bar as high as I can and try to achieve [perfection]. If I don't, hopefully I'm pretty darn close to it."
Evan Peaslee is an associate reporter for MLB.com. This story was not subject to the approval of Major League Baseball or its clubs.