Wagner, Perez playing vital roles in bullpen's revival
Wagner, Perez playing vital roles in bullpen's revival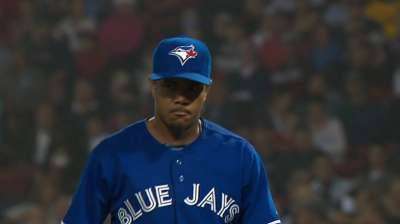 BOSTON -- Neil Wagner and Juan Perez might be the callups of the year.
Since the two were added to the Blue Jays' bullpen from Triple-A Buffalo on May 29, Toronto's relievers have posted a 0.95 ERA over 95 innings, best in the Majors over that time.
"We're strong down there," said manager John Gibbons. "They've all been good, but the addition of Wagner really has helped -- especially at the time we put [Esmil] Rogers in the rotation. We had been looking for a right-hander who can get a tough right-hander out late in the game, and he's done that.
"Perez coming up, too, he's off to a great start. We have depth. On any given night, you don't have to ride the go-to guys all the time."
After starter Chien-Ming Wang lasted just 1 2/3 innings in Thursday's 7-4 loss to the Red Sox, the bullpen, aided by three innings from Perez, combined to throw 6 1/3 frames of scoreless ball, allowing just three hits.
"They've been lights-out," Gibbons said afterward. "They gave us a chance. They kept us right there, but it was too much to overcome."
Perez pitched three perfect frames Thursday and set a career high for innings pitched in the Major Leagues. With 14 seasons in the Minors, The 34-year-old has never found much success at the next level, though he's never been given much of a chance. He's had four stints in the Majors before this year and never thrown more than 12 1/3 innings. In 15 innings with the Blue Jays in 2013, Perez has yet to allow an earned run.
Wagner has a similar past. The 29-year-old has spent eight seasons in the Minors, posting ERAs above 5.40 in each of his last two, but the right-hander turned a corner this year, his first with the Blue Jays, striking out 32 batters in 20 1/3 innings in Triple-A Buffalo while posting a 0.89 ERA. It's been much of the same in the Majors, where he's allowed just one run over 12 innings.
Gibbons said he's become a right-handed specialist.
"Yeah, he's proven that so far at this point," Gibbons said. "You can pitch him at any time. He's a lot like [Aaron Loup] -- you can throw him early in the game if you want, or if you have him late in the game, he can come in and get that big out. It's a little versatility out there."
The Blue Jays are carrying eight relievers in the bullpen with just three position players on the bench. They'll continue to do so, considering how successful it's been.
"We haven't been burned yet by that one last guy on the bench," Gibbons said. "If we need a change, we'll do it, but at this point, we really haven't had to."
Jason Mastrodonato is a reporter for MLB.com. Follow him on Twitter @jmastrodonato. This story was not subject to the approval of Major League Baseball or its clubs.